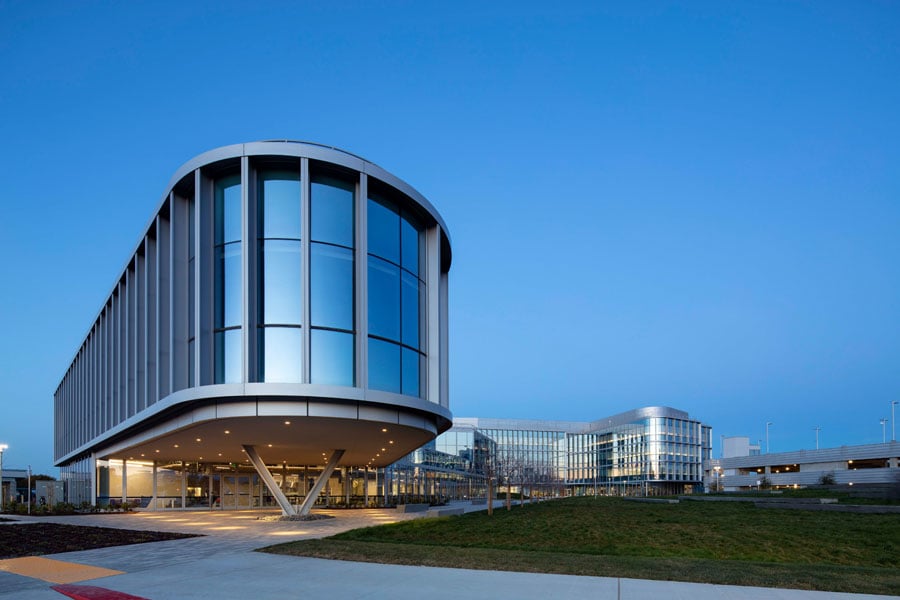 January 9, 2020
Laboratory Design Takes a Page From the Corporate Office Playbook
In the Bay Area's highly competitive science and technology market, companies are jostling to develop scalable, market-ready innovations at an accelerated pace.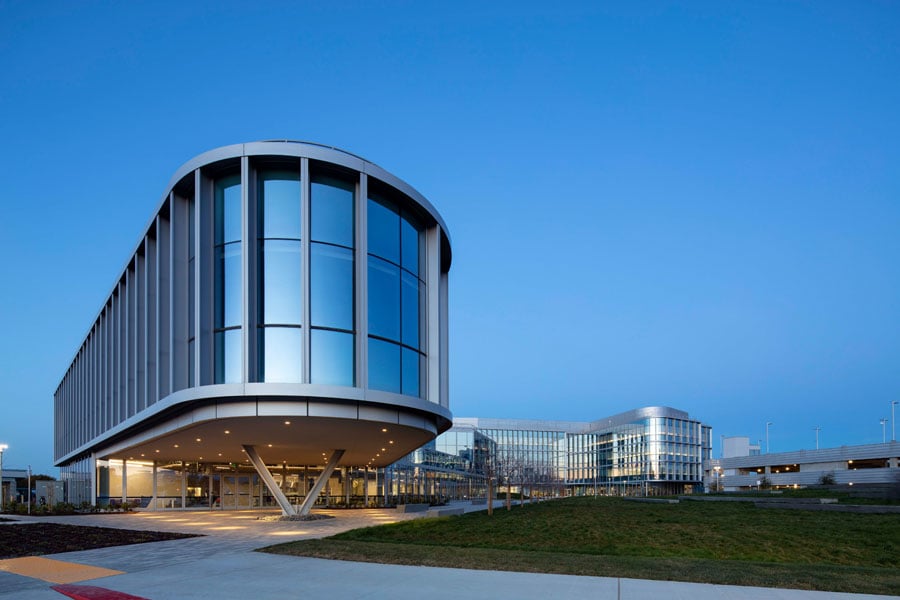 ---
Science-driven offices pose a unique challenge to designers. For starters, their employee structure is far from typical, comprising a specialized corps with deep silos of expertise—mathematicians, engineers, biochemists—who use specialized, oft-changing equipment with demands of their own. At a recent Think Tank panel hosted at HOK's San Francisco office, Metropolis editor in chief Avinash Rajagopal neatly summed up these exigencies: "In a normal workplace, they worry about off-gassing carpet tiles and in the scientific workplace, they worry about how to [incorporate] lead shielding."
But, as the assembled panel emphasized, hard-science employees also work alongside accountants, sales people, even publicists. Nor are their employers exempt from the pressures to attract and retain talent; they, too, must cultivate an open, comfortable environment conducive to both socialization and creativity.
In order to fail and innovate in quick cycles, many labs take cues from the open office, which has its drawbacks, said Martin Sharpless, capital projects director at the pharmaceutical company AstraZeneca. "During the course of the day, people work in 10 to 11 different environments," compounding feelings of disorientation.
At this point, the conversation turned from problems to possible solutions. For example, Sharpless suggested that diverse workplaces stand to benefit from variegated amenities such as cafés, yoga rooms, or breakout spaces generally free of tech or lab equipment. "[Y]ou can call them amenities, but really [they're] a requirement," he added.
Daniel Herriott, senior principal and director of design at HOK, underscored the importance of these casual, accessible areas to the health of the workplace overall. "If you bring people together who have non-work interests in common, then your convergence research can happen in an informal way and there's a social and productive benefit," Herriott said. "It's free learning for employees."
That being said, the panelists agreed that the provision of, say, ping-pong tables is no replacement for inclusive workplace policies that acknowledge the differences among employees. Lactation rooms and all-gender restrooms are necessary upgrades. Because it comes down to one thing: For a company to have success, it has to keep a diverse staff. And to keep a diverse staff, the design of its workplace has to support diversity.
The Think Tank discussions were held on December 4 and 5, 2019, in San Francisco. The conversations were presented in partnership with DXV/GROHE, KI, National Office Furniture, and Teknion.