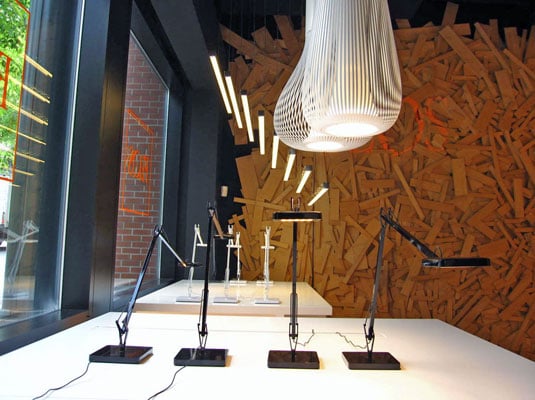 May 15, 2010
Live@ICFF: Don't Forget to Flos
This ICFF weekend, design lovers making the pilgrimage to the corner of Greene and Houston Streets, in New York's Soho neighborhood, may experience a brief moment of panic: the storefront that has long been home to prominent displays of Moss's inimitable wares recently changed ownership. Not to worry, though: Moss still occupies the large retail […]
This ICFF weekend, design lovers making the pilgrimage to the corner of Greene and Houston Streets, in New York's Soho neighborhood, may experience a brief moment of panic: the storefront that has long been home to prominent displays of Moss's inimitable wares recently changed ownership. Not to worry, though: Moss still occupies the large retail space next door, and its new neighbor is a worthy heir to the corner showroom.
The Italian lighting manufacturer Flos's products are not exactly unfamiliar to U.S. customers–they've been available through high-end retailers like Design Within Reach, YLighting, and the Conran Shop–but this is the first time that Americans can see them all together as a collection. And they make sense as a collection: upon walking into the new store, you can immediately feel how, say, Gino Sarfatti's 1958 2097 chandelier, Marcel Wanders's 2005 Zeppelin, and Antonio Citterio's new Kelvin LED lamp share a common sensibility. They marry high design, technological innovation, and a seeming comfort with experimentation.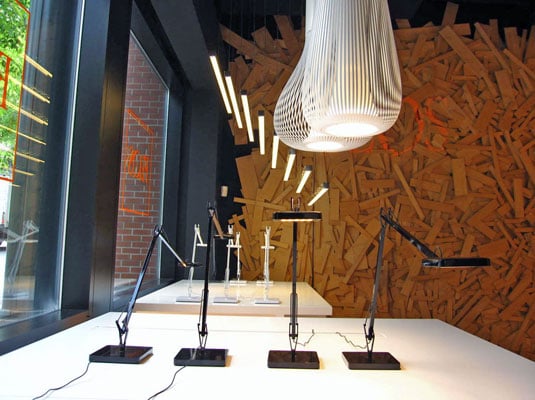 All of the tabletop displays in the new store are devoted to the just-released Kelvin LED–which you can read about in a story from our April issue. "This is a lamp designed around the new technology–we don't just fit in LEDs," Piero Gandini, Flos's CEO and president, told me yesterday. And this means not just a handsome, slim form but, in Gandini's words, "a wide, nice, warm, diffused light," something that has been hard to find in LED task lamps thus far.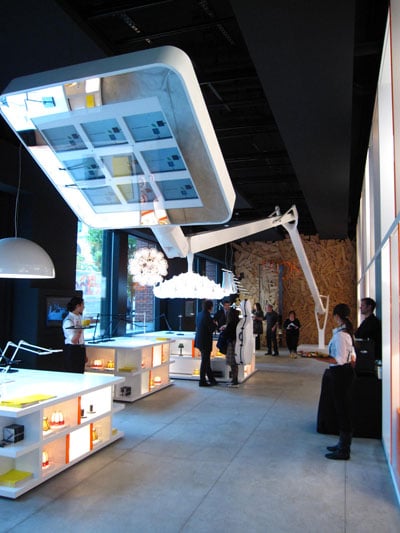 As for the giant Kelvin LED model looming over incoming shoppers, that's a temporary display–as is the Campana brothers' wood-plank wall that is a holdover from the Moss days. According to Gandini, the back wall will likely become home to a rotating series of installations, beginning with one that Ron Gilad designed for the recent Milan furniture fair. (Gilad also has a new lamp for Flos.)
Flos's New York flagship opens today at 152 Greene St. (and Houston); (212) 941-4760, flosusa.com.