May 17, 2010
Live@ICFF: Last Night's Parties
Sunday night saw a cluster of parties in the Meatpacking District, including the opening of Dune's Enamored exhibition, with new designs by Harry Allen, Karim Rashid, Claesson Koivisto Rune, and others. Richard Shemtov is Dune's president and one of its designers–he created the new Deluxe lounge and sofa. The design was inspired, in part, by […]
Sunday night saw a cluster of parties in the Meatpacking District, including the opening of Dune's Enamored exhibition, with new designs by Harry Allen, Karim Rashid, Claesson Koivisto Rune, and others.
Richard Shemtov is Dune's president and one of its designers–he created the new Deluxe lounge and sofa. The design was inspired, in part, by Japanese anime, but Shemtov said that the result is also "American in a way–very fat and bulbous."
The form "started off as a heart and expanded," Shemtov said. "It's somewhat sculptural–but they're also very functional."
Also at the Enamored exhibition: Harry Allen's Pipeline, which Shemtov envisions as a flexible seating solution for hotel lobbies, airports, museums, and other public spaces. The system includes four components–a pipe, an elbow pipe, a T-shaped connector, and a cross connector–that can be arranged in any number of ways.
Over on 14th Street, Design Within Reach was throwing a party for Emeco's 111 Navy Chair, made of recycled plastic Coke bottles.
Partygoers were invited to get their photos taken in the new chair.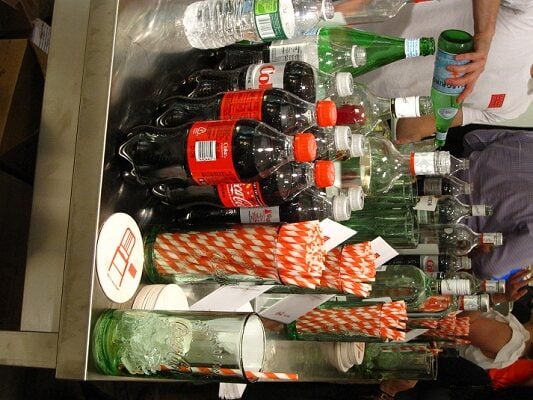 Not surprisingly, Coke was featured prominently at the bar.
A few doors down, the Straightforward: New Finnish Design VIP party was in full swing.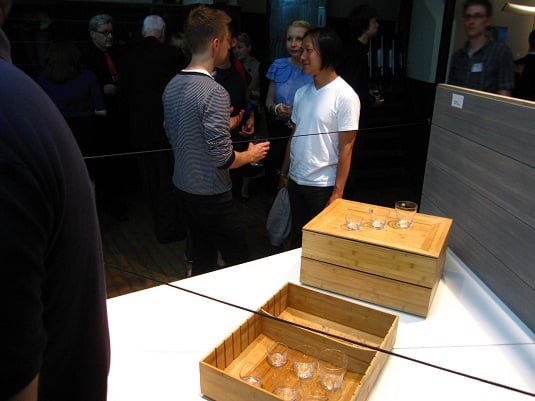 On display was a mix of housewares, like these Alessi glasses by Kristiina Lassus, displayed in wooden trays by Harri Koskinen . . .
. . . and fashion designs, like these pieces by Tuula Pöyhönen for Onni's spring/summer collection. (Note the Marimekko-inspired stripes and the slippers shaped like traditional wooden clogs.)
Around the corner, on Ninth Avenue, the Italian lighting manufacturer Itre had set up a Light Lounge on the cobblestones.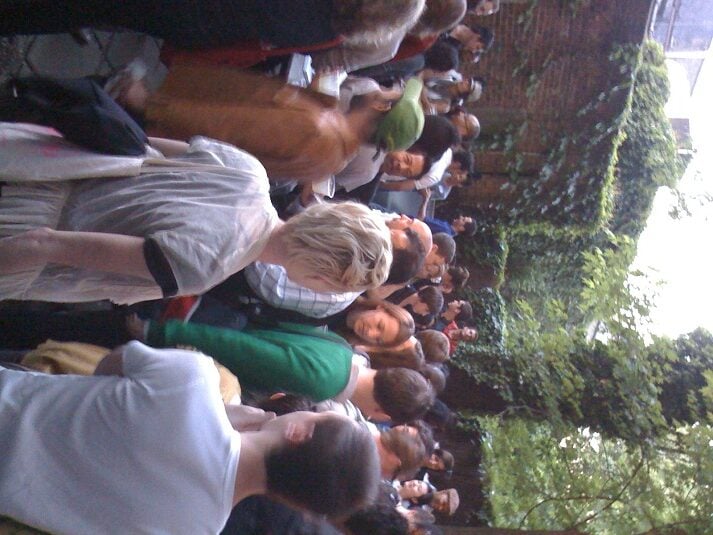 On Washington Street, Design Glut was having the opening for its Uncomfortable Conversations exhibition, with large crowds in the gallery and in the backyard.
The curators challenged a group to designers "to create something which provokes an uncomfortable yet important conversation." Pictured: Night Terror, by Chrissy Conant
Uncomfortable conversation at the bar:
PARTYGOER: [Eyeing a pitcher of mysterious neon-green liquid.] What is this?
BARTENDER: Um . . . a cocktail?
PARTYGOER: [Shrugs and takes a cup.] Okay.
.