May 17, 2009
Live@ICFF: Last Night's Parties
Snapshots from Saturday night's events at MoMA, DWR, Blu Dot, Kiosk, and Matter
After a dreary morning, it turned into an unexpectedly beautiful spring evening—perfect weather for sipping cocktails in the Abby Aldrich Sculpture Garden at MoMA's annual ICFF Opening Night Party.
From left: Metropolis's senior editor, Kristi Cameron; Antoine Roset, the executive vice president of Ligne Roset; the New York designer Brad Ascalon; and Philippe Nigro, who recently designed the Confluences sofa for Ligne Roset.
Missed Karim Rashid (pink jacket) last night at MoMA? Not to worry. You can catch him DJ-ing at the Artemide party on Monday night.
Metropolis's executive editor, Martin Pedersen (left), and contributing editor Karrie Jacobs (far right) with Christy MacLear, the executive director of the Glass House, and a fellow MoMA partygoer
Metropolis's editorial director, Paul Makovsky, with Melissa Feldman
Heading downtown: There was only a small crowd at Design Within Reach's Tools for Living store.
Snacks for Living
Downstairs at Tools for Living: 50 percent off the log-cabin incense burner! Wait…a log-cabin incense burner?
Meanwhile, the Blu Dot showroom next door was packed.
Blu Dot served cocktails made with Stoli Blueberi.
The crowd on Wooster Street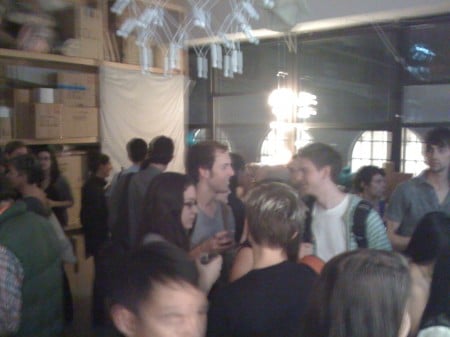 Around this point, one of our two party cameras ran out of juice. Thank God for the iPhone! Top: the throngs at the Kiosk/Areaware party; bottom: a few last stragglers at Matter.
At Areaware, Harry Allen's Bank in the Form of a Pig