October 11, 2010
Living Walls Take on Size and Creativity
Longwood Gardens in Kennett Square, PA, can pat themselves on the back on Earth Day next year, even if they choose not to pull out the shovels and saplings. Without digging a single hole into the ground, they have added the equivalent of 90 fourteen foot-tall trees when they unveiled the largest living wall in […]
Longwood Gardens in Kennett Square, PA, can pat themselves on the back on Earth Day next year, even if they choose not to pull out the shovels and saplings. Without digging a single hole into the ground, they have added the equivalent of 90 fourteen foot-tall trees when they unveiled the largest living wall in North America on October 9th. The 4,072 sq. ft. vegetative surface is the heavy-weight champion in the living wall world, taking the title from the PNC Bank building in Pittsburgh, whose planted surfaces are 70% smaller than Longwood Gardens'.
 Green facades have become a growing trend for urbanites looking to connect with nature; potted plants are just not enough anymore. Like any growing trend, this one opens the door for many adventurous and creative steps ranging from the artistic to the mammoth to the just plain weird.
The retail store of Ann Demeulemeester in Seoul, Korea, designed by Mass Studies, is a 4-story shop in a growing shopping district which incorporates its living wall not only on the façade, but blends into the interior space as well.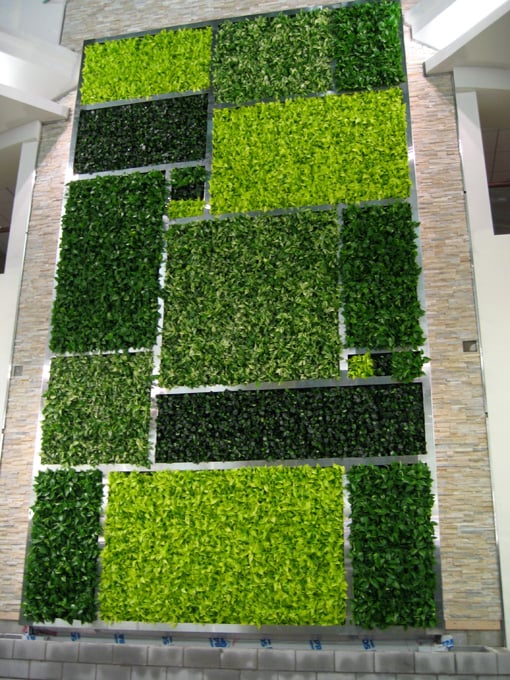 The interior living wall in the Minto Plaza located in Ottawa, Canada, is a 512 sq ft. work of art. Created and installed by GSky (the same company that worked on Longwood Gardens) is made up metal separators and four types of low-light plants arranged into unique rectangular patterns
At 2,380 sq. ft., PNC Financial Services Group, Inc. has recently been pushed out of the title of Largest Living Wall in North America by Longwood Garden's 4,072 sq. ft.wall. This beautifully arranged living billboard is irrigated in 9 zones only about 15 minutes a week, and is made up of geographically compatible plants so that the design remains constant year-round.
 As living walls continue to increase in popularity, it's hard to say how long Longwood Gardens will continue to be North America's largest living wall. But regardless of title, it is an amazing feat. And I'm positive this trend that will continue to surprise us. As a newly minted urban denizen, I'm excited to watch as our cities get rid of their old anti-nature stigma.