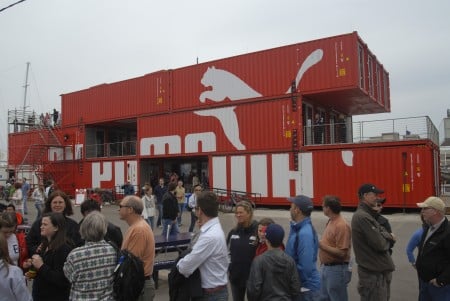 May 6, 2009
Looking at LOT-EK
Contradictions abound as post- globalization "utilitarian" design meets elite corporate sponsorship on an architecturally-fraught stretch of Boston's waterfront.
The 11,000 square-foot, three-level building comprises two dozen 40-foot shipping containers held together with 3,700 bolts and 15,000 screws. Photo: courtesy LOT-EK
Puma City, LOT-EK's mobile shipping-container pavilion, has landed on Boston's waterfront, a stone's throw from the Institute of Contemporary Art and right next to the skeletal first phase of the massive Fan Pier mixed-use development. The red, logo-emblazoned industrial-chic building, which houses a shoe boutique, a bar and lounge, and offices, is part of the corporate sponsor's encampment shadowing the Volvo Ocean Race, an eight-team around-the-globe sailing event.
LOT-EK's founders, Ada Tolla and Giuseppe Lignano, were on hand Monday night for a panel discussion about shipping-container architecture organized by the Boston Society of Architects (BSA). "There's more than 25 million containers sort of sitting around in the ports of the Western world because of the imbalance of trade between the east and the west," Lignano told the crowd. But while the designers typically revel in repurposing the stuff of industrial society—from shipping containers and oil tanks to detergent bottles—the Puma pavilion was actually purpose-built in China (where they've been keeping busy with several projects recently).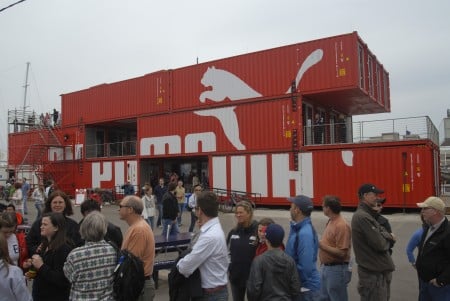 Lovers of sneakers and shipping-container architecture loll around Puma City prior to Monday's panel. Photo: Melissa Ostrow
So, wait, doesn't the container's newness contradict LOT-EK's reuse tenet? Not according to the designers, who noted that they're making use of the modules and logistics of the containerized shipping system and demonstrating the potential of container architecture.  The BSA panelists touched on schemes to retrofit containers as low-income housing and mobile clinics (a la Containers 2 Clinics), but also cited concerns about political hurdles. Tolla explained that the Puma City building was designed to meet the International Building Code, with the understanding that modifications would be needed to meet local requirements as it hopped the globe. "Local egos override the IBC," Lignano quipped, adding that Boston was a good deal tougher than Alicante, Spain, where the race started. (They were then quick to add that local officials in the race's port cities welcomed the building.)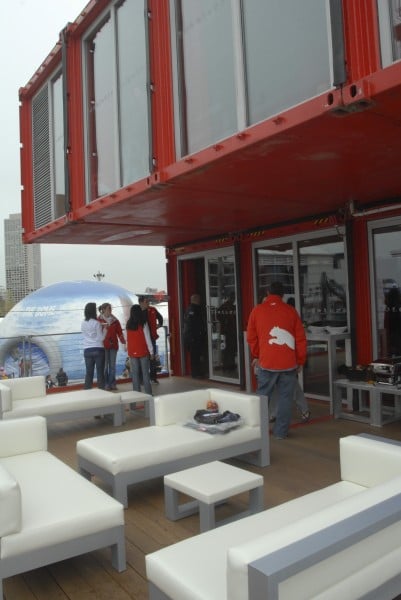 Puma City's construction and operations manager spent 100 days at Sino-Peak, a container manufacturer in Tianjin, shepherding the project from schematic architectural drawings to finished building (or actually buildings, since a smaller version leap-frogs this one in order to keep ahead of the race). Photos: Melissa Ostrow
Scalability issues aside, the presence of Puma City in this particular location on Boston's waterfront sets up some compelling contrasts: post-globalization "utilitarian" design celebrating an elite corporate event whose primary sponsor is a car company; flashy temporary building taunting a city whose development has all but ground to a halt, occupying a spot that's been empty and contested for decades; cheery shipping crates stacked on the waterfront just down the way from a recession-hit working port; cantilevered facade that cheekily (if unintentionally) mimics the ICA, which has had its share of design and construction issues (and mixed architectural reviews.) In any case, Puma's investment in the pavilion—which Smith pegged somewhere between "a lot and too much"—won't be wasted, as the company plans to cart it to future international events, including next year's soccer World Cup in South Africa. Catch it while you can: the maritime carnival decamps for Galway, Ireland, on May 16.