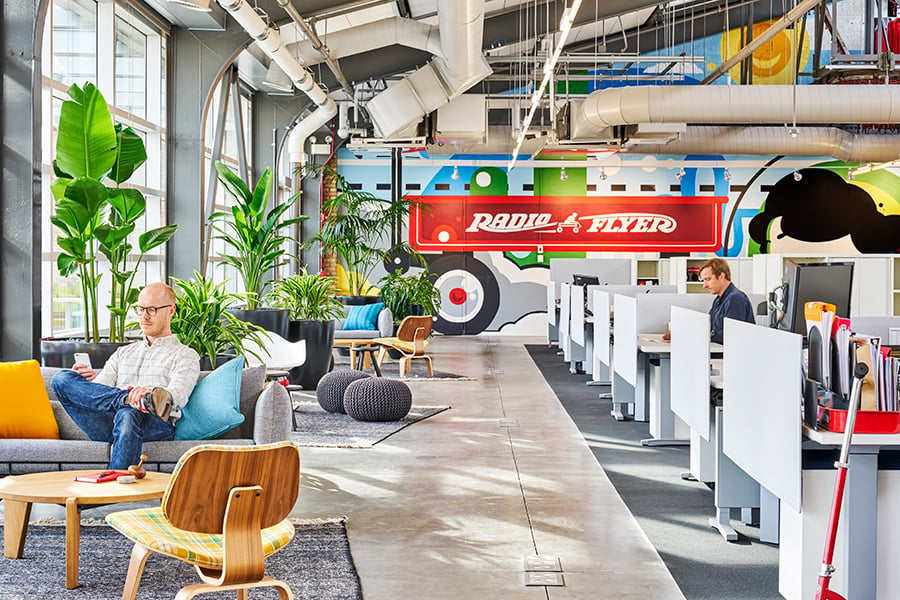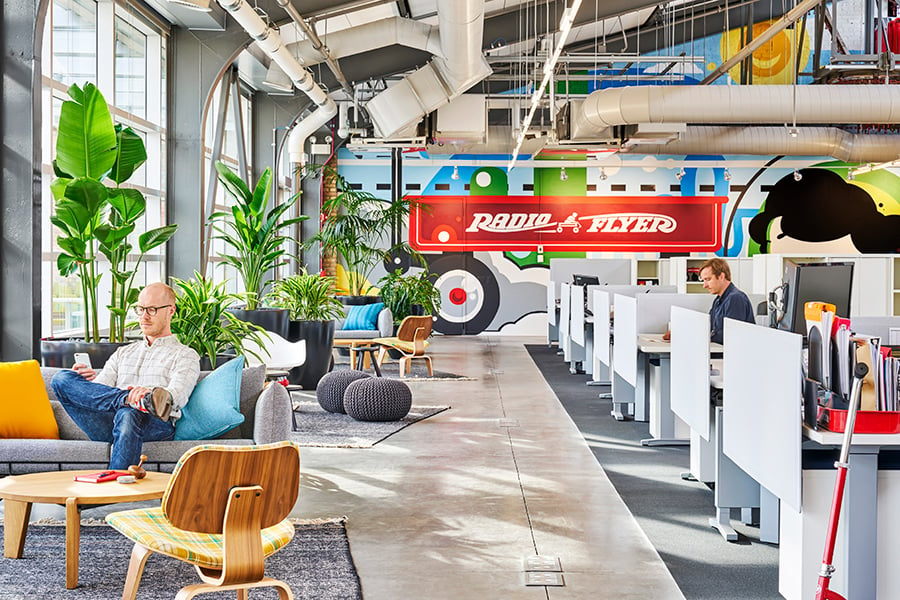 November 6, 2018
Life After the Death of the Office: Avoiding Ubiquitous Workplace Design in a Tired Market
Thanks to cloud computing and Skype, there's less need for a physical office, but the urge to transmit corporate culture and values persist.
---
Today's employees want to live, work, and play all in a few blocks' radius. For corporations asking how they can attract the best and brightest talent, "The easiest answer to that is, what neighborhood are you in?," said Jeffrey Shapack, CEO of real estate developer Shapack Partners at a recent panel. "What are you going to offer them beyond a nice desk with a nice chair?" Chicago's Fulton Market neighborhood—home to tech company offices, high-end boutique hotels, and a restaurant row stacked with James Beard–award winners—fits Shapack's bill.
Shapack was a panelist at Metropolis's Think Tank discussion, "Life After the Death of the Office: Achieving the Uncommon and Avoiding Ubiquity in a Tired Market," hosted at Gensler's Chicago headquarters in mid-July and moderated by Metropolis's Susan S. Szenasy. And while no one spoke up for the cure-all capabilities of well-designed furniture, there were plenty of prescriptions for how quality workplaces are the result of urban context and deep, multidisciplinary research.
Given the ubiquity of teleworking and mobile technology, both recreation opportunities and "your workplace [are] spread out over the neighborhood," said panelist Tom Mulhern, a senior associate at Gensler. For Gensler's office design for Wilson Sporting Goods, the neighborhood amenities question had to include outdoor recreation opportunities, per the corporate culture. So when it was time to move the company's headquarters out of the suburbs, they chose Chicago's Loop, in order to tap into the city's vitality and recreational lakefront, according to Molly Wallace, Wilson's director of special projects and events. "It was intentional that we were close to tennis courts, [athletic] fields, [and] the beach, so our employees can go out and play and participate in sports," she said.
---
The sporting goods company's new digs offer the same wide spectrum of quasi-social, public-to-private spaces that first started emanating out of Silicon Valley, and has since permeated every corner of the economy. "No longer was it just tech companies that had ping pong companies, bean bag chairs, and beer," said hospitality industry CEO and panelist Michael Schultz. "All kinds of industries [are] looking to accomplish the same thing."
With work files evaporating to the cloud and conversations channeled into Skype, there's less need for employees to congregate in a shared physical space, but the urge to transmit corporate culture and values persist, and for this purpose immersive shared experiences (like physical environments) are still key. For instance, Gensler is hiring anthropologists and futurists to decode the essential character of their clients; to find the "white-hot center of what make an organization special and unique," Mulhern said. In the process, designers are becoming "much more skilled collaborators."
The same technological factors that have de-emphasized the traditional reasons for building office space have also provided previously unheralded levels of data. Mulhern said this treasure trove of operational documentation is prompting an uptick in "humility and curiosity."
And in that spirit of curiosity, panelist Tom Alexander's company Holistic aims to supply people like Mulhern with information that helps them ask better and better questions. Holistic analyzes data generated by employers so that they can make their companies "more fair, more opportunity-filled, more exciting, [and] more balanced," Alexander said. Employee survey data, leadership survey data, alumni data, demographic data, payroll data, and performance information outline each company's DNA, to be deployed in fixing problems corporations often don't know they had. (Climate controls—especially for women in chilly offices—are one common and misdiagnosed culprit.)
It's an exercise not entirely different from an architect's programming procedures. The wealth of data available and organized from platforms like Holistic mean that designers have the fine-grained control needed to start "designing experiences," said Mulhern, not just spaces.
But who is the audience? Certainly customers. But, said Schultz, "our employees are now our guests, or our clients. You have to exceed their expectations."
The Think Tank discussions in Chicago were held on July 18 and 19. The conversations were presented in partnership with Sunbrella, Wilsonart, DXV/GROHE, Visa Lighting, and DWR Contract.
You may also enjoy "Alexander Fehre Designs a Surreal, Postmodern-Inflected Office in Germany."