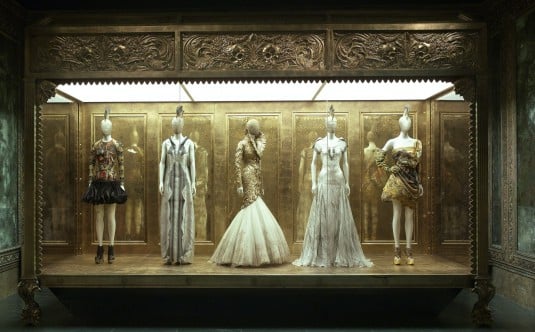 August 5, 2011
One Last Look at Savage Beauty
When I first heard last November that there was going to be a full-scale exhibition, Savage Beauty, a tribute to Alexander McQueen, I wasn't sure the Metropolitan Museum of Art was going to be the best venue to facilitate the retrospective show. Then again, at the time, I had yet to delve into McQueen's work. […]
When I first heard last November that there was going to be a full-scale exhibition, Savage Beauty, a tribute to Alexander McQueen, I wasn't sure the Metropolitan Museum of Art was going to be the best venue to facilitate the retrospective show. Then again, at the time, I had yet to delve into McQueen's work. I had heard of his exquisite tailoring often presented in obscure runway performances, I recognized the iconic skull printed on his ubiquitous ready-to-wear silk scarves and I adored the tail of the uppercase Q in his brand identity. That was the extent of my McQueen knowledge.
But the exhibit was eye-opening, and after two visits, I'd still consider a third. The first time I went, I was well prepared, armed with a magazine and iPod as I joined the queue for a densely packed Savage Beauty. While the exhibit earned outstanding critic reviews, it also received significant publicity for its notoriously discouraging wait. Since the opening, the museum has consistently estimated waiting times up to two and a half hours, fending off visitors not keen enough to join the meandering line. Still, for the Kate Moss Widows of Culloden hologram and the intricately crafted mannequin masks alone, I'd say the wait is worth it, and still is even for a second time.
The Met announced last week that it would offer unprecedented late-night, final weekend hours on the last two nights. Still haven't seen it? There's no excuse now. "Visitors from across the globe have come to see this remarkable exhibition, and we want to keep it open for as many people as possible," said Thomas P. Campbell, the Director and CEO of the Met. Since it opened on May 4, over 550,000 visitors have flocked to the Upper East Side. The extended hours will allow last-minute museum visitors one last chance to admire the work. "Indeed, these midnight hours will mark a fitting conclusion to this powerful exploration of McQueen's work."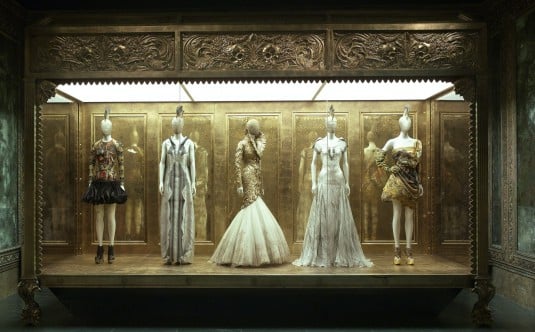 As the main focus of the Met's annual Costume Institute Gala, Savage Beauty displays work ranging from McQueen's earliest pieces created at Central Saint Martins, through his tenure at Givenchy, to the height of his success with his own fashion house at the time of his death in 2010.
For those like myself previously unfamiliar with McQueen's work, the exhibition provides a transcending experience, acquainting each visitor with the major themes and inspirations throughout the late designer's life. Each room, adorned with different backdrops to compliment McQueen's work, is captivating. The most hauntingly beautiful of them all, the Cabinet of Curiosities, holds an assortment of accessories, video installations and mannequins, all in one dim room with gridded shelves. In a glance, I saw an overview of McQueen's influences from nature, primitivism, history and foreign culture.
The other rooms are equally as exquisite: Highland Rape is comprised of raw and broken wood to match the torn garments representing violence in Scottish history; Romantic Gothic is a room of large antique mirrors, amplifying the morbid religious imagery printed onto the fabrics, as a Tim Burton-inspired black parachute silk coat blows in a light breeze behind a glass window; Romantic Primitivism combines lace, chiffon and leather in a rusty, corroded manner, accompanied by an underwater shipwreck video art directed by McQueen, suspended above the gallery; as the last room Plato's Atlantis, brings together nature and technology, and leaves the visitor with McQueen's final vision before his death. Each room is breathtaking, just as each piece is compelling and a chance to peer into the thematic explorations of McQueen's mind. The exhibition itself is as much of a masterpiece as the work it exemplifies.
As I left the exhibit, I picked up a few photo postcards for some of my fashion-savvy friends abroad. In reflecting on my visit so I could describe it to them, I realized what resonated with me most were the decorative masks by Guido Palau, finishing each faceless mannequin with personality. Without them, even the powerful ensembles lacked life, the way they did in the hard cover exhibition catalogue, which was merely a compilation of mediocre photographs shot with the garments on white mannequins against a neutral gray background. While McQueen's work was best represented when carried on a model in a live and dramatic runway performance, the masks in Savage Beauty were able to complete each look with strong character.
McQueen's short yet prolific career brought together a profound curiosity for nature, a thorough understanding of cultural history and a mastery of his craft. I finally understood how his incredibly extensive body of work could only be staged by a large and historical institution like the Met. Documenting over 100 ensembles and 70 accessories through various themes, Savage Beauty was comprehensive, revealing the controversies and complexities in the late designer's work, and brought awareness of his flair to a diverse audience. For the mesmerizing outfits, the detailed interiors, the vibrant video installations and the transformative exhibition design–I'd go again.