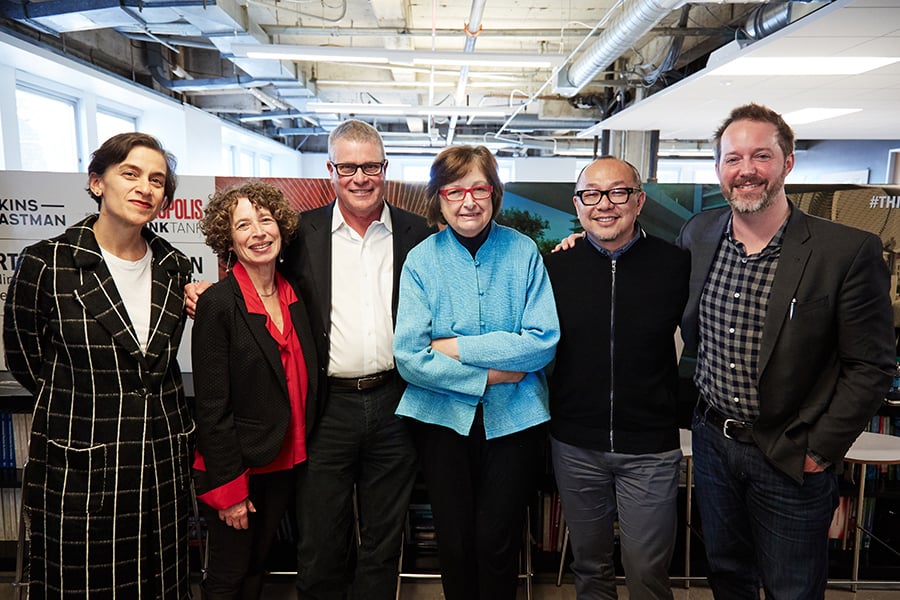 November 16, 2018
Lessons on Participatory Design from San Francisco
At the San Francisco offices of Perkins Eastman, designers and policy wonks discussed their experiences with participatory design in a panel led by Metropolis's Susan Szenasy.
---
Developed in Scandinavia in the 1970s to give factory workers a voice in improving their working conditions and processes, participatory design democratizes the design process by incorporating input from all stakeholders and hopefully results in a more successful project. Today, it is commonplace for firms working on public projects to hold community meetings and design charrettes. Soliciting input online opens up a broad channel of communication but can also be an overwhelming firehose. At the San Francisco offices of Perkins Eastman, seasoned designers and policy wonks talked about their experiences with participatory design in a panel led by Metropolis director of design innovation Susan Szenasy.
Participatory design is critical because it "creates a sense of shared authorship," said Erich Burkhart, a principal at Perkins Eastman. "These decades-long projects face all sorts of hurdles, and they'll never be built unless there's a reservoir of community advocacy." When talking to Silicon Valley companies who want community buy-in for their office development plans, Allison Arieff, editorial director at urban think tank SPUR, recommends they start the conversation with "half of a plan." "You can't just present a project and say it's designed for the community," she said.
---
However, connecting with a meaningful spectrum of the community may require considerable initiative. For BART (Bay Area Rapid Transit)'s last customer survey, interviewers went into the stations with tablet computers and directly surveyed nearly 44,000 riders. "If you hold a meeting, you might get comments from 10 to 20 people, and those responses might be skewed," said Tim Chan, BART's stations planning acting group manager. To inform a competition to redesign Harvey Milk Plaza in San Francisco, the organizers went through a community input process via the online platform Neighborland, which garnered comments from 11,000 people and completed surveys from 2,600. "To have that kind of feedback was incredible," said Andrea Aiello, executive director of the Castro/Upper Market Community Benefit District and president of The Friends of Harvey Milk Plaza. "We would have never been able to reach all these people with a traditional community charrette." One of the biggest challenges is identifying who all the stakeholders are. "Sometimes they're not the most vocal or obvious folks out there," said Burkhart. Connecting with people in the homeless community, those who speak different languages, and those of different generations could all be relevant to the project.
When gathering online input, limiting and fine-tuning the questions is key, panelists reiterated. The organizers of the Harvey Milk Plaza competition winnowed the proposals down to three finalists before soliciting public feedback. They also made sure the questions were in layperson language and used the Likert scale to quantify reactions. Keeping the questions high-level also helps to channel useful data, said Eric Birkhauser, project manager at VIA Architecture. For a survey about a redesign of BART entrances, one of the questions was, "'Is transparency important at street level?' versus 'Should we use glass?'" he said.
The Think Tank discussions in San Francisco were held January 31 and February 1. The conversations were presented in partnership with DWR Contract, DXV/GROHE, KI, Sunbrella, Visa Lighting, and Wilsonart.
You may also enjoy "How Architecture Can Help Address America's Mental-Health-Care Crisis."