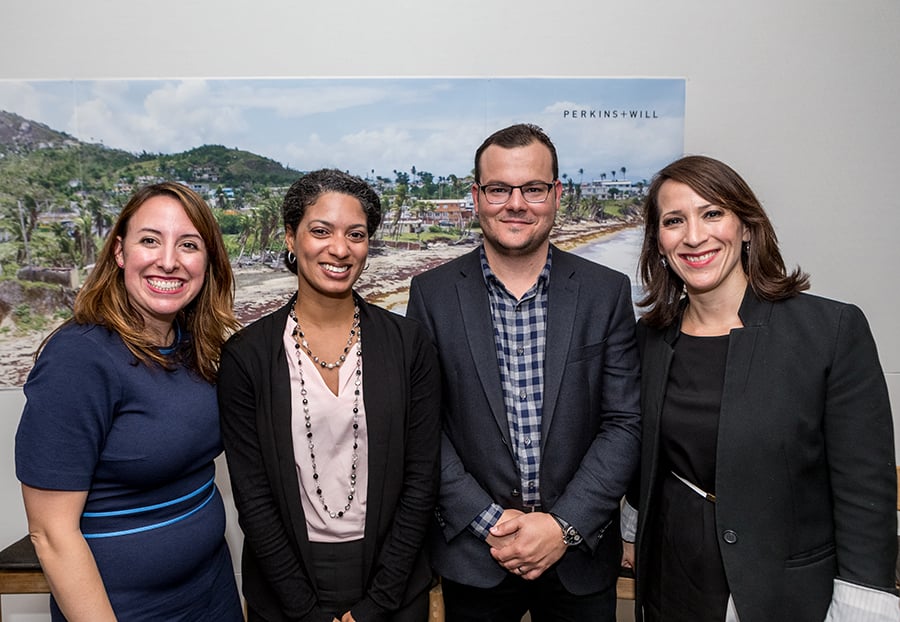 November 13, 2018
How Architects Are Helping Communities in Puerto Rico Rebuild
Panelists at this Metropolis Think Tank event at Perkins+Will's D.C. office stressed the importance of remembering that there's no one-size-fits-all fix.
---
It has been more than a year since Hurricanes Irma and María ravaged Puerto Rico. Even now, accurate estimates of the actual death toll—in excess of 3,000 fatalities, according to the latest available report—remain elusive. The commonwealth's power grid still lies in ruins.
Simply put, "the island stopped working after the hurricane," said Armando Nazario, a senior designer at Perkins+Will, at a recent Metropolis Think Tank panel convened at the firm's Washington, D.C., office. The discussion, moderated by Metropolis director of design innovation Susan S. Szenasy, dwelled on the challenges of delivering aid to Puerto Rico's unevenly developed and funded urban and rural communities, each with its own pressing needs. "We also don't have the census data that helps support this [to make] each community self-sufficient," Nazario explained.
Working with representatives from various international organizations, Nazario and his Perkins+Will colleague Yanel de Ángel, an associate principal, helped spearhead ResilientSEE, which aims to "build a resilient Puerto Rico." Self-sufficiency, de Ángel affirmed, is key to meeting the group's goal because "if you're not feeling empowered, a sense of responsibility cannot be bestowed."
---
As individuals found ways to help one another in the storms' aftermath, the bonds forged within communities have gone a long way toward empowering people. Some, tired of waiting for cues from local government, have begun taking matters into their own hands. Enterprise Community Partners, for example, is developing a housing resiliency manual with Perkins+Will and the University of Puerto Rico to address risk mitigation in the wake of natural disasters. "We rely on being able to work alongside partners on the ground to provide education on risk and vulnerability, on what you can do and on how you can affect your home life," said Erika Ruiz, a director at Enterprise. "A lot of the work that we do is midterm- and long-term–focused resiliency activities as well as long-term planning for communities."
For municipal rebuilding efforts, the panelists stressed the importance of remembering that there's no one-size-fits-all fix. For some neighborhoods, residents want centralized community hubs with dedicated solar panels; in others, people are channeling resources into individual household solar systems. Other regions have looked to invest in water filters.
"You have to start that conversation with the community," said Marilyn Shapley, a senior policy adviser with Mercy Corps, a nongovernmental aid organization. "We have to start with conversations of what that risk is, what their risk tolerance is, how their safety nets are in place, if they have them in place. It does take a village, and it does start with actually talking to every single village."
The Think Tank discussions were held on September 26 and 27 in Washington, D. C. The conversations were presented in partnership with DWR Contract, DXV/GROHE, KI, Sunbrella Contract, Visa Lighting, and Wilsonart.
You may also enjoy "Fall Books Preview: 27 Top Picks from Metropolis Magazine."