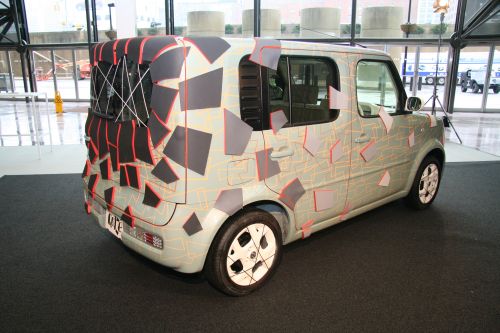 March 28, 2008
Pimp My Cube
Nielus, by Kaspar Spurgeon, Minos Tzouflas, Susan Hasselbrook, and Diana Thomas Last week, at the New York International Auto Show, Nissan unveiled two craftily styled versions of its Cube microvan, a five-door MPV (that's "multipurpose vehicle" to you) that will become available in the United States next year. The makeovers are the result of a […]
Nielus, by Kaspar Spurgeon, Minos Tzouflas, Susan Hasselbrook, and Diana Thomas
Last week, at the New York International Auto Show, Nissan unveiled two craftily styled versions of its Cube microvan, a five-door MPV (that's "multipurpose vehicle" to you) that will become available in the United States next year.
The makeovers are the result of a collaboration between the car company and a group of eight students at Brooklyn's Pratt Institute. But while the restyled Cubes look sexy, the designs are about more than good looks. Pratt professor Martin Skalski, who led the project, teaches three-dimensional color theory, and he helped his students marshal shape, pattern, and hue for maximum visual effect. Nielus is a combination of two graphical ideas coming together: jagged pink and purple shards burst out from the front bumper (perhaps a little too violently for comfort), while green polygons clamber over the rear door. Quaze is only slightly less frenetic, its pale green body covered with a network of intersecting lines inspired by city maps.
Inside Quaze, the floor has been dyed orange, the seats reupholstered in cream-colored quilted taffeta, and the seatbelts replaced with backpack-like straps. The inspiration here? Ziggy Stardust-era David Bowie, obviously.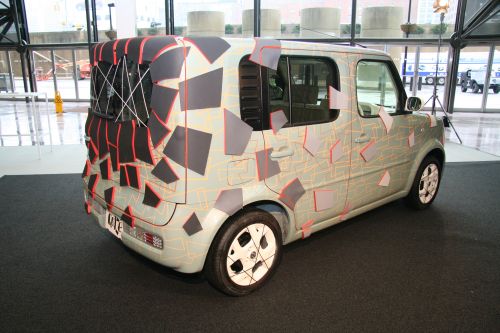 Quaze, by Emily Potter, Tawny Hixson, Yeon Jee, and John Renaud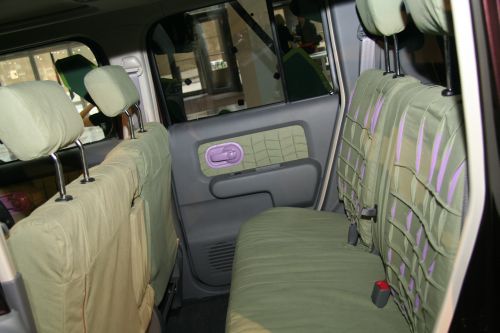 The interiors of Nielus (above) and Quaze (below)