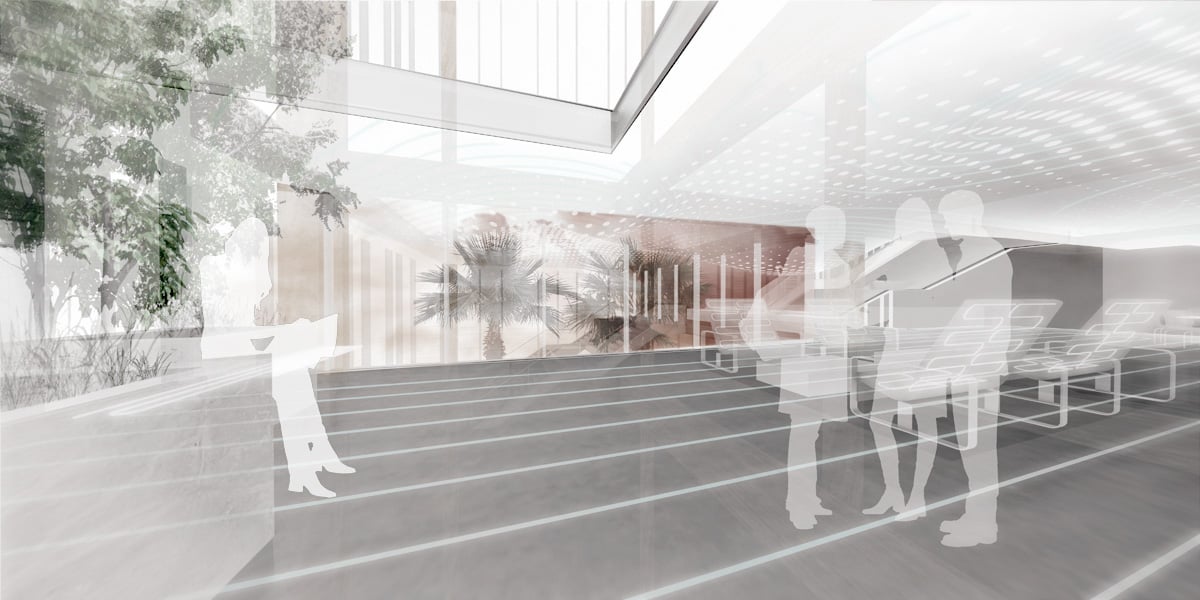 July 1, 2014
Q&A: Architect Joseph Filippelli on the Future of the Workplace
The designer talks office trends and the Workplace of the Future 2.0 Competition.
"We now talk about the 'workplace' where once we said 'office' or 'studio,' in a nod to the reality of work happening anywhere," wrote Andrew Blum in our November cover feature about the office's cultural evolution. Blum's observation accompanied the conclusion of the first Workplace of the Future Design Competition, co-presented by Metropolis and Business Interiors by Staples. The winning design, "Vertical FLux: The Office Tower as Fluctuating Atmospheres," was conceived by architect Joseph Filippelli as a countermeasure to prevailing open-office dictum. Where there is standardization and a calculated sense of "freedom," Filippelli created an alternative office open to "extreme variability"—temperature, lighting, privacy, social interaction.
Filippelli's scheme "baked in a continuum of environments," where workers could tap into a wide range of possibilities. The Workplace of the Future 2.0 Design Competition wants to build off of this first experiment, asking architects and designers to remake the way we work for the next 10 to 15 years. "The workplace is smack in the middle of this massive rethink," reads the brief, and participants should submit entries that reflect this incredible change.
Below, I speak with Filippelli about office design, new workplace trends, and how his career has changed since winning last year's competition.
Susan S. Szenasy:  What about the office typology makes it such fertile ground for research and invention?
Joe Filippelli: The office, in my opinion, is the richest architectural typology. It encompasses a seemingly endless number of considerations including social, political, economical, ecological, and, of course, technological. All of these factors are in constant tension with one another which makes an intervention challenging. We cannot begin to rethink one particular aspect of the office without causing a domino effect. Fortunately, the challenge has consistently led to some of the most interesting and forward thinking ideas in the discipline.    
SSS: Can you recap some of the more salient points of your winning design? What were the concepts it tried to assert or expand upon?
JF: My design attempted to start a conversation about the habitual necessity to generalize how we work and what we work in. Rather than the typically homogenous office interior, calibrated to operate at the "ideal working condition," I began to think of workplace as something in a state of flux. Much like the exterior environment, I wanted to create a variety of atmospheres allowing people to gravitate towards where they feel comfortable. I tried to achieve this by reorganizing the office as a vertical module, which allows for natural temperature distribution and creates comfort zones along the way. Each of these zones offers varying degrees of privacy and publicity for the occupant to inhabit depending on their mood, preferred working style, task, or comfort level.  
SSS: What should architects consider in their response to the most recent backlash of the open-plan office?
JF: Architects need to consider that the open-plan office, much like any other layout, has its strengths and weaknesses. For every person that feels productive while working amongst a group of people, there is someone who is miserable. Rather than prescriptively forcing people to operate in what we feel is an idealized working environment, our focus should be on fostering a productive atmosphere by meeting individual needs and setting the appropriate stage for specific tasks.     
SSS: What's changed in the last year in terms of office design or trends, do you think?
JF: It's difficult to say what has changed in the last year necessarily, but I have noticed an increased focus on "ultra-ergonomics."  Much like the Action Office era of the 1970s, we see furniture manufacturers trying to give employees alternatives to sitting all day by allowing their workstation to transform into a multitude of configurations, including the ability to add privacy as needed (a reaction to the open plan without bringing back the cubicle). Another trend I'm seeing is an influx in smart surfaces where everything is becoming a touch screen, especially vertical surfaces. Though I too employed similar technology in my design proposal, I'm hearing some researchers say that this may be even worse for you than the mouse and keyboard.
Architect Joseph Filippelli
Courtesy Rafael Soldi
SSS: What new doors and opportunities have been opened since you won last year's competition?
JF: In addition to the many accolades from peers, former instructors, coworkers, and family, I have been asked to present my project on numerous occasions, the most recent being at NeoCon 2014 in Chicago. I do however think the best part has been expanding my network to other people who are interested in similar research and learning from their experiences. I've met some great people who are doing some phenomenal work.  
---
Click here for more on the Workplace of the Future 2.0 Design Competition.