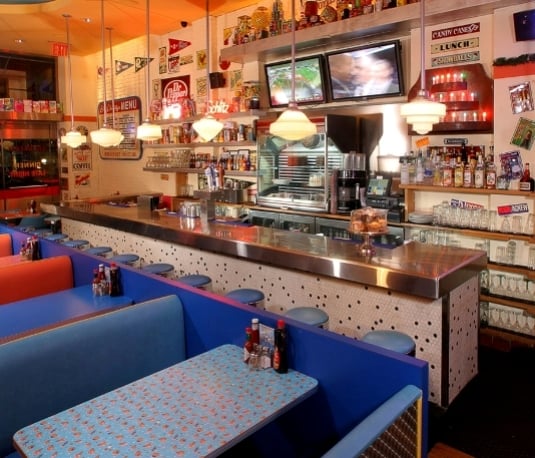 March 16, 2011
Q&A: Memphis
Grace Designs: Memphis showroom designed by Sottsass Associati. World Trade Center, Dallas, TX, 1984. Rumor has it that the short-lived design movement, Memphis, got its name as group of designers sat around late one evening in Milan with their leader, Ettore Sottsass Jr., while American music played on the radio. The story goes that Bob […]
Grace Designs: Memphis showroom designed by Sottsass Associati. World Trade Center, Dallas, TX, 1984.
Rumor has it that the short-lived design movement, Memphis, got its name as group of designers sat around late one evening in Milan with their leader, Ettore Sottsass Jr., while American music played on the radio. The story goes that Bob Dylan was singing "Oh, Mama, can this really be the end /To be stuck inside of Mobile/ With the Memphis blues again."  With its pop-culture roots, it's not surprising that some of Memphis's most memorable products, plastic laminates, have become the favorite surfacing material of "fast food restaurants and cheesy nightclubs," as Belinda Lanks writes in our March 2011 issue.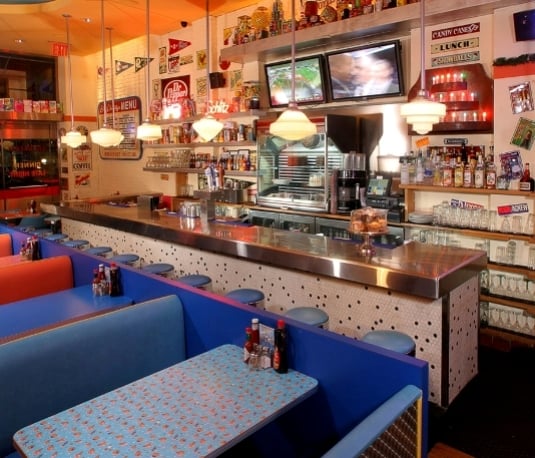 Abet Laminati's Memphis tabletops in Big Daddy's, New York. Read more here.
Knowing that Lorry Dudley, who now runs the U.S. warehouse and distribution center for such great European brands as Moroso, Kasthall, and Droog while consulting with international manufacturers and museums, was personally involved in spreading the word about Memphis in the U.S.A., I could not resist asking her remember the time when the colorful furnishings with their wild shapes first appeared in North America. Here are some of her recollections of a transformative time, nearly three decades ago.
Grace Designs: Memphis showroom interior designed by Sottsass Associati. World Trade Center, Dallas, TX, 1984.
Susan S. Szenasy:  What year (s) were you most active with Memphis?  (Before you answer that, how did this connection happen?)
Lorry Dudley: In 1981, my partner and I built a townhouse in Houston and in the process researched the most modern and up-to -date design details, from outlets to faucets. When it came time for furniture, there was little modern to choose from, especially in Houston. My best friend was living in London at the time and sent me a poster from the Memphis exhibition at Liberty's and I was instantly intrigued. By 1983, I had become the national distributor for Memphis and we worked with architects, designers, and art collectors from our home. We commissioned Sottsass Associati's first work in the U.S. to design our Memphis showroom in the World trade Center in Dallas, which opened in 1984 and closed in 1988. So the most active years of Memphis were between 1983 and 1988.
SSS: What did you think of the movement when you first saw the objects?
LD: At the moment Memphis launched, most people in America were still watching television in Colonial or Mediterranean style cases! To me the message from Memphis was to have our furniture and accessories match what was happening in the world, not our forefathers' furniture. The intention of Memphis was really to establish a new vocabulary of form and ornament, contrasting with traditional hierarchies of materials like stone, glass, shiny metal, etc. Instead they crafted new graphic ornament, in the form of laminate and applied it to totemic forms. Easy-to-clean laminate, large pieces built in modular units making it easy to move for a mobile population, furniture whose design communicated a new story. All of it appealed to me immediately.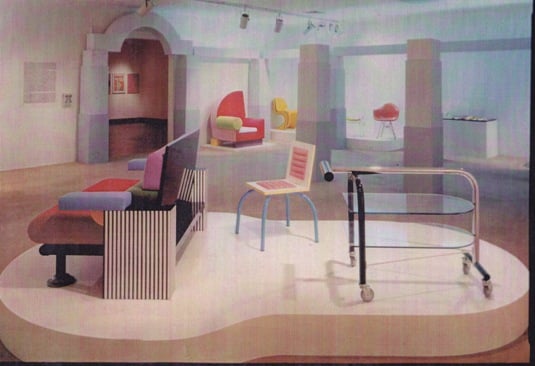 Exhibit at the Memphis Museum of Art.
SSS:  Tell me about your travels with Memphis (where did you take it, to what kind of success?).
LD: In 1984, I curated an exhibition of Memphis that included 510 of the original drawings and about 60 pieces of furniture. The exhibition opened at the Memphis Museum of Art and traveled to 10 museums, ending at the Cooper-Hewitt in New York City. Obviously part of the success was showing the concept of Memphis from drawings to completed objects to the public through museum venues. We traveled not only with the objects but often with the designers themselves. Imagine a group of Italian designers in Memphis, Tennessee visiting Elvis' Graceland or touring the bayous of Louisiana and watching alligators jump at our boat. Whether it was honky-tonks in Austin, Texas, strip clubs in New Orleans or the Daiquiri Corner in the parishes of Louisiana, they wanted to see it all, with infectious enthusiasm. It was as if they needed to absorb everything around them, voraciously devouring the culture.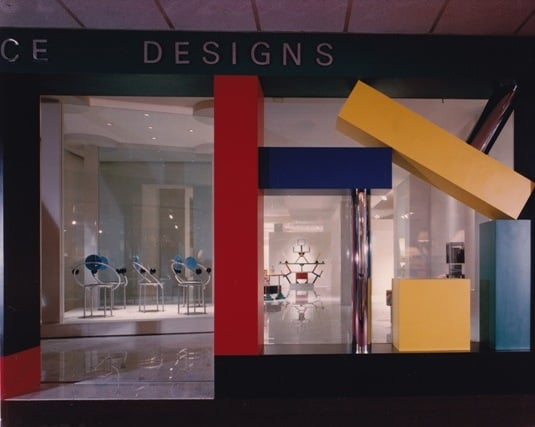 Front Façade of Grace Designs: Memphis Showroom designed by Sottsass Associati. World Trade Center, Dallas, TX, 1984
SSS: Was there one Memphis designer whose work stood out more than others?
LD: Ettore Sottsass, for me, was the one. I truly appreciate all his work, from Olivetti to Memphis. I once visited an 18th century apartment in Venice owned by Cleto Munari who had designed the interior. I remember bursting into tears the first time I saw it. He had designed the terrazzo floors and the exquisite doorways, along with almost every piece of furniture and object. Truly inspiring.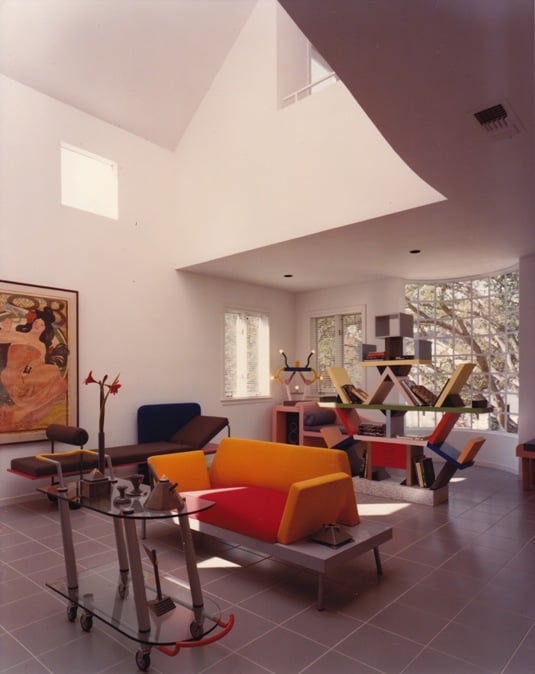 Lorry Dudley's Houston townhome with Memphis furniture – circa 1983
SSS: I have been in houses that are full of Memphis, and all I wanted to do was to run out, it was way too much for me. Is that also how you respond to the overkill or maybe you don't see it that way.
LD: The first time Ettore Sottsass visited my home in Houston, he teased me that like most Americans, I liked too much "candy"! I have lived with Memphis since 1981, so I am certain I see it differently than most. To me it does take some thought and restraint to not be overwhelmed by all the colors and forms, but when it's put together well, it can be extremely beautiful.  To me a house full of Mediterranean furniture sends me running…
SSS: In retrospect, what was important to you about Memphis in its early days in the U.S.?
LD: I'd have to say it was the reaction of the public. Real traditionalists were outraged, establishment modernists were smugly condescending, and everyone else was simply dazzled and curious. It was an iconography that exuberantly flaunted all conventions of design. It was radically new and influenced everything: Graphic art, fashion, film, television…The impact was amazing.
"Art for Everyday" at the Academy Art Museum, Easton, MD, curated by Lorry Dudley.
SSS:  Is the movement a kind of Po-Mo oddity now, or is it worth our attention again? If yes, why?
LD: Memphis' core belief was in the necessity for change and the optimistic power of possibility. Their designs are momentary reflections of culture and provide new context for daily life. This was not about finding ultimate answers, but about posing hypotheses. My favorite quote from Sottsass on this subject; "We are not designing for eternity. For me obsolescence is just the sugar of life."
I still get calls from young designers who have stumbled on Memphis and while they may not understand it, they intuitively recognize its power. They somehow have a burning need to know what it is all about.  It is still compelling and fearless and demands your attention. It's not the colors, or the patterns, or even the novel forms, it's the message that design can be different.
To me, upcoming generations of designers need to know that their work doesn't need to conform to be important.  Memphis is proof of the power of ideas.