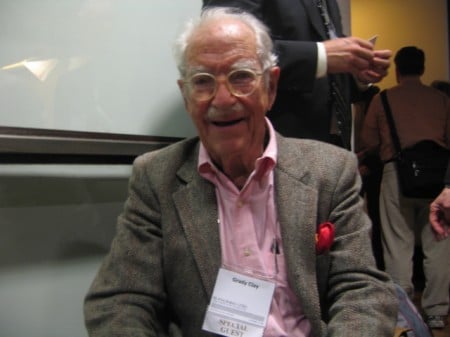 November 11, 2008
Re-imagining Cities: The Way Forward
Urban designers from around the globe look to forge a new curriculum for the profession.
The New Yorker's Elizabeth Kolbert led the Opening Plenary on Friday, titled "Framing the Problem."
Part of the agenda at the Re-imagining Cities conference was to create a manifesto for urban design curriculum moving forward. To spark the conversation, a panel was held on Saturday morning titled "An Agenda for Urban Design Education."
Sudeshna Chatterjee, Principal of Kaimal Chatterjee & Associates and a professor in New Delhi, opened the conversation by outlining some of the challenges faced in the global south. Much of the urban design research and new technology is coming out of Western countries, she noted, and it is hard for her students to apply that thinking and technology to localities in India. "There is a new globalization of urban design services that is happening, and it's not being handled by a firm, it's being handled by many professionals from all over the world," she said. "When you are working in a context that is completely different from the one you know, how do you create local, place-based solutions? Local knowledge is key to sustainability."
Chatterjee believes design education must better support students in countries like India in their effort to translate and research new technologies.
Douglas Kelbaugh, Professor of Architecture and Urban Planning at the University of Michigan, advocated for a complete rewriting of the studio system in architecture and design programs. "Design education is in a crises. It emphasizes the individual, and rewards the extreme and the exceptional. The studio needs to be revamped."
Kelbaugh suggests beginning design degree programs with a studio program off campus. Put it on an infill site in the city, he says, with a team of professions and allow the student to experience the variant degree tracks in a real world context. This way, they can choose the track they would prefer to follow (architecture? urban planning?) with more understanding.
Throughout the weekend, there was also talk about the role of the university itself and about how universities need to be more than just good neighbors, they need to become advocates for and partners in creating a sustainable city. The university must become the idea lab, the researcher, and the generator for the local community.
You can see this already happening in several instances. David Orr talked on Friday about the plans at Oberlin College to revitalize the surrounding neighborhood with renewable energy sources, living systems from John Todd, new cultural containers, and infrastructure. More than just opening up their campus to the city, they are extending the boundaries of their work into the community to change the landscape.
Universities are ideally positioned to play a role in providing research and design services, and they can also be wonderful conduits for the community. I spoke with Ellen Dunham-Jones, Director of the Architecture Program at Georgia Tech, and she told me that students have a way of diffusing heated meetings where residents bump up against designers and planners. Student engagement actually mitigates angst. "They have no horse in the race," she said, so people tend to listen to what they have to say.
Speaking of no horse in the race, I was surprised that the interior design profession was not represented at this conference. Robert Socolow commented on this as well in his opening remarks on Thursday, You can build the world's most efficient structure, he said, but if the interior is not designed well, the building won't perform as it should. It's a shame that the interior design community was not a part of this curriculum conversation.
I am going to throw out another challenge to designers and academics as they think about the new curriculum. Don't forget elementary and secondary public education. Anyone who has read the report Rising Above the Gathering Storm about the state of science, technology, engineering, and math education in the United States cannot help but be alarmed. We are spending more on tort litigation in this country than we are on scientific research. Our students are not prepared to address the emerging needs of our increasingly technical world and our curricula is not engaging them in critical thinking and problem solving. How can we start to bring design education into the public school system in a real way?
And some more photos from the weekend…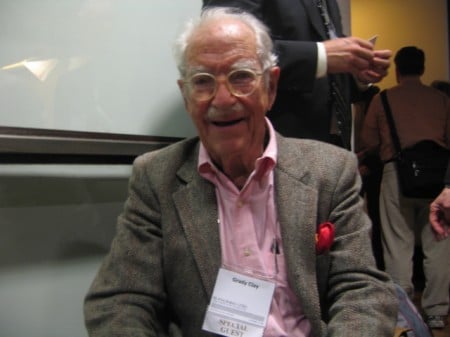 Grady Clay attended the first conference on urban design in 1958.
L-R: Lance Hosey of William McDonough + Partners, Andrew Blum, a contributor to Metropolis and Wired, Ryan Avent of Grist, Lloud Alter of Treehugger, and Alex Steffen of Worldchanging (To read the live blog of  the event by several of the folks pictured here, go here).