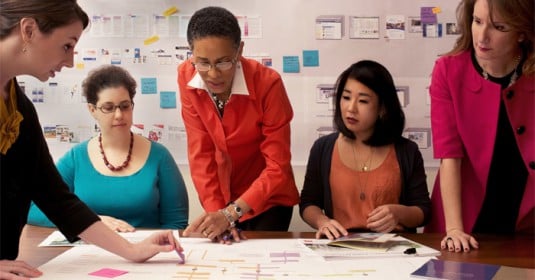 July 29, 2011
Remembering Sylvia Harris
The Metropolis office was saddened this week to hear of the sudden loss of a visionary leader in the design community. Sylvia Harris, the founder and principal of Citizen Research & Design and a designer at the Public Policy Lab, passed away on Sunday. Harris is remembered for her pioneering approach to improving the usability […]
The Metropolis office was saddened this week to hear of the sudden loss of a visionary leader in the design community. Sylvia Harris, the founder and principal of Citizen Research & Design and a designer at the Public Policy Lab, passed away on Sunday. Harris is remembered for her pioneering approach to improving the usability of public spaces and programs through design.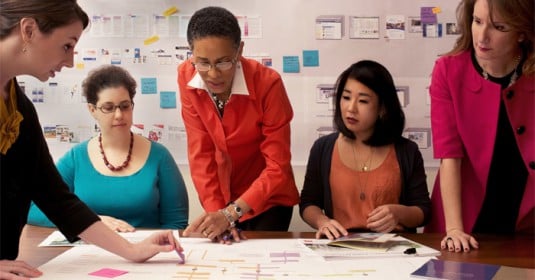 Sylvia (center) and her team, image courtesy Citizen Research & Design.
Harris's company—originally called Sylvia Harris LLC but recently renamed Citizen Research & Design—specialized in wayfinding graphics and improved communication in the public realm. Harris once wrote, "As citizens, we deserve public services that are efficient, effective and respectful. We need straightforward forms and publications, easy-to-use websites and call centres and clear signage and communications in public buildings." The company's projects prove that good design can make virtually anything easy to understand.
Last year, New York University hired the firm to address the difficult navigation of its sprawling, disconnected campus. Citizen R&D surveyed pedestrians and students, assessing the existing maps and signage for their strengths and weaknesses. The team created a total design package for NYU signage, consistently marking each building and installing direction-oriented maps. Today, the campus is still sprawling, but it is now organized and efficient, with fewer lost visitors wandering the sidewalks.
Citizen R&D's work in simplifying Medicare.
The ambitious organization projects in Citizen R&D's repertoire extend to public programs, documents, and Web design.  Also in 2010, the Citizen R&D team partnered with the Public Policy Lab, which Harris had worked with since 2006, to design a new client communication system for Medicare. The team created a user-friendly, efficient system, facilitating communication between Medicare and its recipients and helping patients make health-care decisions with confidence.
Clutter-free, communicative designs for the United States Postal Service.
Throughout her career, Harris insisted that design bring clarity and efficiency to everyday life. At Citizen R&D and as a member of the design team at the non-profit Public Policy Lab, she advocated for design for public benefit and proposed user-friendly versions of government forms and processes. For Harris, design was more than aesthetic improvement. She believed in service design for the masses and dedicated each project to improving the lives of others.
A tribute to Sylvia Harris is being compiled on Citizen R&D's Web site, where those who knew Sylvia are invited to share their memories.