June 22, 2018
Disasters—and Bad Architecture—Can Affect Human Happiness and Productivity
On April 4, Susan S. Szenasy, Metropolis's director of design innovation, moderated a panel at the downtown offices of Page architects on this complex topic.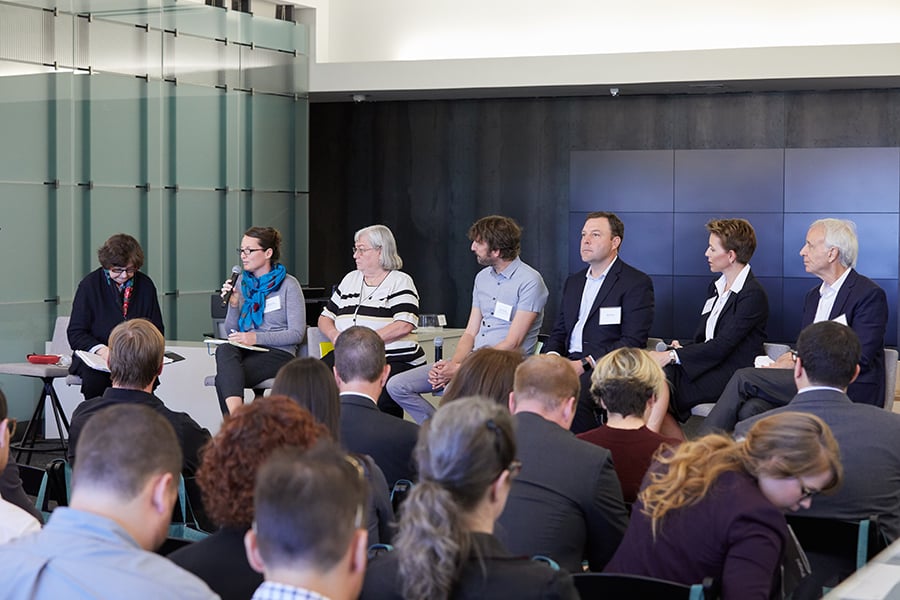 ---
The increasing regularity of major climatic events like Hurricane Harvey has led to meaty discussions among architects, planners, and developers about how best to prepare vulnerable urban communities. This preparation should not be limited to times of emergency, however, but should be anchored to a long-term project of resiliency involving community support, education, and public space. On April 4, Susan S. Szenasy, Metropolis's director of design innovation, moderated a panel at the downtown offices of Page architects overlooking the crown jewel of Austin's urban fabric: Lady Bird Lake and its hike-and-bike trail.
Sam Gosling, professor of psychology at the University of Texas at Austin, challenged his fellow panelists from the onset, pointing to what he viewed as the lack of substantial academic research into the psychological effects of design on human happiness, productivity, and sense of connection. Larry Speck, senior principal at Page and professor of architecture at UT Austin, argued that psychology has always been essential—even "embedded"—in architects' work. Szenasy expanded the concept to ask what types of community-building possibilities can be developed to support and connect human beings during crises.
Indeed, growing levels of anxiety and depression in children demonstrate that looming ecological cataclysms and the erosion of community weigh heavily on our psyches. Two educators, Sara Cotner, founder and CEO of Magnolia Montessori for All, and Sue M. Cox, MD, executive vice dean for academics and chair of the department of medical education at UT Austin's Dell Medical School, spoke of the critical effects of design on the learning process. Although their respective projects vary greatly, Cotner and Cox agreed that design's emphasis on creating space for collaboration and community is key to attaining measurable improvement in students' ability to overcome not only academic challenges but also difficult life circumstances.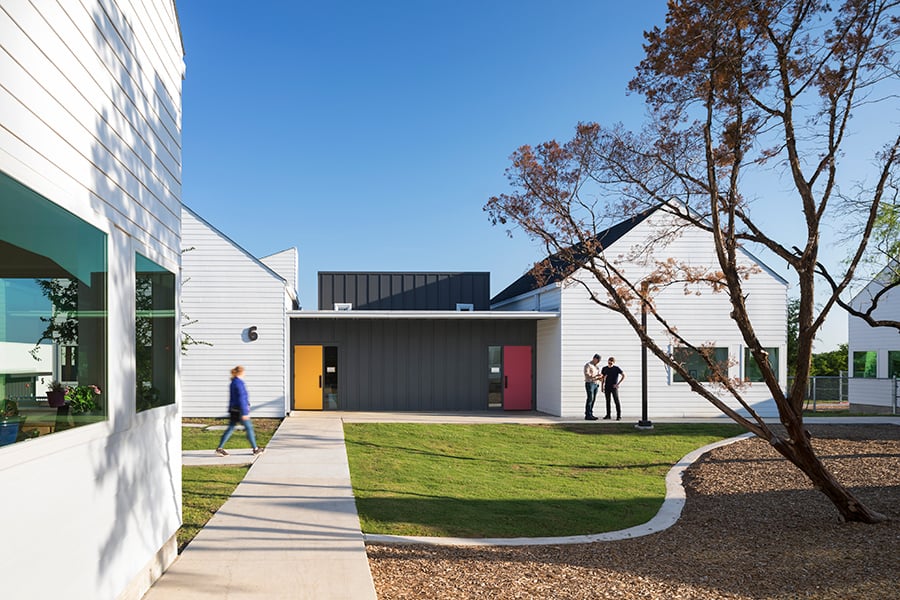 ---
Wendy Dunnam Tita, principal and interior design director at Page, brought the panel themes back to buildings and suggested architects avoid over-programming and enable flexibility of use. Even small gestures, she added, may have big effects on well-being and on a project's longevity. As she said, "A building that has resiliency is one that can accommodate change and be lasting."
This point linked back to Szenasy's question about how to build community. For Adam Nims, managing director and head of Trammell Crow Company's Austin Business Unit, part of the solution is to normalize community-oriented amenities in real estate developments. Nims is currently heading the construction of Austin's largest office building, which will feature outdoor terraces on every other floor and include a pocket park at street level. "These things might seem trendy," Nims said, "but they are grounded in data about how people behave and how we can set them up for success in the environment we are creating."
But for all the talk about community, what exactly makes one up? Speck, building on Dunnam Tita's earlier comment, offered a definition of sorts: a collective group "that has longevity and investment in its institutions and pride in each other so that if something bad happens, we know we are all in this together."
The Think Tank discussions in Austin, Texas, were held on April 4 and 5. The conversations were presented in partnership with Sunbrella, DXV/GROHE,Wilsonart, Visa Lighting, and Lutron. 
You may also enjoy "Mærsk Tower Revitalizes the Gloomy Research Campus in Copenhagen."