August 16, 2019
Experiencing Burnout? Your Workplace Might Be Making Things Worse
Experts are increasingly identifying "burnout" as a cause for concern. Can design fight it back?
---
The discourse around workplace design privileges metrics such as "productivity" and "well-being" while downplaying their inverse—i.e., burnout. With improvements in technology that allow for global, interconnected, 24-hour work cycles come expectations that employees be available for most, or all, of those hours. It's a condition that normalizes work-related anxiety. 
Burnout and its causes and effects were at the core of a recent Think Tank discussion at AECOM's Washington, D.C. office, moderated by Metropolis managing editor Lila Allen. As the dialogue made clear, the challenge is how to create distraction-minimizing environments and management strategies with the goal of building stress resilience—the ability to bounce back from stressful situations quickly. 
---
There are several reasons why companies should be more proactive about burnout. For one, retaining an employee is much less expensive than hiring and training a new one. Burnout also spreads:  Employees suffering from chronic stress are likely to be less effective in their tasks and more cynical, which can have a negative effect on their colleagues. Perhaps most dramatically, the health-care costs associated with burnout are huge; a Delos report, "The Role of Design in Burnout," put the figure in the realm of $125–190 billion annually in the U.S. 
Whitney Austin Gray, one of the report's coauthors, brought several salient developments to the panelists' attention: The World Health Organization designated burnout as a syndrome earlier this year, and Gallup has begun publishing research on the 20 percent of workers who are actively disengaged from their place of work. "We have the numbers. But it's more difficult to measure engagement," Gray said.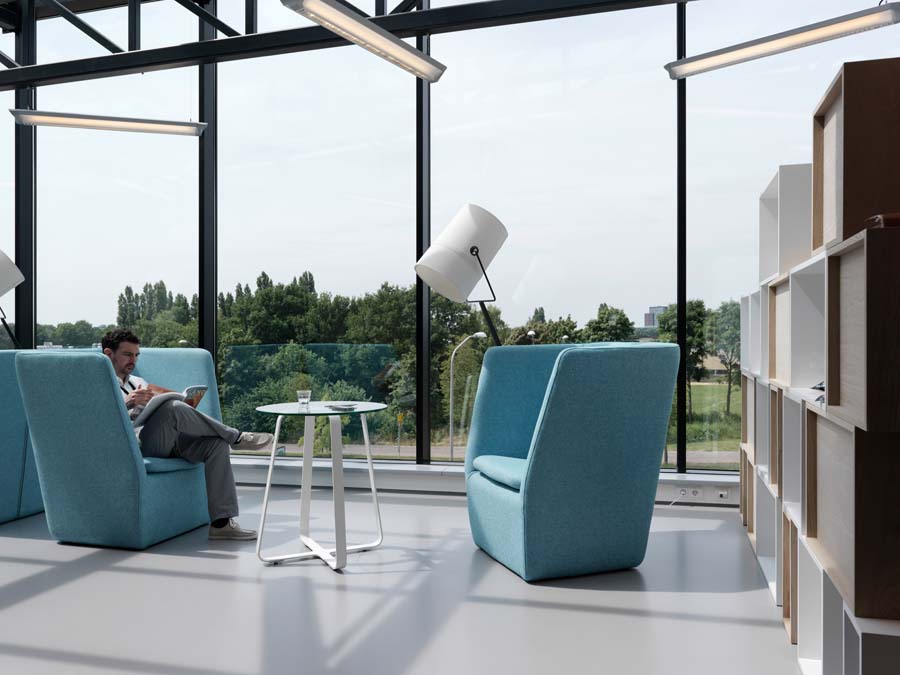 ---
Technology is able to furnish some pieces of the engagement puzzle. From smart buildings to wearable technology, data is being gathered everywhere, and at all times. "Data converts nonbelievers," asserted AECOM's Stefana Scinta, who heads up strategy and change management at the Washington, D.C., outpost. "We know that ambient conditions—light, carbon dioxide, and acoustics—impact performance. And with portable devices, we're able to prove that that is true, and to track at what point each factor starts to impact performance."
But data can be a double-edged sword, acknowledged Darren Vican, vice president and director of technology solutions at AECOM D.C. The same technologies meant to reduce stress can also be an enabler. "If we don't create change in the workplace and institute some kind of policy-driven self-boundaries, there's no limit to the access to your job," Vican said.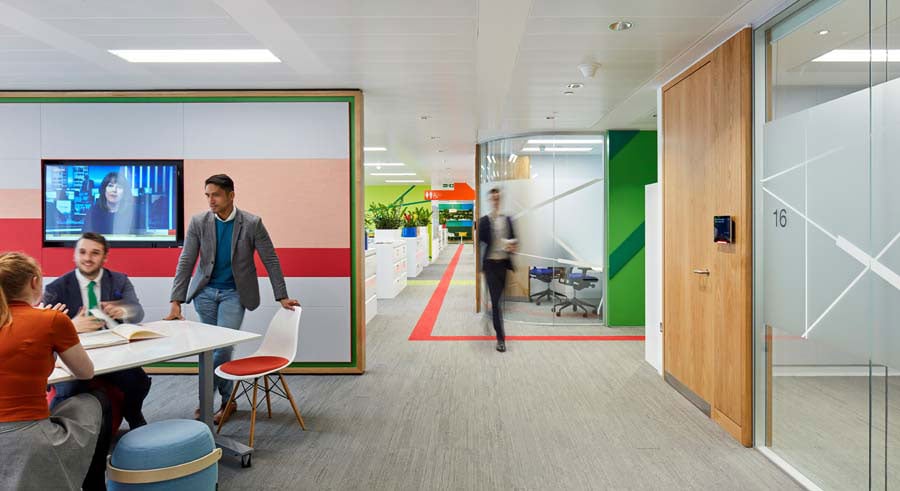 ---
Gray, too, cautioned against putting inordinate stock in productivity, and instead reiterated the importance of the engagement piece. Focused employees do better work, an outcome she linked to increased profitability as well as to reductions in employee turnover, safety issues, and quality-control incidents. A key part of staying focused is a distraction-free working environment, and in the Delos report, Gray cited favorable acoustics and elimination of distractions as a leading way of reducing the potential for chronic stress and burnout. "You have all these receptors telling you what you need," she said. "You have heads-down time, you're using a respite room, you're in an interaction zone, you're going out for healthy food—you are managing, and you're going to be resilient." 
As designers dial back fully open office plans, the kinds of quieter spaces that Gray referenced—those equipped with the data-gathering technology mentioned by Scinta and Vican—will provide insight into how people begin to manage their own stress levels and reduce the potential for burnout. "Stress is going to increase. It's not going to go away," Gray said. However, she added, "you'll know that that is there, and you'll be more resilient for it."
The Think Tank discussions were held on July 17 and 18, 2019, in Washington, D.C. The conversations were presented in partnership with BIFMA, DuPont, DXV/GROHE, and Versteel.