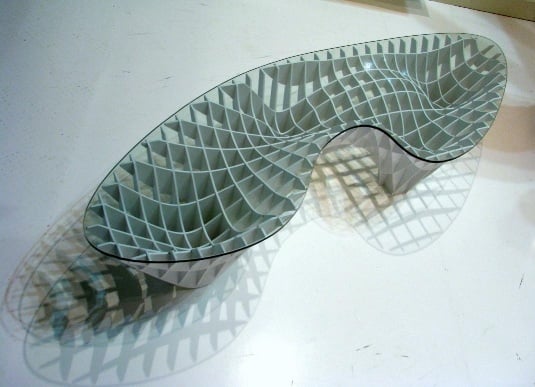 April 20, 2011
SaloneSatellite
When forecasting the trends we'd see at Salone, we imagined that designers would invent new ways to maximize space, and that portability and adaptive re-use would be seen everywhere. But we encountered one surprising trend: designers weaving new concepts utilizing the abstractions of Space, Place and Time. Here's what we saw at the SaloneSatellite, featuring […]
When forecasting the trends we'd see at Salone, we imagined that designers would invent new ways to maximize space, and that portability and adaptive re-use would be seen everywhere. But we encountered one surprising trend: designers weaving new concepts utilizing the abstractions of Space, Place and Time. Here's what we saw at the SaloneSatellite, featuring 700 young designers, 20 international design schools, an exhibition whose theme was "50+50 Projects- Designing the Future."
SPACE MAPPING
gt_t2P, Parametric Design and Digital Fabrication Studio, based in Chile, creates a design "DNA" through digital crafting of "generative algorithms." Their objective is to arrive at a custom template that can move from objects to buildings for efficiency, as well as the creation of a kind of natural mapping of form by topographical waves.
–
SPACE SWAP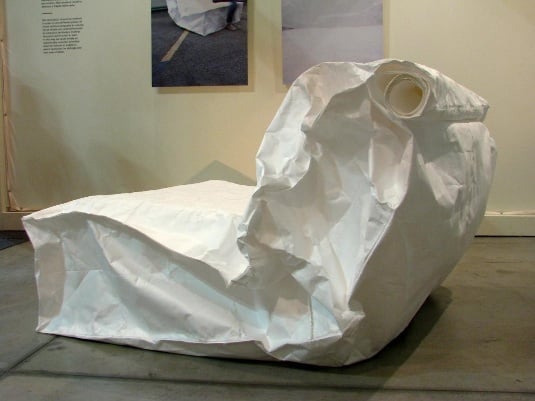 Pushing the envelope of everything in its own Place, spalvieri/ del ciotto rethought a common office staple, the Tyvek envelope, with its shiny, high density, chemically-inert, and waterproof material into perfect "paper bag" outdoor furniture. With a further goal to minimize gluing or sewing, an oversize paper bag of Tyvek is an ingenious solution to outdoor furniture as well as a purposeful swap.
Imagine your life as a woven fabric created by an imaginary weaver named Time, where the present moment is so infinite that you are only aware of its passing by viewing the whole cloth created just a moment ago. Siren Elise Wilhelmsen's "365 The Knitting Clock" makes the passing of time a fun comment. The mythic, Rumpelstiltskin-ish weaving aspect translates to every passing half hour contributing to a two meter-long scarf, which emerges complete at the end of one year. "It is knitting the hours and the days and shows the time as something that is constantly moving, changing, and developing," says the designer.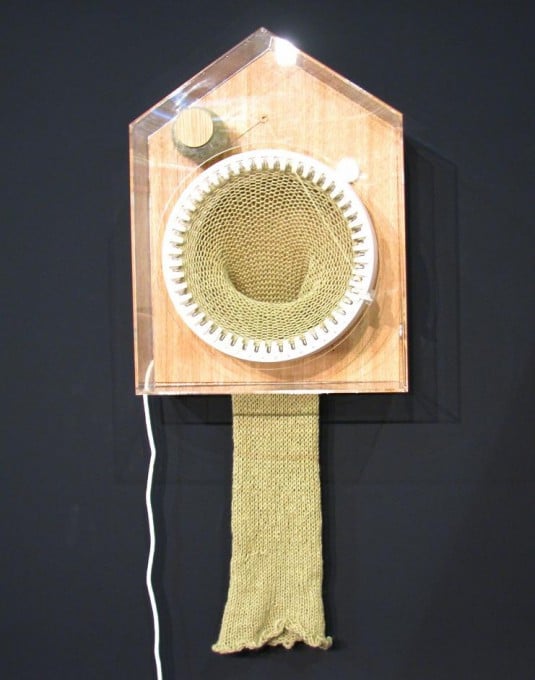 Another kind of designer-owner weaving is Studio-Stephan Schultz's 'comfy cargo chair', which ultimately can live up to its name or morph as the owner desires. The owner determines the object's temporality and definition.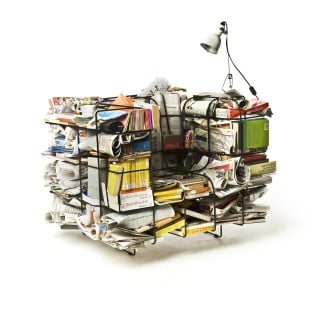 Originating from the idea of creating a piece of furniture which does not predetermine the surface for the user, the chair is not "finished"; it requires creative collaboration by the owner, a 'nesting' process. The chair's form is an open grid structure, which requires filling to determine the look, feel and purpose. With pillows or blankets it is a plump and very personal armchair. With newspapers, books, cuddly pets etc. it becomes a living and changeable module.
–
OUTSIDE IN FORMS
Another nest weaver is Tatsuo Yamamoto Design whose "Resonance" presentation, was inspired by the sound of wetland reeds in the wind. Yamamoto presented a field of 1,600 fiberglass "reeds" poised to move with the breeze or human interaction. Another Tatsuo design, his "Mozzarella chair," also invites and becomes its purpose with interaction, carrying humor and elegance that requires an open meeting of its moldable soft form and the body seeking a seat.
Also begging to be played and relaxed with are Sergio J. Matos' linear abstract chairs. He harvests the cotton thread used to make hammocks in northeastern Brazil and wraps the "bones" and structure of geometrics for seating, "weaving" the "idea" versus the actual solid space of the form.
Outside of the Salone walk down any street like Via Montenapoleone, with it's designer shops, and suddenly there are displays of furniture inside glass bus stations and winged forms hung high above the street. Lake Como native designer, Carlo Sampietro flips this display and makes furnishings of street icons based on his idea "that even the largest cities are small villages at heart." Here a newspaper box becomes an aquarium and vintage taxi lights become desk lights indicating "Off Duty" or "On Duty."
The weaving continues after we leave the SaloneSatellite, back on the vias, where by chance you may come upon the famed Piazza della Scala, and Trussardi, the Italian clothing and leather goods company's sculpture in honor of their commission of designer Michael Young for their new "100 Collection" of leather furniture.
This "Salone" style product announcement offers a metaphorical, abstract, and lyrical sculpture resembling a molecular dance. Michael Young utilizes "Links," a high-tech gilt aluminum module, looking a lot like knitting stitches, to create repeated patterns and a structure growing around Leonardo da Vinci's flowing garb. As the patron saint of inventiveness, mirror-play and genius looks down upon a city awash with his own sensibilities of playing with time, space and place, it's a sweet time weave to imagine he is well-pleased.