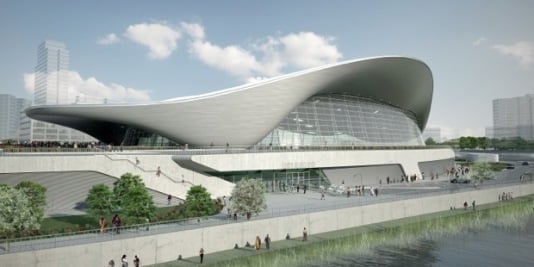 June 14, 2010
Scoring Those Green Goals
The ongoing 2010 World Cup has been in the design news for all the wrong reasons. Everybody's spent a lot of time griping about the design of the new ball, but more serious problems have emerged now. The whole event, it turns out, is an ecological disaster. According to a recent study undertaken by the […]
The ongoing 2010 World Cup has been in the design news for all the wrong reasons. Everybody's spent a lot of time griping about the design of the new ball, but more serious problems have emerged now. The whole event, it turns out, is an ecological disaster.
According to a recent study undertaken by the Norwegian government (bless those Scandinavians!) the World Cup will have a carbon footprint of 2,753,251 tons of CO2, equivalent to one year's emissions from one million cars. There are a number of reasons why this year's event is so unsustainable. For one, South Africa had to build a lot of the infrastructure from scratch. Five new stadiums were built, five old ones were upgraded, roads were improved and bigger bus systems were put in place. Secondly, a large portion of the World Cup's audience is European. A non-European venue means a lot of fuel burnt on flights to and from Europe. All in all, the World cup might be the most unsustainable sporting event so far. But by all reports, the 2012 Olympics aren't going to score any green goals, either.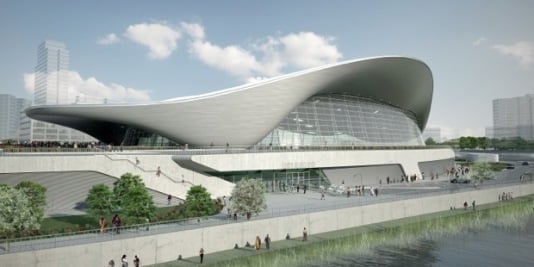 London won the Olympic bid on a sustainability platform, and authorities claimed that London 2012 was going to be "the greenest games in modern times." Five years on, that may no longer be true. A lot of the green plans have been scrapped, including a wind turbine and a biogas plant that were to supply 20 percent of the Olympic Park's energy requirements. A fair share of the blame must also be shared by architecture, it seems. Hopkins Architects's velodrome and NORD's substation are sustainable successes, but Zaha Hadid's aquatic park (above) and Anish Kapoor's Orbit tower don't quite match up in using material responsibly.
Tokyo's bid for the 2016 Olympics was a proposal with "a carbon footprint of less than zero." They lost out to Rio de Janeiro, so we will never know if such a fabulous claim can be made good. For now, Shaun McCarthy, head of the Commission for a Sustainable London 2012, probably had the wry last word when he told the Guardian, "Having an Olympics is an inherently unsustainable thing to do. To build all this stuff to watch some people run around – what's sustainable about that?"