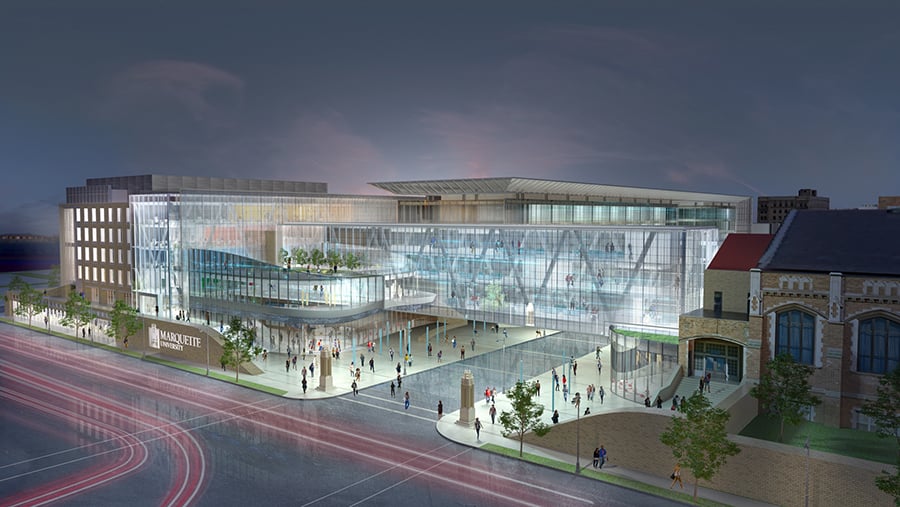 December 5, 2018
As Universities Become More Urban, Campus Planning Is Evolving
At a Think Tank discussion held at SmithGroup in Boston, Metropolis's Susan S. Szenasy led a discussion on new town/gown dynamics.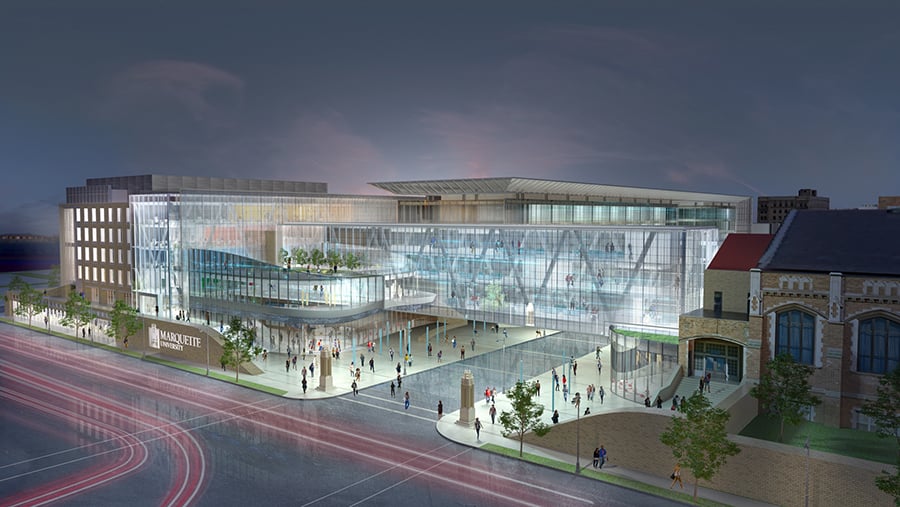 ---
There used to be a tacit agreement between universities and their host cities to get along while mainly remaining isolated from each other. The more prestigious the institution, the more it looked inward, taking a cue from the great colleges of Cambridge and Oxford in England.
Now, almost universally, colleges and universities are thought of as engines of economic growth for both their host cities and regions. Both encourage a porous interdependence and academic/private partnerships. The nature and manifestation of this interaction can be controversial—despite the economic benefits, some don't like free-enterprise real estate developers encroaching on what they see as sacred academic ground. Discussing this sometimes contrary interdependence, Susan S. Szenasy, director of design innovation at Metropolis, led a lively panel at the SmithGroup in Boston on August 9 to discuss town/gown engagement and ways host cities can improve quality of life for all.
SmithGroup's David Johnson, an architect and higher education design strategist, began the discussion by acknowledging that "campus and city are increasingly synonymous." But, he added, the onus is on universities: "What we are trying to understand is how university projects become more fully urban, more inclusive and reflect the cross section of socio-economic demographics of their surrounding cities."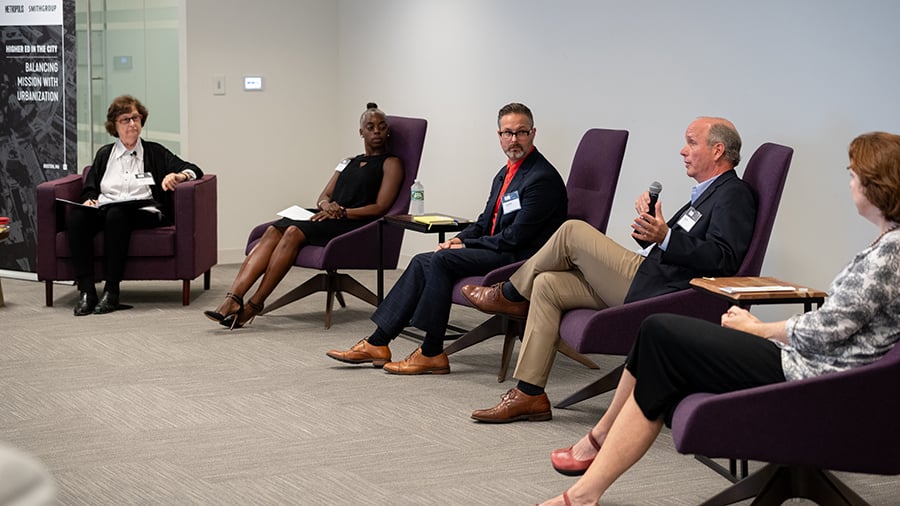 ---
Marketing specialist Jodi-Tatiana Charles made it clear that she brought an off-beat presence to the panel. "I'm an outlier, a marketing person and a speaker," she said. "But I know how to work with a community." To that end, Charles urged that academic institutions planning large developments must go deep into the community, finding their "pain points" and truly bringing surrounding residents into the process. "Don't just have a focus group—it's all for show."
James D. Kolb, vice president and academic project executive at STV|DPM, a firm that has worked with dozens of higher education clients spanning the Ivy League to community colleges, explained that academic and private real estate interests can be easily alloyed and, indeed, some of the more well-endowed universities such as MIT act as developers themselves. Some private developers, he added, want to build and flip for a fast profit, while others want to develop and hold; the latter tends to be a better fit with university clients, who think long-term.
Lois Stanley, director of campus planning at Tufts University, presented an alternative scenario. Tufts's Medford/Somerville campus, which dates back more than 150 years, is evolving from a suburban center to an urban one, due largely to the arrival of the MBTA's Green Line. "We're tailoring that area to work with the community," Stanley said, pointing to the priority employment opportunities—even priority admissions—the institution gives to local residents.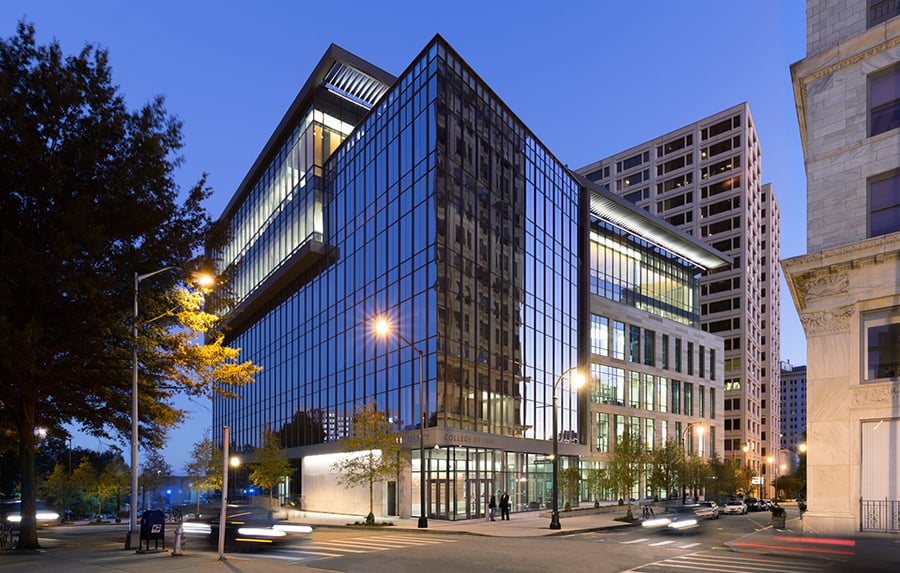 Szenasy concurred community involvement is essential, but sometimes works at cross-purposes with the common good.
"We've got community groups that come in and say no to everything. You have the person with bad hair who stands up at a meeting and says how bad it's all going to be. That gets us nowhere."
Nevertheless, Szenasy ended with a positive perspective, highlighting the promise of an urbanizing America. "Cities everywhere are on the rise. Every city is reinventing itself, and universities have an obligation to be part of these urban environments."
The Think Tank discussions in Boston were held on August 8 and 9. The conversations were presented in partnership with Autodesk, Dormakaba, DXV/GROHE, Sunbrella, and Wilsonart.
You may also enjoy "Harvard Opens Snøhetta-Designed Prototype for Super-Sustainable Retrofits."