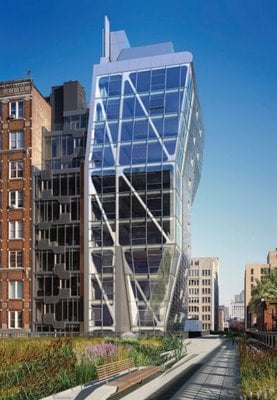 April 4, 2012
Socializing Sustainability
If the benches in Hastings Hall were sparsely populated last Thursday, it's because the word "sustainability" has gone gently into that good night at Yale School of Architecture. The arduous task of its resuscitation that evening fell to Adrian Benepe. The New York City Parks and Recreation Department commissioner brought insight rarely heard in the […]
If the benches in Hastings Hall were sparsely populated last Thursday, it's because the word "sustainability" has gone gently into that good night at Yale School of Architecture. The arduous task of its resuscitation that evening fell to Adrian Benepe. The New York City Parks and Recreation Department commissioner brought insight rarely heard in the hallowed halls of architectural education, as he acknowledged the social and economic roles of good park design and the struggles of designing in the public realm.
The blurry definition of "sustainability" tends to obfuscate its application in contemporary practice. Benepe chose a holistic approach, offering up the 1987 Brundtland Report's definition of sustainable development as development that "meets the needs of the present without compromising the ability of future generations to meet their own needs." This view opens up possibilities for urban park design beyond the technical interventions mastered by LEED advocates. The commissioner argued for design that fundamentally betters the lives of city dwellers. Citing the way Central Park's romantic landscape continues, even 155 years after its opening, to serve as a means for New Yorkers to escape the crowded city through immersion in nature, he argued for a park design that incorporates timelessness and responsiveness to primal human desires, beyond computations of carbon gains and losses.
The role of good design is more robust than simply evoking positive emotional responses. Good design can become a driver for a city's economic development. Here, Benepe called upon the multiple successes of the High Line as a restoration project, an aesthetic delight, and an investment magnet. Parks operate as "lungs of the city," as literal generators of oxygen as well as places of respite and renewal, while simultaneously being catalysts for the city's bustle and growth from which urban denizens have always needed to retreat.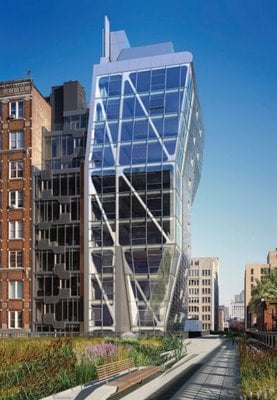 HL23 Neil Denari's Building adjacent to the High Line
For Benepe, 21st-century parks also present an opportunity to address the American obesity epidemic by encouraging physical activity through engaging with greenways, bicycle paths, attractive stairs, and low-tech outdoor exercise equipment. Lest this call to mind the adult jungle gyms of Nanjing, China, the interweaving of transport and park infrastructure in New York has been reconceived on a larger social scale, beginning with the 1993 Greenway Plan's proposal for the construction of 350 miles of bike and pedestrian paths. Between 2007 and 2009, the City achieved its goal of constructing 200 miles of bike lanes in three years, working towards the goal of 1,800 bike-lane miles by 2030. Recent exhibitions, like Rising Currents at MoMA, 2009-2010, showed the work of interdisciplinary teams' responses to environmental and social concerns raised by the city's precarious peninsularity in the age of climate change. The proposals, while not readily transplantable to New York City's reality, provoked questions of how parks operate in our urban landscape, asking why the "park in the city" cannot become the "city of the park".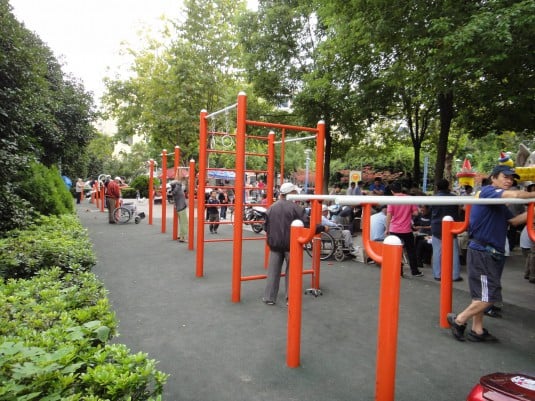 While reframing the relationship between sustainability, economics, sociology and park design, Benepe interrogated the processes that facilitate, or do not facilitate, the actualization of these designs. He pointed to one stunning example: Unlike the rapid construction of pop-up infrastructure in China, it can take up to five years to install a public restroom in a New York park. Well-meaning but prohibitive, the multitude of environmental boards and public interest agencies, often understaffed and at ideological odds with each other, must approve parks projects at every step, inevitably delaying construction. So what this litigious nation gains in health and safety standards can be lost to increased construction costs and disappearing designers due to the tedium of bureaucratic negotiation.
Ever the optimist, Benepe remains faithful to his cause. For him, New York City's pursuit of happiness can be found in the bucolic landscapes of Central Park and the broad boardwalks of Rockaway Beach. The sustainable 21st century park arrives in the integration of this variable breathing apparatus into the city's economic and social fabric, so that its design makes inseparable the quality of life of the city from that of its citizens. For those still wary of embracing the blurry beast, Benepe's successes in reframing sustainable park design in a broader context, keyed into cultural, fiscal, and even medical factors, show that good design is not prohibited by "sustainability," but by a casual exploration of its potential to generate thoughtful solutions.
Amrita Raja is a Masters of Architecture student at Yale. She graduated summa cum laude from Virginia Polytechnic Institute and State University in 2009, with degrees in Interior Design and French. At Virginia Tech, she was awarded the Phi Kappa Phi Medallion and the College of Architecture and Urban Studies Outstanding Senior Prize. Amrita has written for The Roanoke Times and The Washington Post and runs independent blogs on food and design.