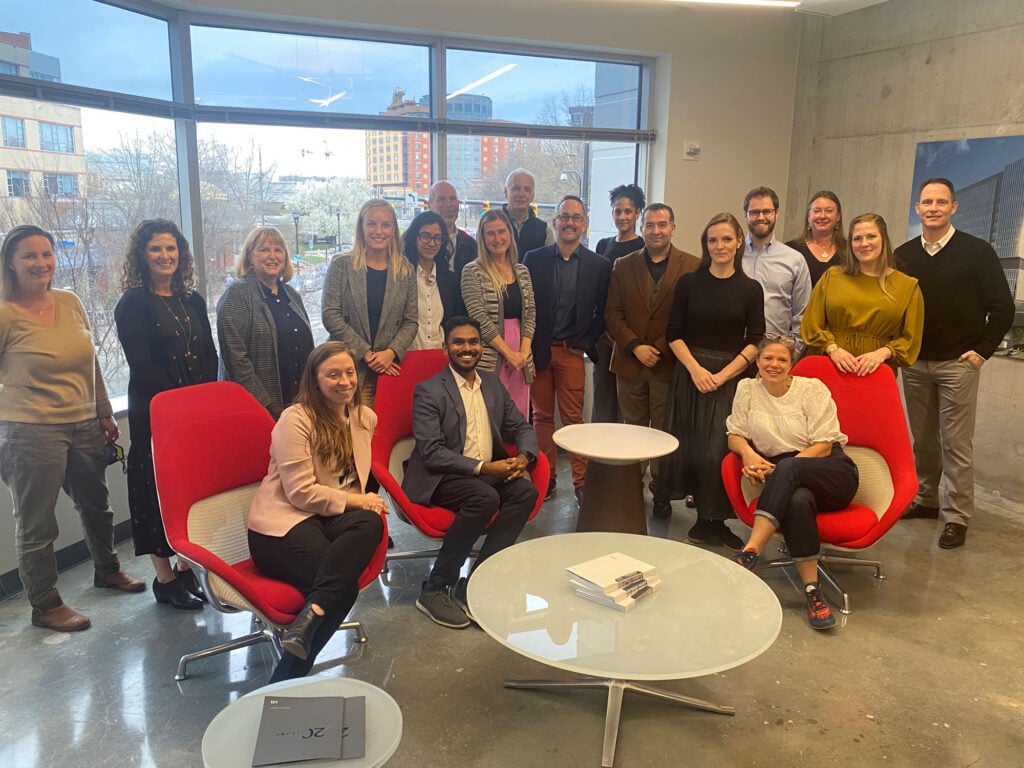 April 15, 2022
Sustainability Experts Weigh in on the Metropolis Climate Toolkit
New studies show that the climate impact of the built environment comes not just from structural materials like concrete, steel, and glass, but that interior design decisions play a much bigger role than previously assumed. This gives interior designers a crucial role to play in the fight against climate change. In fact, it's estimated that interior designers could have an influence over as much as 10 percent of all carbon emissions worldwide by 2050.
In response to these findings, Metropolis launched the Climate Toolkit for Interior Design in 2021. The toolkit is a regularly updated set of learnings and best practices to help guide designers, manufacturers, and specifiers towards industry-wide change to ensure a better future for people and planet.
The landscape of climate-conscious design is constantly evolving as new discoveries, methods, and technologies present new opportunities for the interior design industry to improve. So Metropolis hit the road last month to workshop the Climate Toolkit, learn from industry leaders, and share evolving best practices to ensure that the toolkit remains a relevant resource to help designers do their part in the climate fight.
The first stop was Washington, D.C., where design firms Perkins & Will and HDR hosted two workshops. Editor in chief Avinash Rajagopal was joined by design and sustainability leaders from Perkins&Will, HDR, EYP, Hickock Cole, HOK, IA Interior Architects, Perkins Eastman, STUDIOS Architecture, ZGF, Interface, Material Bank, and Teknion to explore the toolkit's 10 sections.
In a summary of the workshops' findings manufacturer Teknion's D.C. showroom the following day, Rajagopal presented four areas where the groups found opportunities to improve how designers reduce their projects' carbon footprints: identifying hotspots, accelerating reuse, building collaboration, and simplifying specification.
"Hotspots" are the major carbon emitters on any project, and the first targets for reduction—but they can be hard to identify. Workshop members pointed out that firms can conduct life cycle analyses on a "typical" project to get an idea of what the biggest problem areas are. But as a general guideline, cubicles, furniture, flooring, or ceiling panel systems tend to be the hotspots in office interiors.
Reuse was also a major topic of discussion, and the workshop was an opportunity to forge a dialogue between specifiers interested in reusing product and manufacturers who are looking for strategies to market end-of-life handling and reclamation.
When developing tactics for collaboration, workshop participants agreed that clients have different incentives based on their profile—a private company and a government agency may both be interested in pursuing low-carbon interiors, but perhaps for different reasons and in different ways. Firms must tailor their approach to their clients' needs.
A major challenge for specifying low carbon interiors is the complexity of multiple rating systems, lists, and product categories that can make even the experts' heads spin. The Workshop participants recommended building expertise slowly, by focusing first on those big hotspot categories where good decisions can have the biggest impact.
The workshop also found that the interior design community needs to take a more activist approach to decarbonizing interior environments by putting pressure on professional associations to incentivize carbon accounting, responsible deconstruction, reuse, and recycling. It's obvious that there's more work to be done as the interior design industry begins to take stock of how designers can play a role in the climate fight, but if there's one thing the interior design has plenty of its good ideas and innovative solutions.
Stay tuned as we update our Climate Toolkit with our findings from the Washington, D.C. workshops!
---
Participants of the Climate Toolkit for Interior Design Washington, D.C. workshops included:
Perkins&Will, HDR, EYP, Hickock Cole, HOK, IA Interior Architects, Perkins Eastman, STUDIOS Architecture, and ZGF
In partnership with:
Cosentino, Interface, Material Bank, and Teknion.