December 10, 2008
The Art of Energy
Can our industrial landscape be beautiful? Artist Eileen Wold seeks the answer.
Smokestack Night, 2004. Oil on Canvas by Eileen Wold.
Eileen Wold began her artistic career painting landscapes. A child of the East Coast, her canvases portrayed things that she never actually saw: pristine and serene horizons unmarred by man. Her subject began to change when she moved to Manhattan in 2003. "I started to paint the landscape I saw," Wold says, and that's when she became obsessed with the Linden Cogeneration Plant in New Jersey."I would get off the highway and circle it," she says. "It's the hub, where all of the oil from the gulf comes up the colonial pipeline, and gets refined. It supplies most of the East Coast and what caught my attention was the role this played in our daily lifestyle."
Soon power plants, transfer stations, and smokestacks became the object of Wold's art. At first, she considered herself a direct observer of her environment, an artist who translated reality onto the canvas in the spirit of J.M.W. Turner. As she researched her subjects, though, her work became more political. "After I started getting into the research and learning about the plants and the sytems, that's when I started to understand it on a political level. It's hard not to approach this stuff with some kind of opinion," she says.
Today, Wold employs painting, drawing, new media, and digital photography to examine America's relationship with power production and energy. "I look to find simple yet powerful ways to create a dialogue that helps us understand the technological, economical, and environmental issues surrounding the power industry," she writes in her artist's statement.
Last year she created an installation inspired by alternative energy sources. "I asked myself, How humble can I make power?" She set three small panels on a window ledge outdoors and ran 50 feet of wire to a small LED light in an adjacent gallery space with no windows. "This LED light would flash brightly if it was really sunny and if it was cloudy it would kind of whisper at you and if it was nighttime, it wouldn't be on at all. It was set up so that even though you didn't have any direct contact with the outside world, you would know what was happening outside."
Now Wold is playing with wind power and trying to construct a modest wind turbine from scratch. "I can't get it to work yet, but I've only been working on it for about a month," she laughs. "It's definitely a work in progress."
An artist's progression:
Emerald Coast, 2004. Oil on canvas. One of Wold's pristine landscapes.
Sunburst, 2004. Oil on canvas. Wold created a series of paintings focused on the earth and the atmosphere. This is from a study on sunlight. "You can't get some of these atmospheric effects unless you have an industrial society [pumping chemicals into the air]," Wold explains.
Power Lines, 2006. Oil on canvas. Wold paints the landscape she sees, focusing on the infrastructure of our energy.
Science of a New Economy, 2006. Her growing interest in energy and technology is apparent in a series of charcoal drawings of transfer stations.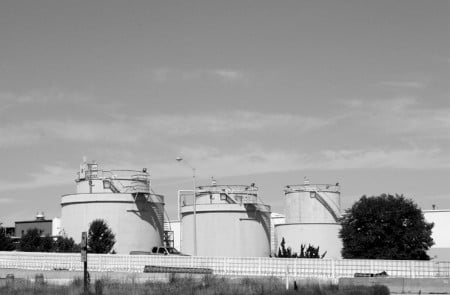 Three Tanks, 2007. Wold begins taking digital images. "The photography is more direct and people have a more immediate reaction to it than the paintings," she says.
Solar Panel Installation, 2007. Wold starts experimenting with alternative energy sources. This LED light is powered by three small solar panels.
Solar Panel Installation, 2007. Each solar panel is about the size of credit card.