January 6, 2011
The Farnsworth's Sustainable Descendant
The Lumenhaus in Chicago. VirginiaTech's Lumenhaus – the solar-powered house that won the International Solar Decathlon in June 2010 – is now biding its time in a cornfield. Before you think that's a step down from the South Promenade of Chicago's Millenium Park – where it was proudly displayed in conjunction with the GreenBuild Convention […]
The Lumenhaus in Chicago.
VirginiaTech's Lumenhaus – the solar-powered house that won the International Solar Decathlon in June 2010 – is now biding its time in a cornfield. Before you think that's a step down from the South Promenade of Chicago's Millenium Park – where it was proudly displayed in conjunction with the GreenBuild Convention in November – you should know that the cornfield is on the grounds of Mies van der Rohe's iconic Farnsworth House in Plano, Illinois.
The Lumenhaus is the cutting edge of sustainable home design, using several advanced systems to generate and conserve energy. But as its name suggests, the basis of its design concept is the optimal use of light. The Farnsworth House was in fact its architectural inspiration, providing the template of the glass pavilion – facades that are open to the landscape, with the utilities collected at the core.
The Farnsworth House. Photo: Carol Highsmith.
Both the Farnsworth House and the Lumenhaus were designed to respond to their environment – an idea that the early modernists and the green architects have in common. Mies van der Rohe paid great attention to the sun and the wind in his design, taking maximum advantage of cross ventilation and seasonal changes in light and temperature.
The Lumenhaus builds upon all these advantages of the glass pavilion, adding a technological layer that Mies van der Rohe unfortunately did not have access to. Photovoltaic systems harness the sunlight to provide for all the house's energy needs. Radiant heating systems, LED lights and grey water recycling all work to reduce the building's ecological footprint. And then there's the Eclipsis building façade system, which uses two sliding panels to control the amount of direct sunlight entering the building. But the most interesting feature of the Lumenhaus is its home management system which uses a simple iPad interface to allow users to control and regulate all that fancy technology.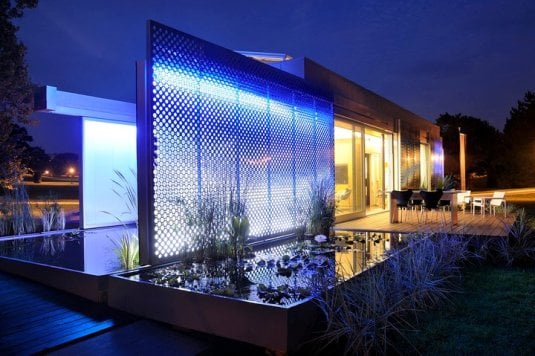 VirginiaTech's Lumenhaus on its home turf.
For now, the Lumenhaus is hibernating on the grounds of the Farnsworth house, but it will open its doors to the public in April 2011. In comparing the two houses built sixty years apart, we will be able to see what we have gained – in technology and sensitivity to the environment – but also perhaps what we have lost. The Farnsworth house is an ethereal glass box, floating above the ground, all but disappearing into its landscape. The Lumenhaus is a decidedly more substantial creature: all shining steel, gray photo-voltaics and colorful lights. The energy efficient house might be doing more to protect the environment, but it is undoubtedly the Farnsworth house that affords a deeper and more satisfying aesthetic appreciation of nature. The great architectural classic apparently still has a thing or two to teach its sustainable descendants.