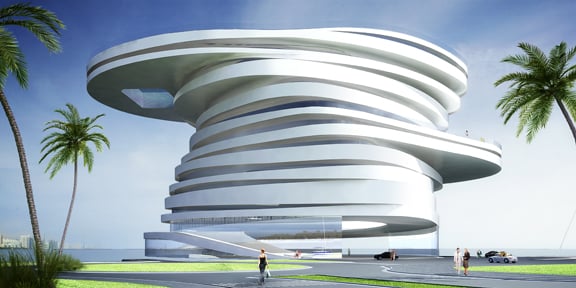 April 1, 2009
The Other Guggenheim Abu Dhabi?
Leeser Architecture's winning design for the city's five-star Helix Hotel
Architecture buffs who missed the opportunity to spend a night in the Guggenheim last fall may soon get a second chance—well, sort of. The winning design for Abu Dhabi's five-star Helix Hotel, by Leeser Architecture, includes a spiraling floor plate that looks like a cousin of Frank Lloyd Wright's famous snail-shell structure. But, of course, the Helix—which is the centerpiece of a new waterfront development adjacent to Zaha Hadid's dune-like Sheikh Zayed Bridge—boasts a legion of luxury amenities, standout among them a rooftop deck with glass-bottom swimming pool (so you can admire your fellow guests' bikini bods from eight stories below). Leeser is also working with Atelier Ten on sustainable features like an interior-cooling waterfall and GROW cladding on the outside surface. If this all sounds a tad bit too ambitious for the current recessionary climate, fear not: even with neighboring Dubai's economy in free fall, Abu Dhabi is forging ahead with several high-profile building projects, including its very own, for-real branch of the Guggenheim, by the loose-lipped Frank Gehry.
Check out additional images of the Helix Hotel after the jump. For more on Leeser Architecture, read Metropolis's stories on the World Mammoth and Permafrost Museum and the 3LD Art & Technology Center.