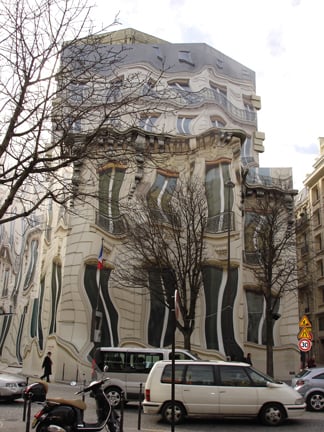 August 24, 2009
The Street View: Sheds and Skins
With New York's sidewalk sheds getting a redesign, our senior editor looks at some successful examples of temporary construction structures.
Metropolis's senior editor, Kristi Cameron, is contributing semi-regular posts on issues regarding livable streets in a feature we're calling The Street View. Click here to read her previous posts.
Most of the public-space projects I've blogged about involve encouraging developments for all residents of New York, but the urbanSHED competition should be particularly exciting to architects. Prior to now, I didn't even know what a sidewalk shed was by name, though I am plenty familiar with the plywood-and-steel-tube hoods that so often frame stretches of my walk. At best they are an invisible part of the city's noisy background; at worst, an eyesore. I was certainly happy to hear the city was soliciting a redesign (note: the competition is not restricted to locals), but it wasn't until I listened to buildings commissioner Robert LiMandri talk at the Center for Architecture last week that I truly got inspired. Not only will his department produce construction documents for the new standard, but the winning design will definitely be built at the end of the process. The city wants something that delivers more natural light to the sidewalk below, is safer, and, of course, looks better than the current shed. There are 689 miles of this stuff in New York–just imagine what a difference a more beautiful version of it will make.
While I couldn't think of any great sheds that I've encountered over the years, I did come up with a few related projects that manage to make construction a positive interstice. Scaffolding banners aren't unknown in New York (think of the unfortunate H&M cloak that illegally wrapped the Flatiron building), but they are rarely artful. Contrast our larger-than-life fashion ad with Louis Vuitton's cheeky promotion of its forthcoming store on the Champs-Élysées by making the surrounding scaffolding resemble pieces of the brand's luxury luggage. Even better was the surrealist skin on a residential building under renovation in Paris: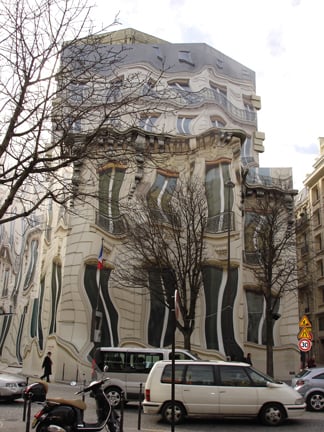 Photo from bradford_crowder's Flickr page
Construction fencing, another common blight on the landscape, has also undergone some design scrutiny. Take Tokyo's Green Green Screen, a living wall that Klein Dytham created to enclose the site of a Tadao Ando development. Elsewhere in the Japanese metropolis, Soup Design and Taisei Design collaborated on an exhibition wall displaying leftover construction materials bound for recycling. For the long-term building site around Rotterdam's Erasmus Medical Centre, Origins delivered a faceted spruce fence worthy of permanence: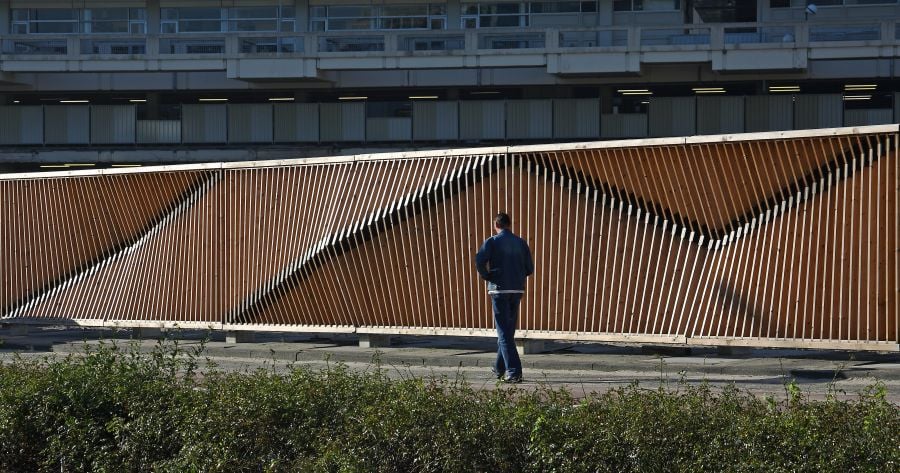 Photo: John Lewis Marshall
But the best reference I could recall, a project that actually deals with the structural and safety requirements of construction while managing to be an aesthetic asset, was Michael Graves's scaffolding for the 1998 renovation of the Washington Monument. Not only is this one of my all-time favorite designs by the architect, but I am of the camp that wouldn't have minded seeing the scaffolding stay forever.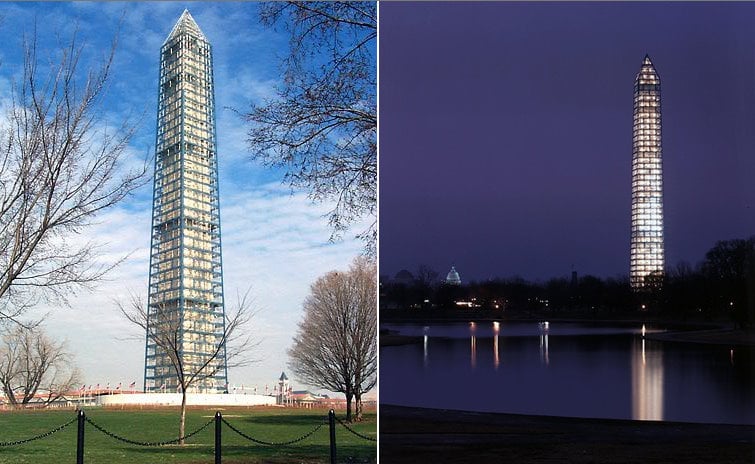 Photos from MichaelGraves.com
Individual sidewalk sheds may be temporary, but their collective presence in the city is not. I'm eager for the day that they, yes, let in a little sunlight, keep dirty water (and certainly anything heavier) from spilling on my head, and maybe even pique my interest in what's taking place behind and above them.