June 22, 2021
Sustainable Building Must Take Site and Community into Account
A recent Think Tank Panel examined the positive ripple effects of sustainable design on surrounding sites and communities.
Austin, Texas has long since outgrown its image as a college town and sleepy state capital—it is now one of the most dynamic and sought-after cities in the United States and has more than once been named by U.S. News & World Report as "the best place to live in America."
Mueller is a mixed-use development in Austin being master developed by Catellus Development Corporation. Formerly the site of the city's airport, Mueller was the subject of an engaged Think Tank session on May 6, moderated by Avinash Rajagopal, editor-in-chief of Metropolis, that focused on sustainable mixed-use development. The event was hosted by Page, a 600-person Texas architecture and engineering firm.
"In Mueller you have a symbiotic relationship among the site, its history, and its neighbors," Rajagopal said at the session's opening. Greg Weaver, executive vice president of Catellus, added to that by saying the project was "700 acres of land that's brownfield, urban infill." He continued: "In addition to remediation of the brownfield, we tried to use as much of the existing infrastructure as possible: the runways, the tarmacs and the parking lots."
One of the crown jewels of Mueller is the new headquarters for Austin Energy, which has been in Austin for 125 years and is now one of the largest producers of wind and solar energy in Texas.
Page served as architect of record for the new headquarters which Austin Energy executives knew needed to be a role model for the business community. "Austin Energy encouraged us to participate in a program to build an energy model at the very beginning of the project," said Bill Huie, senior associate at Page. "This allowed us to work through a number of design options. For example, we explored triple pane windows as opposed to the normal double pane; also, exposed concrete slab edges due to their heat loss/heat gain advantages." The 275,000 square-foot, $155 million building, nearing completion now, will accommodate approximately 1,000 employees. It is on schedule to be certified WELL and LEED Platinum.
"Mueller is committed to reducing auto usage," said Page's America Alva, a project architect. "The community is intimate and walkable."
Catellus's Weaver pointed with pride to Mueller's affordable housing goals and round-the-clock urban activity. "Employers want a community where economically diverse employees can live, work and play. Younger people want to be in a place that's 24-hour. Mueller has both."
Having a bent toward sustainability has had multiple advantages, Weaver continued. "One of our first deals was with Dell Children's Medical Center. We were trying to convince them to be LEED certified, and they came back to us and said, 'We want to be LEED Platinum.' That was in 2003. Afterwards, we deed restricted the land so that every building in Mueller has to be a minimum of LEED Silver."
Weaver credits Austin Energy with helping establish and encourage the green profile of the development.
"They really talk the talk and walk the walk."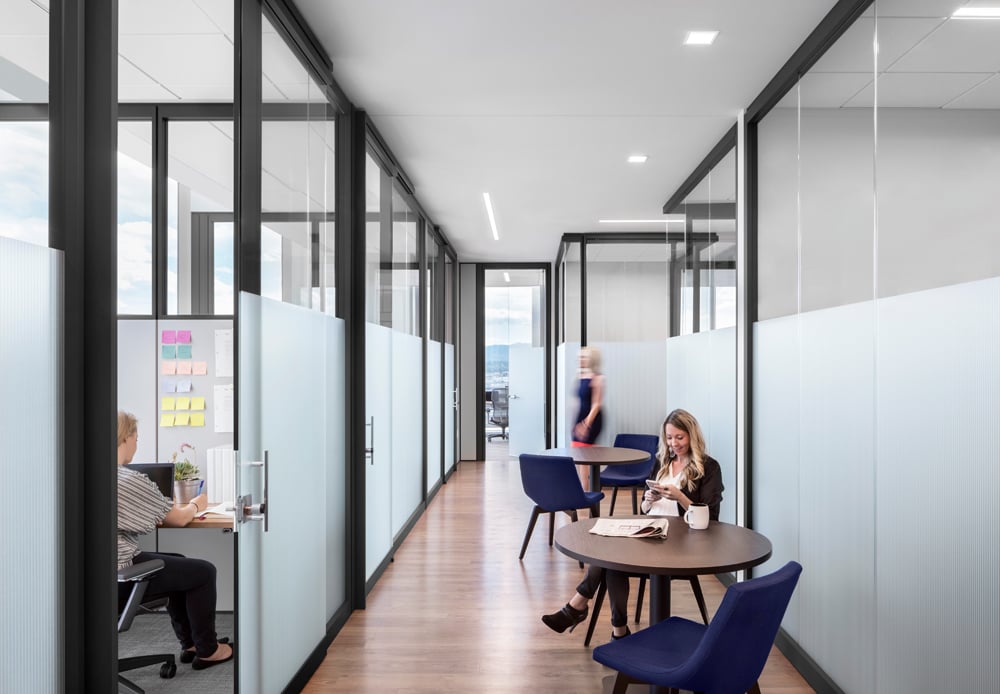 ---
The Think Tank discussions were held on May 6, 13, and 20. The conversations were presented in partnership with CertainTeed, DuPont Tedlar, Grohe, Kimball, Mannington Commercial, and Versteel.
You may also enjoy "Designing a Global Real Estate Portfolio for a Changing Workplace"
Would you like to comment on this article? Send your thoughts to: [email protected]
---
Register here for Metropolis's Think Tank Thursdays and hear what leading firms across North America are thinking and working on today.