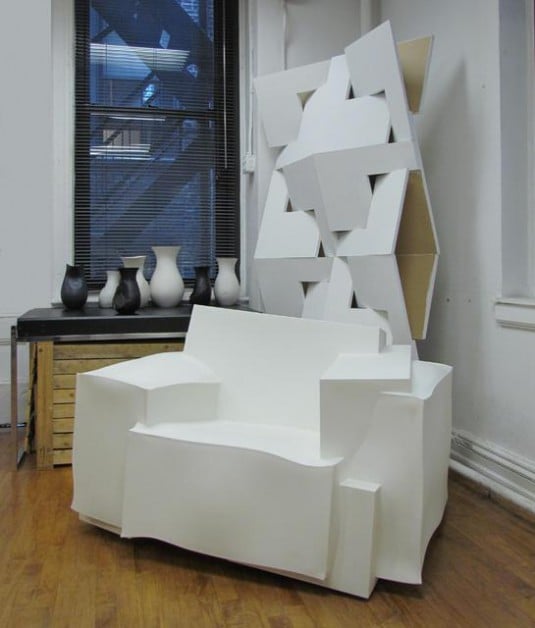 November 7, 2011
Together Apart : Designing With Tension
We live in a time of unsettling opposing forces. A time when conflicting interests suggest a hopeless point of no return. But here, in the heart of New York City, Dror Benshetrit has been putting out designs that tell us something different: If applied properly, opposing forces can be a source of power and beauty. […]
We live in a time of unsettling opposing forces. A time when conflicting interests suggest a hopeless point of no return. But here, in the heart of New York City, Dror Benshetrit has been putting out designs that tell us something different: If applied properly, opposing forces can be a source of power and beauty.
His office is embedded in the chaotic nexus of the Garment District, Bryant Park, and Times Square with all its glare and megastores, mass retailing and marketing, old fashioned clothing production, and a piece of perfect green urbanity. Nestled quietly above all this, the studio absorbs the best of this complex setting, putting out designs that blend all these elements, seemingly perfectly. How?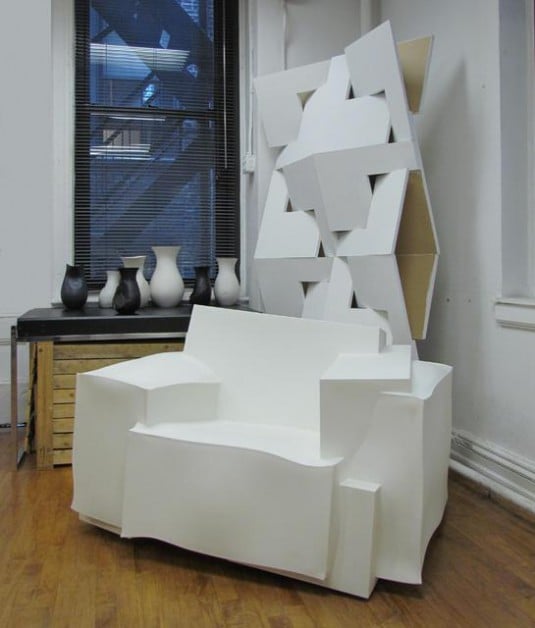 The Tron chair is a good example of Dror's design vision and openness.
What started with an informal conversation about a chair concept with Giullio Cappellini, ended up as a proposal for Walt Disney Signature in partnership Cappellini, to create popular and innovative furniture design. The 'TRON Armchair" , inspired by Disney's "TRON: Legacy" (the feature film that speaks of the human aspect of virtual living), fits perfectly with Dror's ability to combine dualities like a juxtaposition of voluptuous curves and hard angles to express the thriving digital-analog world we inhabit today. The result? An exclusive product that acquires mass appeal through popular culture, bringing the design far beyond the reach of high-end, to-the-trade showrooms. Product development, both through digital and traditional hands-on-craft, took place in Dror's workshop located a stone's throw from the architect's desk.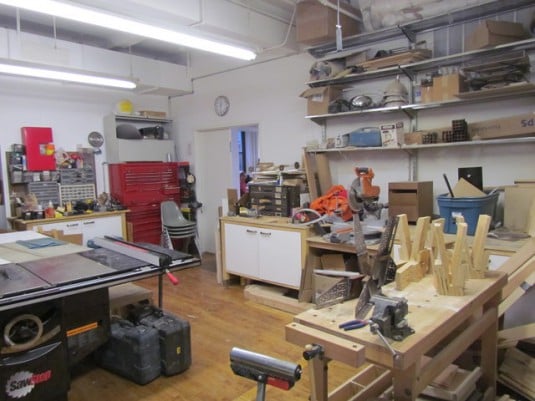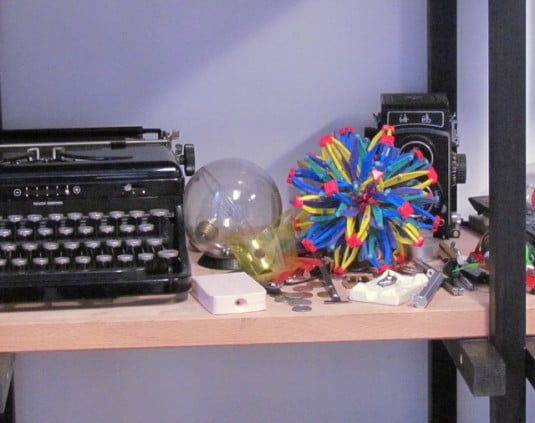 The workshop at Studio Dror, the designer, and an inspiration shelf in the studio.
Dror's practice and designs embrace sophisticated demographic studies and a willingness to bring his concepts to a larger audience, with no fear of loosing his edge in the process.
Courtney Lukitsch, a respected creative strategist and business developer in the design industry and founder of Gotham PR, is an admirer and has been following Dror's trajectory, says: "It's been a pleasure to see his creative success reach a global arc, and see him win well-deserved acclaim while doing design that benefits and positively affect the lives of many."
Dror is a designer whose practice challenges the traditional notions of how design is done. When he designs a table's base, for instance, he is open to looking for ways to take the idea to a bigger scale and turning it into the structure of a bridge. If the concept is well thought out from the beginning (and developed properly), he believes there should be no limits to how design ideas can be applied and expanded.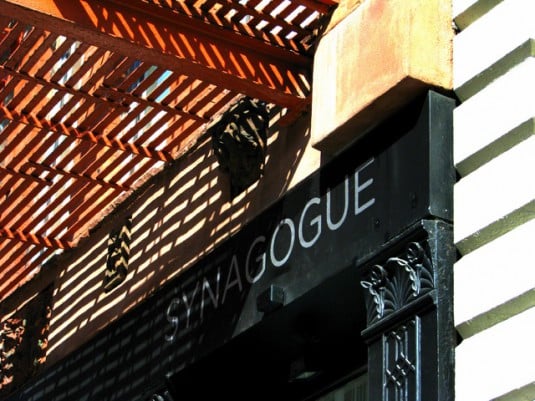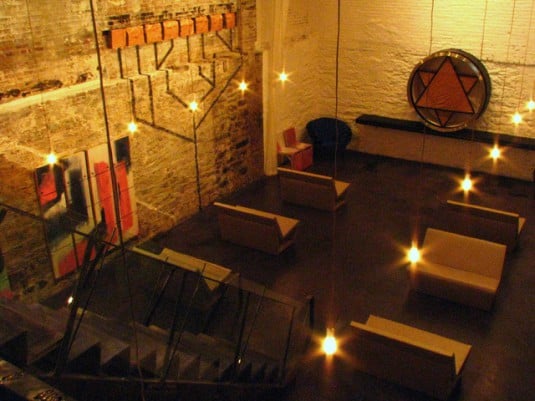 The Soho Synagogue, designed by Dror
"He makes things look so simple and easy, but it is clear there is quite an elaborate logic and refined sensibility behind [his work]," says Esther Schattan of Ornare, who recently brought Benshetrit to Brazil to speak at BOOMSPDESIGN conference. "He speaks with a sense of mission, yet not from a dogmatic sense, but rather with an inspiring sense of purpose."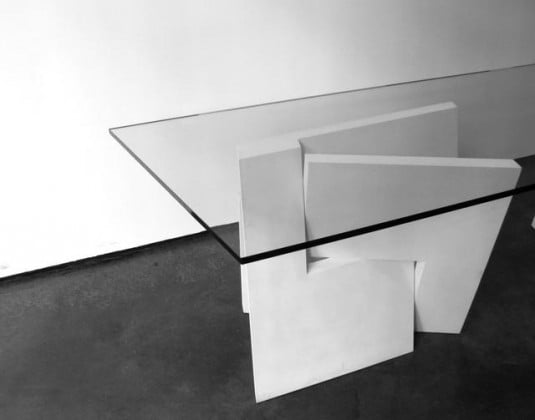 From table top to mass dwelling, from MoMa Design Store to Target, from a structural system to an upscale island community in Abu Dabi and a synagogue in SoHo, the common thread in Dror's work is this ability and desire to stay open for what can come and what can be, with no preconceived ideas of outcomes and "labels". These days, when opportunities can be limited and scarce, and instability seems to make us question everything, Benshetrit shows us that staying open to the answers can be the beginning of finding the way out.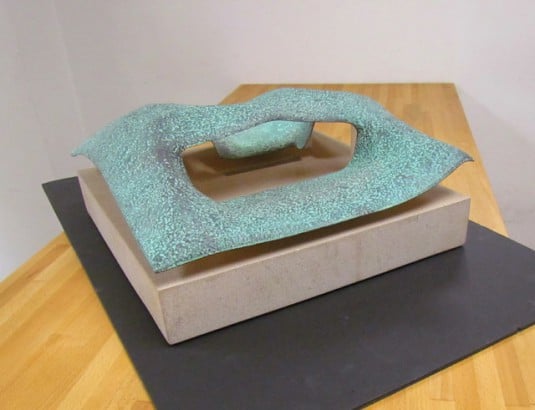 Concept model for an island community in Abu Dhabi
Vase of Phases, for Rosenthal
His is a systems approach, where all parts matter, be they in design, audiences, markets and business practices. It's not just, for instance, producing something in a sustainable way, but keeping an eye on the environmental impact of shipping and ways of marketing it. And yet it all has to "look" right, making sure that the desired balance is reached–the final goal being a simple solution that also moves us. It's all the parts making the whole, whether merging or deflecting, working towards finding the power of its unity.
All photos by Paul Clemence.
Paul Clemence is an award-winning photographer whose work is part of many collections, including the Mies van der Rohe's Archives and house by MoMa, New York.  He exhibits  both in the US and on the international fine art circuit, from classic B & W prints to large scale photo installations. A published author, his work can also be seen in major design and lifestyle publications. His "Architecture Photography" Facebook page (www.facebook.com/archi.photo) receives over half a million hits monthly.