July 21, 2011
Two RIBA Shortlists
The Guangzhou Opera House, by Zaha Hadid, photo: Virgile Simon Bertrand Among the recognitions and awards given by the Royal Institute of British Architects, the Stirling and Lubetkin prizes are the most prestigious. The Lubetkin prize, in honor of the Tecton Group founder Berthold Lubetkin, is given to the best international building outside the European […]
The Guangzhou Opera House, by Zaha Hadid, photo: Virgile Simon Bertrand
Among the recognitions and awards given by the Royal Institute of British Architects, the Stirling and Lubetkin prizes are the most prestigious. The Lubetkin prize, in honor of the Tecton Group founder Berthold Lubetkin, is given to the best international building outside the European Union. The Stirling prize scarcely needs introduction. Long considered Britain's foremost architectural award, and given for a building "built or designed in Britain," it bestows upon the winner not only £20,000, but also a nimbus of accomplishment.
RIBA released the shortlists of both prizes this morning, and they include many familiar favorites of the Institute, such as Zaha Hadid, who has made it into both lists. Here are the selected buildings:
For the Stirling Prize:
Evelyn Grace Academy, London
Zaha Hadid Architects.
Photo: Hufton Crow.
Stirling favorite Zaha Hadid makes it to the shortlist again this year, for an uncharacteristically practical building: a large school crammed into 1.4 hectares in the ward with the highest crime rate in Western Europe.
An Gaelaras, Derry, Northern Ireland
O'Donnell + Tuomey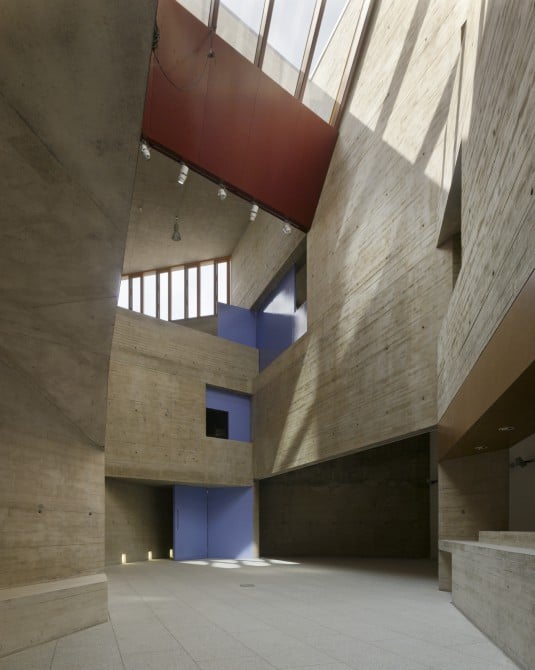 Locked in by its neighbors on three sides, and with windows only on the one remaining façade, this center for the appreciation of the Irish language finds startling ways to look inwards.
The Angel Building, London
Allford Hall Monaghan Morris
Photo: Tim Soar
A renovation project that redefines its neighborhood, this re-invented 1980s office block brings breathing space, greenery and better real estate value to its neighbors, and sets a model for commercial development in London.
Folkwang Museum, Essen, Germany
David Chipperfield Architects
Photo: Christian Richters
Another former Stirling winner, and recipient of this year's Mies van der Rohe award, David Chipperfield makes the list for a light-filled, shimmering addition to a very Miesian museum.
Royal Shakespeare and Swan Theatres, Waterside, Stratford upon Avon
Bennetts Associates Architects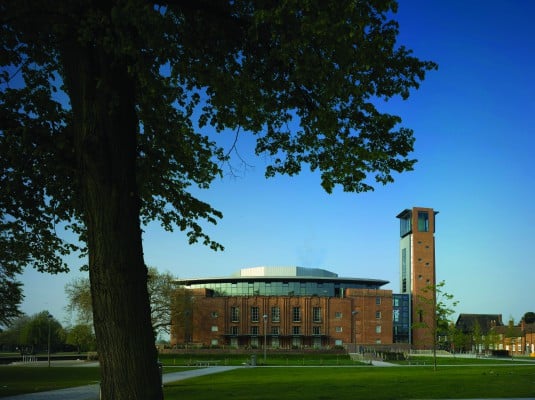 Photo: Peter Cook
This renovation project is remarkable for how it deals with history – adding a tower to bring visibility to a great cultural landmark, but recycling the floorboards that were once tread by John Gielgud and Lawrence Olivier.
The Velodrome, Olympic Park, London
Hopkins Architects Partnership
Photo: Richard Davies
Many of the developments for London 2012 have received mixed reactions, but this beautifully colored, elegantly shaped, intimate sports facility has emerged as a universal favorite.
___
For the Lubetkin prize:
Guangzhou Opera House, Guangzhou, China
Zaha Hadid Architects
Photo: Iwan Baan
Hadid's second shortlisted building has all the drama we associate with her work, but it also helps an industrial city re-connect with the river that once made its fortunes.
The Met, Bangkok, Thailand
WOHA with Tandem Architects 2001
Photo: Patrick Bingham-Hall
Re-imagining the tall residential tower for Southeast Asia, this building includes several climate-sensitive features: green walls, ventilation via holes punched into the building itself, and even an indoor swimming pool.
Masdar Institute, Masdar City, Abu Dhabi, United Arab Emirates
Foster + Partners
Photo: Nigel Young
This research facility, with laboratories, teaching rooms, and student apartments, is also a functioning prototype for the dream of high-performance sustainable architecture in the Middle East.
Boston Museum of Fine Arts, Boston, Massachusetts
Foster + Partners
Photo: Nigel Young
Lord Foster's second project on the shortlist is a re-imagination of one of the great art galleries of the world, using inviting courtyards and communicative routes to bring both intimacy and a sense of scale.
Virginia Museum of Fine Arts, Richmond, Virginia
Rick Mather Architects
Photo: Travis Fullerton/Virginia Museum of Fine Arts
Mather not only opened this Museum up to the city, but connected the various buildings with stairs and walkways that might qualify as works of art in themselves.
The winners of both prizes will be announced on October 1, at the Magna Science Adventure Centre in Rotherham, England.