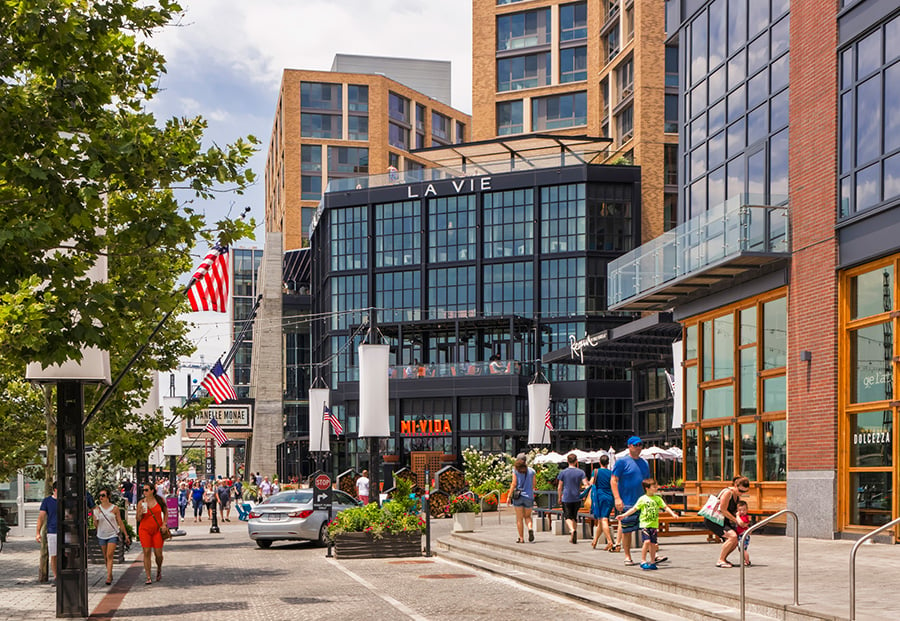 December 11, 2018
Urban Planning Lessons from the D.C. Region
Developments in Crystal City, Virginia and the Potomac waterfront were the focus of a Metropolis Think Tank discussion hosted at Perkin Eastman's D.C. office.
---
Like many other cities around the world, Washington, D.C., has undergone expansion and contraction tied to generational shifts in attitude toward urban living. But Washington is also a curious case in that its height restrictions limit vertical growth, which forces developers to consider alternative means of increasing density within a regimented city grid. In the 1960s, planners invoked eminent domain to transform swaths of Washington's Southwest and Southeast quadrants, and the effects of that urban renewal linger in the forms of displaced populations fighting to regain a foothold in the capital as well as informal business districts that empty out after-hours.
Architect Barbara Mullenex likens urban renewal's effect on the city to a forest clear-cutting, but sees policy as a vehicle toward managed restoration. "The highway administration divided cities and tore down the urban fabric," she said recently at a Metropolis Think Tank panel discussion. Mullenex, who is a managing principal at Perkins Eastman, was involved in master-planning a massive development in the area, called the Wharf, that had prompted the talk.
---
Once a relatively dilapidated waterfront stretch between a fish market and a few motels and restaurants, the Wharf has been redeveloped into a busy living and dining destination that reconnects the adjacent neighborhood to the Potomac River. For Mullenex, who was onstage by thought leaders working in Washington's metro region, the project "is kind of full circle of urban renewal." She highlighted late "more enlightened policy making" that aimed to "develop policies that would allow for future re-growth or revitalization of those areas."
When Anthony Williams was mayor of Washington, he played a role in formulating the policy work Mullenex cites, and he still has a hand in shaping the city as executive director and CEO of the Federal City Council, which acts as a development facilitator and go-between for business leaders and government officials at the federal and city levels. During the age of urban renewal, government agencies had the ability to enact sweeping changes, as was the case in Southwest Washington, or further north with Robert Moses in New York, or in West Adams, Calif., where Williams grew up watching the Santa Monica Freeway divide his neighborhood. "As an African-American, I have a more nuanced view of urban renewal, despite all its horrors, and despite my neighborhood being destroyed," he said. "At least the government was doing something, as opposed to saying the free market will take care of everything."
While the federal government was re-shaping Southwest into superblocks of either agency offices or Modernist multifamily towers, another urban hub was taking shape across the Potomac, in Virginia: Crystal City. To Matt Ginivan, a senior vice president with developer JBG Smith, Crystal City once represented a Jetsons-age mentality in the way its infrastructure was designed to funnel people from homes to highways to parking garages and into office towers, connected by sky bridges. Contact with the natural elements was minimized. Now, Ginivan says his team at JBG Smith wants to change the paradigm. The question they've been asking lately is "How do we change it from a place where people are going in and out of it every day, to a place where people are living, and mingling, and experiencing the environment together?"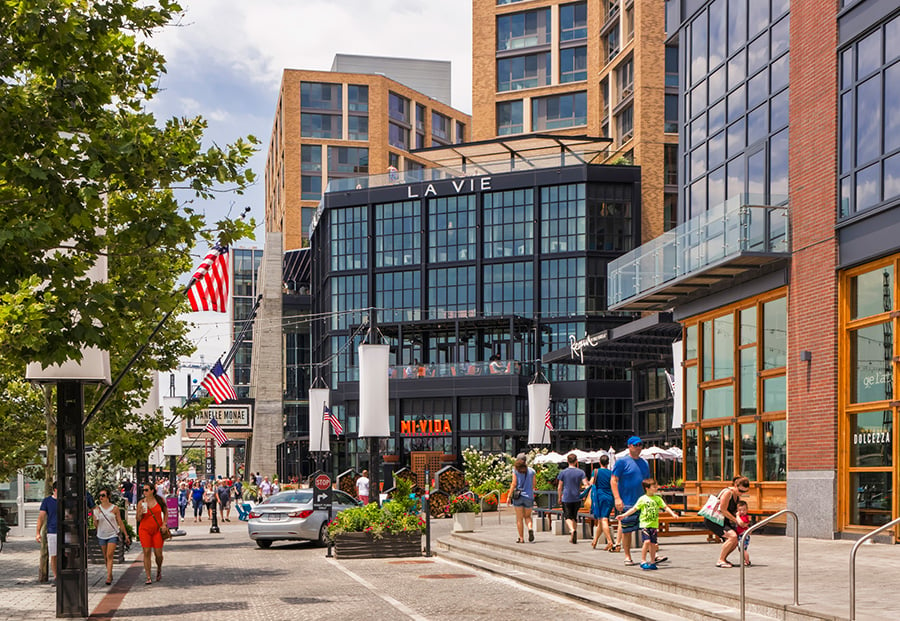 ---
Part of the answer has to do with strategic redevelopment that finds new uses for some of the existing stock of office blocks within Crystal City, especially now that it has been named one of the two sites for Amazon's second headquarters (the Think Tank panel occurred just prior to Amazon's announcement). This kind of redevelopment, where aging commercial corridors have been up-zoned to allow mixtures of retail and residential uses as well, is happening in cities across the United States. In Crystal City, a WeWork/WeLive outpost designed by Perkins Eastman has opened recently, combining shared workspaces with flexible living quarters. Another co-working space, 1776 Crystal City, rents out workplaces within its ample office tower floorplate. The area benefits from dual Metro station access and is a stone's throw from Reagan National Airport, making it a transit-connected environment within easy reach of Washington's traditional downtown, and beyond. Then there are the infrastructural improvements, such as the addition of a bus lane and a bike lane. "We don't have the L'Enfant plan, the natural grid," Ginivan said. "We have Route 1, and that's still elevated in lots of areas. We have big superblocks. But there's about a two-block stretch of Crystal City that feels like a vibrant, bustling business district." And, with the advent of Amazon's HQ2, National Landing—which is what local officials are calling the combination of parts of Crystal City, Pentagon City, and Potomac Yards—is likely to get a lot busier in the near future.
Of course, adding residential zones within commercial districts only works if the residents have all the amenities they need. One of the biggest concerns for young adults in the area is where they'll send their children to learn. So the transformation of a vacant office building in nearby Alexandria into the Ferdinand T. Day Elementary School—a K-5 program focused on STEM education—both infills an underutilized resource, and provides another outlet for families who might be moving into the area. Mignon R. Anthony, who is chief operating officer of Alexandria City Public Schools, sees these kinds of architectural opportunities as being critical to the balance of urban and suburban lifestyles. "Sometimes we find in architecture that we're only dealing with the issues of space," Anthony said. "It's our responsibility to think about how technology drives the way we learn, and the way we use the space."
The idea of the interconnected global village is one that still resonates, but at a local level, it's more about the connections people make in real life, on a daily basis, with their surrounding environments. As cities recover from previous generational evacuations from their downtowns to the suburbs, they attempt to entice suburban residents back into their urban cores with livable, walkable neighborhoods that offer more opportunities for personal connection. Former Mayor Williams acknowledges the difficult balance of bringing new residents in without ousting the old: "A little gentrification is good," he said, "The bad part is displacement." That's a lesson Washingtonians learned nearly 50 years ago, and many have not yet recovered from it. As this city and others adopt growth strategies and seek investment, they would be wise to consider development tools that look for opportunities to connect with existing community assets.
The Think Tank discussions were held on September 26 and 27 in Washington, D.C. The conversations were presented in partnership with DWR Contract, DXV/GROHE, KI, Sunbrella Contract, Visa Lighting, and Wilsonart.
You may also enjoy "Architect Peter Barber Is Reinventing London's Housing."