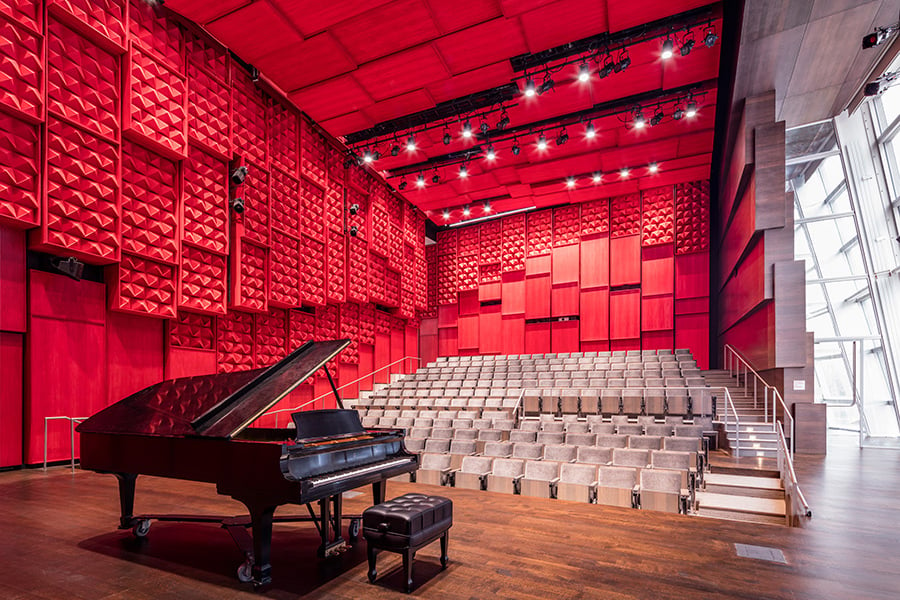 October 13, 2017
LMN Architects Creates Striking, Acoustically-Refined Spaces for the Voxman Music Building
Nearly a decade after severe flooding inundated the University of Iowa's campus, its music department is reunited in a new building by LMN Architects that is both a technological and civic asset.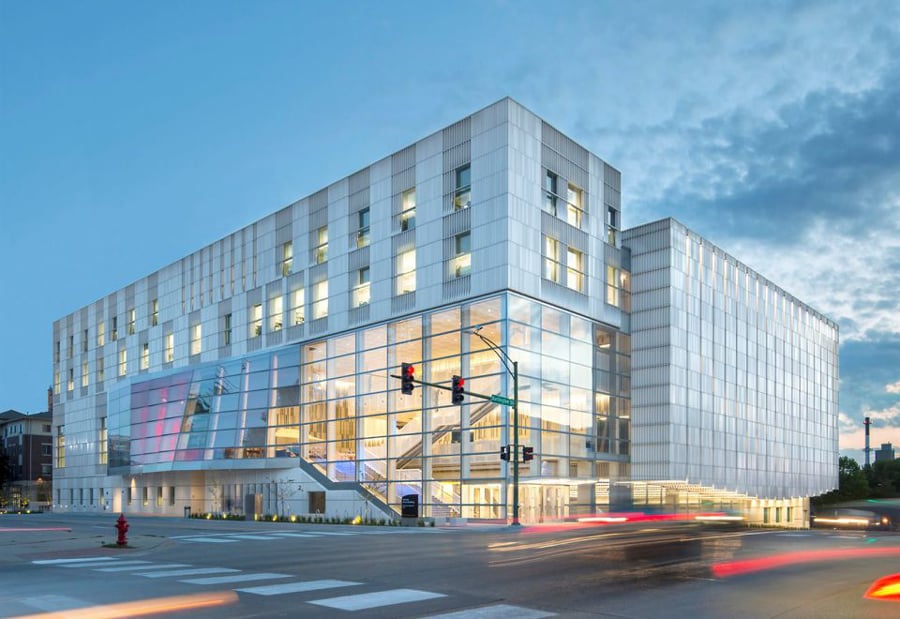 In June 2008, following weeks of relentless rainfall, rivers across eastern Iowa rushed over their banks. The floodwaters engulfed farmland, roadways, and towns. The deluge, one of the worst natural disasters in the state's history, also submerged portions of the University of Iowa campus in Iowa City, leaving the school's arts facilities submerged in a lake of brown water.
What followed was a nearly decade-long, FEMA-backed, $743 million recovery effort; in the interim, various university departments were scattered across campus in dozens of ad hoc locations. "My naive impression was that they were going to dry it out, throw some bleach around, and be good to go," recalls David Gier, the director of the university's School of Music. Instead, due to irreparable damage, the music department was forced to occupy spaces ranging from a repurposed movie theater to a Sunday school classroom.
Last October, the department was finally reunited in its new home on the east bank of the Iowa River designed by Seattle-based LMN Architects. The Voxman Music Building occupies a prominent site on the corner of Clinton and Burlington Streets, a busy intersection. The six-story, 184,000-square-foot concrete building, designed in collaboration with local firm Neumann Monson Architects, is covered in a textured screen of white terra-cotta fins that both reflect and capture sunlight. A dramatic glazed corner further invigorates the facade. Like a dollhouse, the building offers passersby a glimpse of the manifold activities inside—an ensemble performing in a vermilion-hued recital hall, students making their way up a zigzagging stairway in a towering central atrium. "We wanted a building to engage with the city in ways that we hadn't in our previous home," says Gier.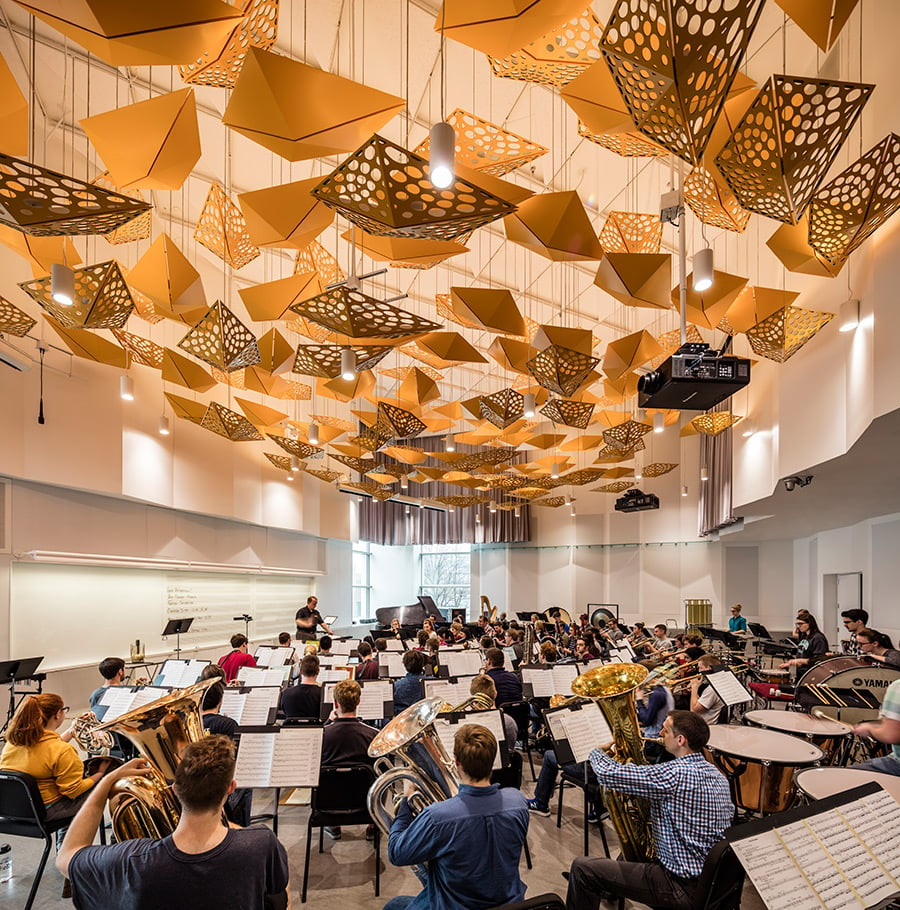 Throughout, the Voxman building is defined by this dramatic interplay of volume and light. But this spatial drama was born out of necessity: One of the architects' most pressing design challenges was to satisfy the school's complex programmatic needs within the constraints of its relatively compact site. In addition to a 700-seat concert hall and a 200-seat recital hall, the architects needed to squeeze in 65 practice rooms, 58 faculty studios, an organ hall, a rare-book room, and a library among other spaces—many of which needed to be sonically isolated in self-contained volumes.
To address these needs, the architects at LMN say they opted to "knit" the floors around the vertical stack of circulation and common areas. "In the process of configuring those interlocking volumes, we created space for all the performance halls and ensemble rooms and all the gathering spaces that go with them," says partner Mark Reddington, who led the project with fellow LMN principals Sam Miller and Stephen Van Dyck.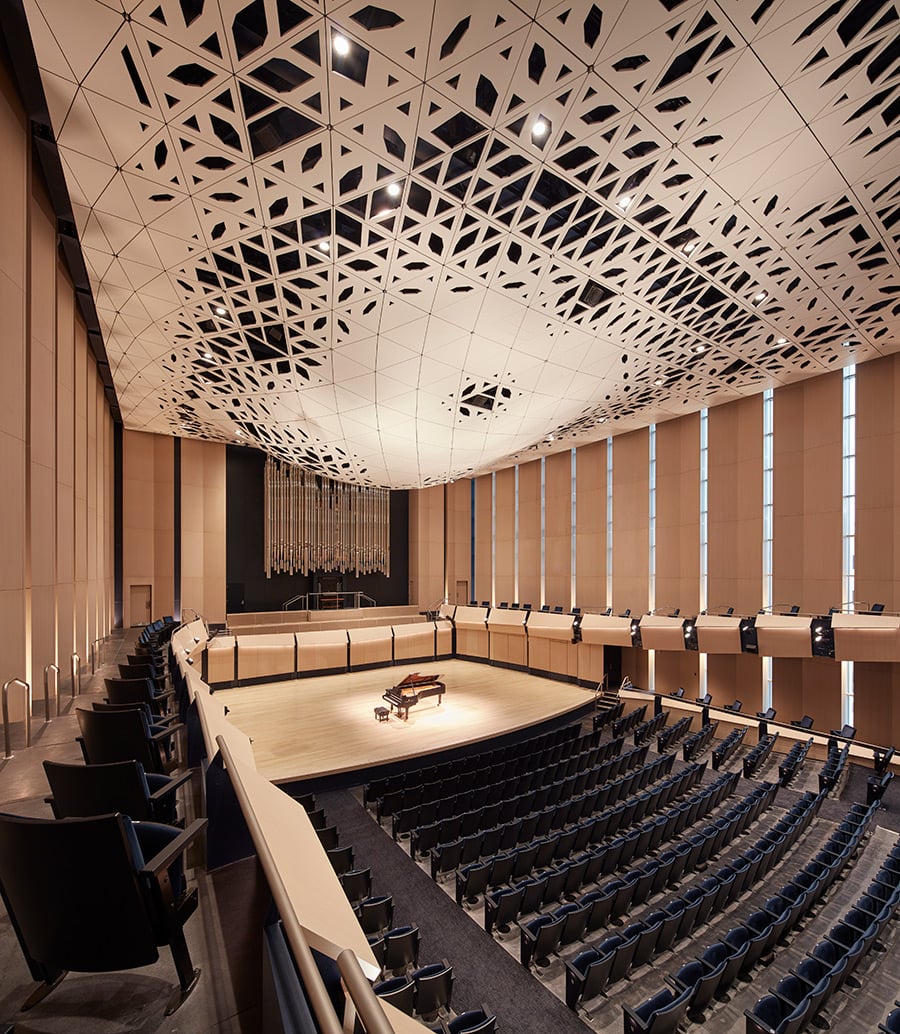 Voxman's two primary performance spaces—the 200-seat recital hall and the 700-seat auditorium—and two large ensemble rooms are located on the second floor, mainly to ease the transport of hefty instruments such as pianos (the building contains 140 of them) and timpani across a single level. From the street, visitors can look into the more intimate recital hall. Though one 30-foot-high wall is entirely glazed—a material choice that poses acoustic challenges—it is countered by a scarlet wall of custom acoustic panels with gem-like cast forms for optimal sound absorption.
Such bespoke acoustic solutions, like the insertion of felt fins into the common areas' walls and ceilings, pervade the building. These gestures are subtle; inside rehearsal and performance spaces, however, they become scene-stealers. The firm's internal research team, LMN Tech Studio, worked with an aluminum composite commonly used in exterior facade applications to digitally fabricate origami-esque acoustic reflectors. Together, these vibrant, perforated modules hang in a cloudlike array in Voxman's three ensemble rooms.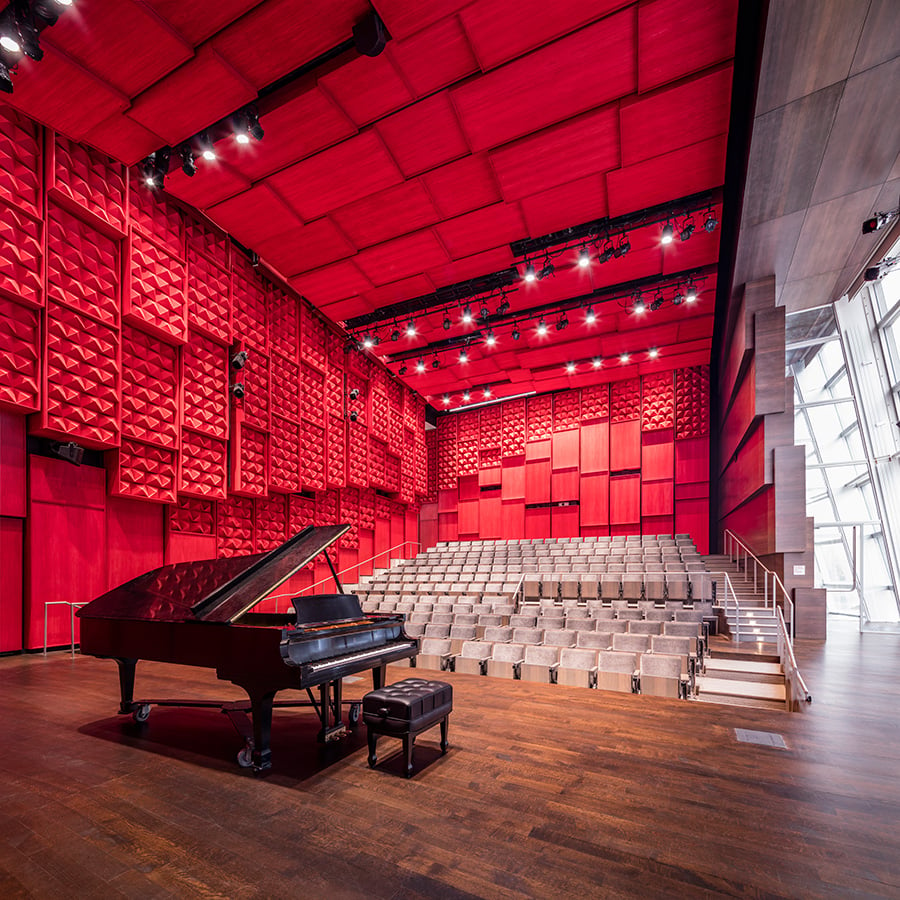 But the 700-seat concert hall, capped by an undulating sculptural ceiling, is indisputably its crown jewel. This innovative, digitally fabricated "theatroacoustic" module, as airy and delicate as a paper snowflake, manages to reflect sound while also cleverly integrating sound, lighting, and sprinkler systems. Centerstage, a majestic pipe organ—built by the same German craftsman who created the organ for Hamburg's Elbphilharmonie— glimmers beneath the lights.
This fall marks the music school's second year in its new facility, but Gier says he is still awestruck. "There is an interesting kinship between what architects do and what I know composers do—the iterative nature of it, the way in which it's both conceptual but also exceptionally practical," he says. "I think of this building as a great symphony."
You may also enjoy "DS+R Beats Foster, Gehry, Piano, and Others, For New London Centre for Music."