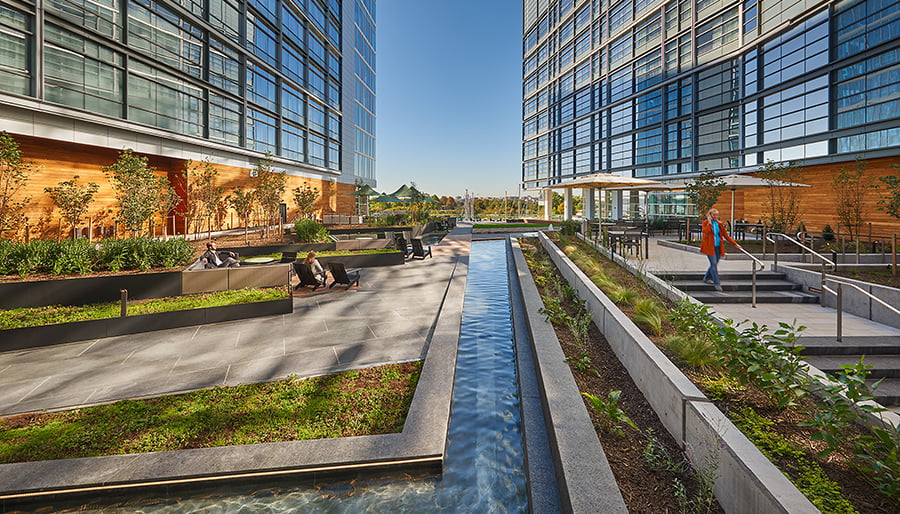 August 6, 2019
How Conventional Offices Can Compete With Shared Workspace Providers
A Metropolis Think Tank panel at SmithGroup's Washington, D.C. office explored the new amenities that property managers are deploying to retain tenants.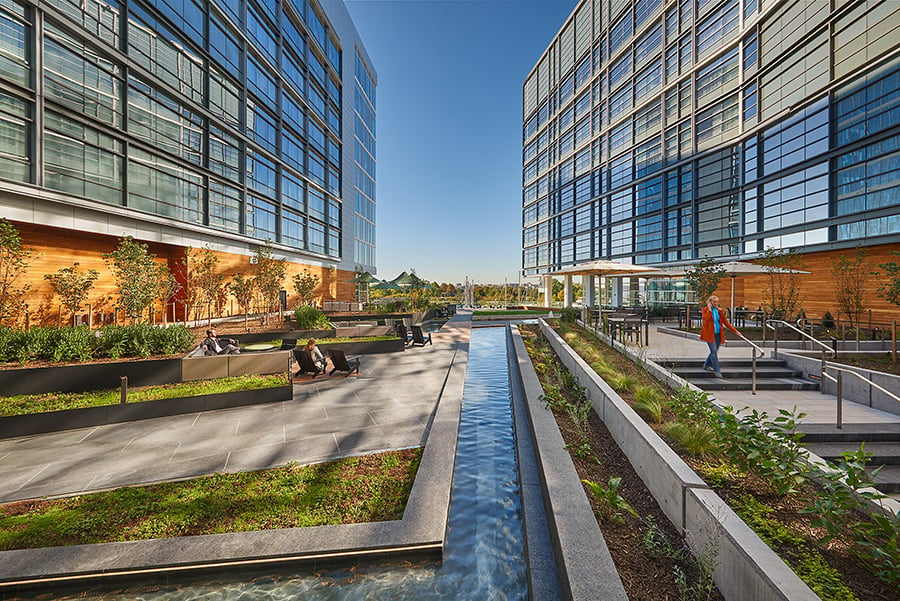 ---
In Washington, D.C., an arms race in commercial amenities is brewing. At least that's the sentiment among local developers, business owners, and architects, as evidenced by a recent discussion held at the local offices of SmithGroup as part of the Metropolis Think Tank program. Moderated by Metropolis managing editor Lila Allen, the conversation revolved around the ways in which property management companies increasingly find themselves competing with shared workspace providers like WeWork and Convene to attract and retain talent.
The Hub, a commercial venture set to come online within the next year, is a primary case study setting a new bar in the amenities arena. The Hub will inhabit a top-to-bottom refresh of 1615 L Street NW, an existing downtown building, and will feature hotel-like services offered through a single restaurateur, Michelin-starred chef Nicholas Stefanelli. The chef has already collaborated with Jackson Prentice of Carr Properties on the developer's Midtown Center, where Carr enlisted Stefanelli to open his first Greek restaurant beneath the new headquarters of Fannie Mae. "At Midtown [Center], Nick was our anchor tenant. It took some ingenuity, but we sold him on the dream of running an office like a hotel," Prentice said. "It's not just the café, but there's a back bar, a rooftop that we've done up like the Ace Hotel, and Nick will be able to service the whole building off our app. If you're a [tenant] and can leave for home with a meal prepped by a Michelin-caliber chef, that's something new."
---
For his part, Stefanelli hopes that the partnership will sprout additional avenues beyond the traditional restaurant format he's mastered. He recalls negotiating leases at the Midtown location when The Hub entered the conversation: "We had this moment of pivot where we thought, 'How can we do something that's within our brand but can also help us diversify as a group?'"
Part of The Hub's offering includes a bespoke phone app tailored to the property that will plug into Stefanelli's services, allowing tech-savvy employees to summon, for example, a desk-side Negroni cart. And it's not just at The Hub that technology is pushing new directions in workplace strategy; elsewhere in D.C., other commercial projects are upping the amenity ante to entice a new generation of employees that chooses companies to fit their lifestyles, not the other way around. "Five years ago, it was all about densifying spaces as much as you could," noted Molly Ketcham, a managing director of strategic planning and operations for Accenture Federal Services. "Now, we're such a tech-heavy company, which allows us to…work wherever we want to work. So we design our properties now based on what would bring you back into the offices. It's the experiences of your employees, making sure that you're designing collaboration spaces and funky spaces where you can really connect personally."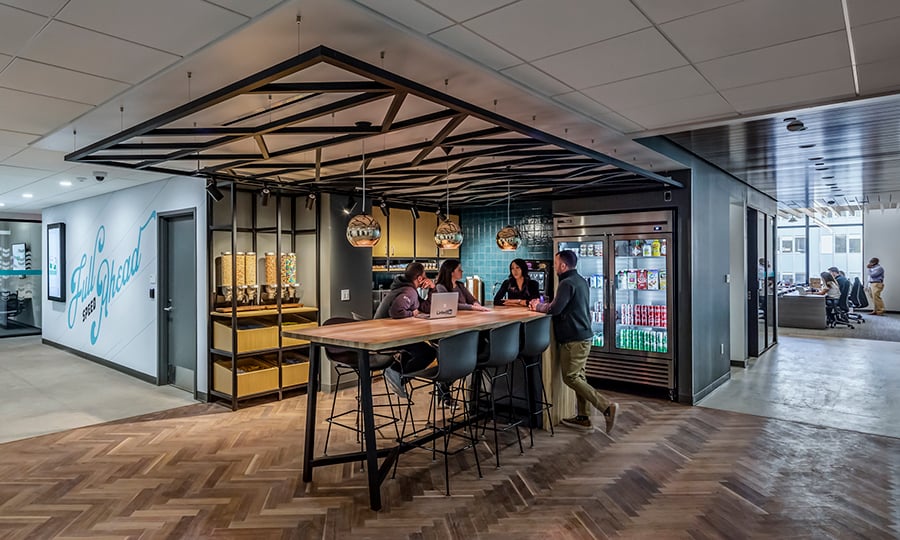 ---
Such funky spaces include a rooftop conservatory—which may seem like a throwback to a previous era, but John Crump, SmithGroup's D.C. workplace studio leader, plans on installing one at an office project that Carr is developing near Union Market in the city's NoMa neighborhood. "Union Market gives us an opportunity to push what the boundaries are," he said. "So we're not just doing a rooftop terrace, but instead we're doing a conservatory with indoor and outdoor gardens with chill zones and a zen feel to the whole space. It's a unique amenity, and that's the kind of thing that helps tip the scales to seal the deal."
As more shared-space players enter the office marketplace, architects and developers are racing to improve their amenity offerings to meet the needs of both employees and the companies that wish to keep them. "We now look at amenities as a tool for talent attainment and retention," Prentice said. "We think if we're offering best-in-class amenities, we're going to get better rent. We're a long-term holder; we hope people like what we're doing—and that they'll stay."
The Think Tank discussions were held on July 17 and 18, 2019, in Washington, D.C. The conversations were presented in partnership with BIFMA, Dupont, DXV/Grohe, and Versteel.
You may also enjoy "Designing for the Senses: New Perspectives in Hospitality."
Would you like to comment on this article? Send your thoughts to: [email protected]