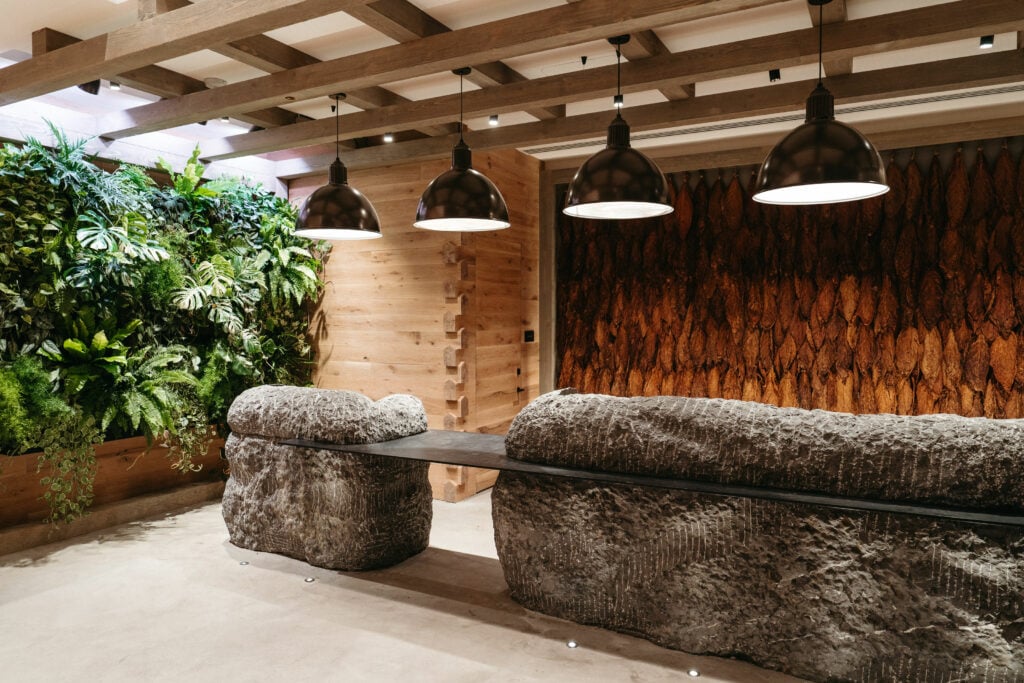 August 9, 2022
1 Hotel is an Unexpected Oasis in Downtown Nashville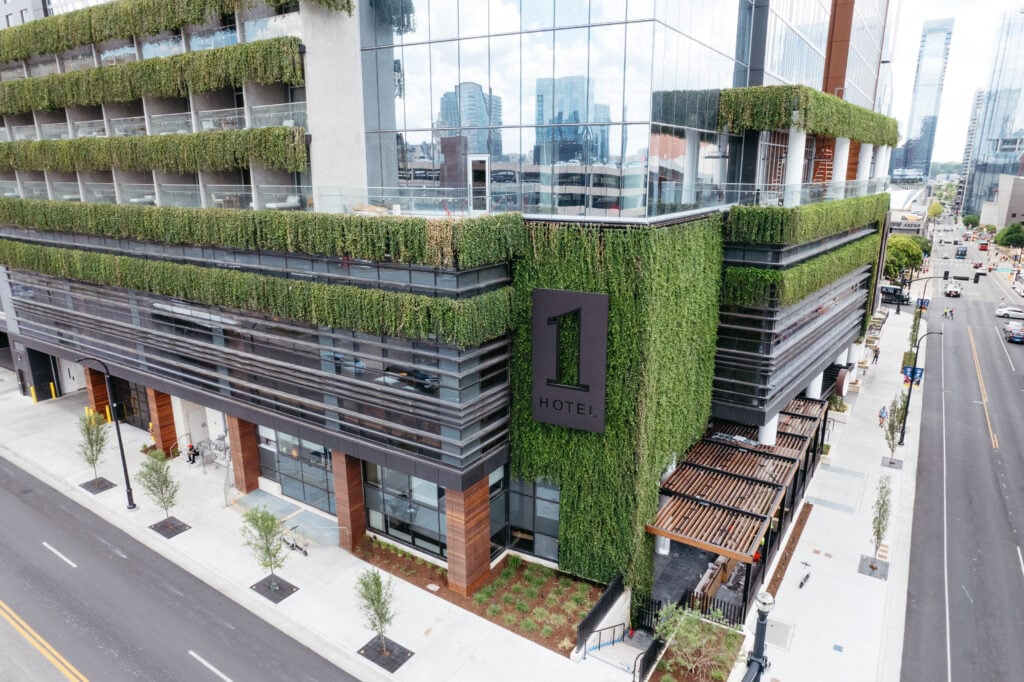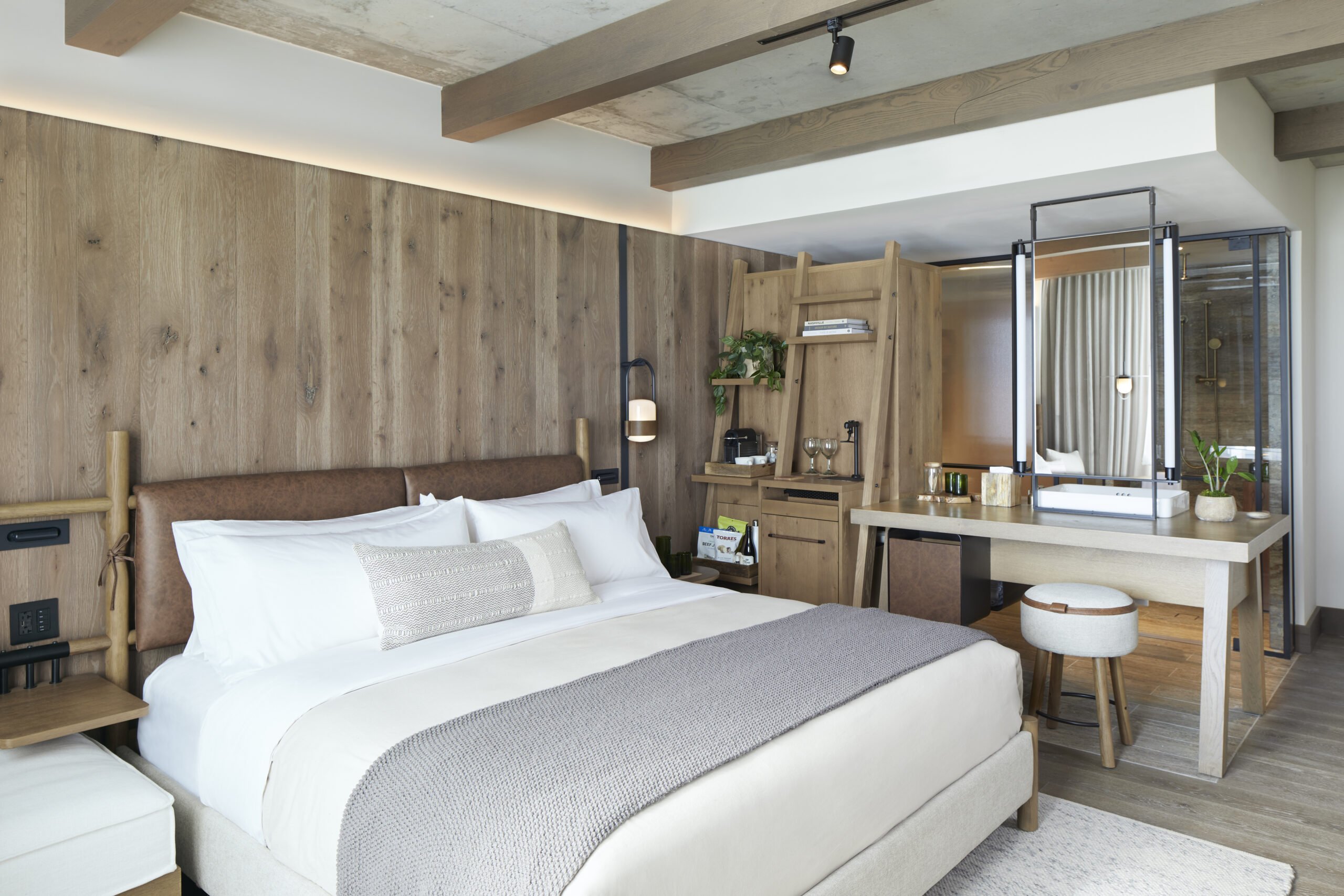 Textural, tangible, and warm, 1 Hotel Nashville's interior design takes inspiration from a range of landmarks and landscapes found just outside the city, including Fort Nashborough, Ruby Falls, Natchez Trace, the Smoky Mountains, and the Cumberland River. Its 237 guest rooms, lobby, three dining spots, and various communal gathering areas were designed in collaboration with architecture and design firm Workshop/APD to celebrate the city's beauty by incorporating native greenery, reclaimed wood, and local culture.
Upon entering the lobby, guests are greeted with gigantic, water-worn boulders that form the reception desk, backed by textural screens inspired by patterns of flood lines and tidal marks. "The lobby as a whole is largely inspired by the Cumberland River Valley, from its tobacco barns to its verdant banks," says Farina. Leather and black metal accents pay homage to the local tradition of blacksmithing, while woven rope and local oak surfaces pay homage to Tennessee's agrarian history.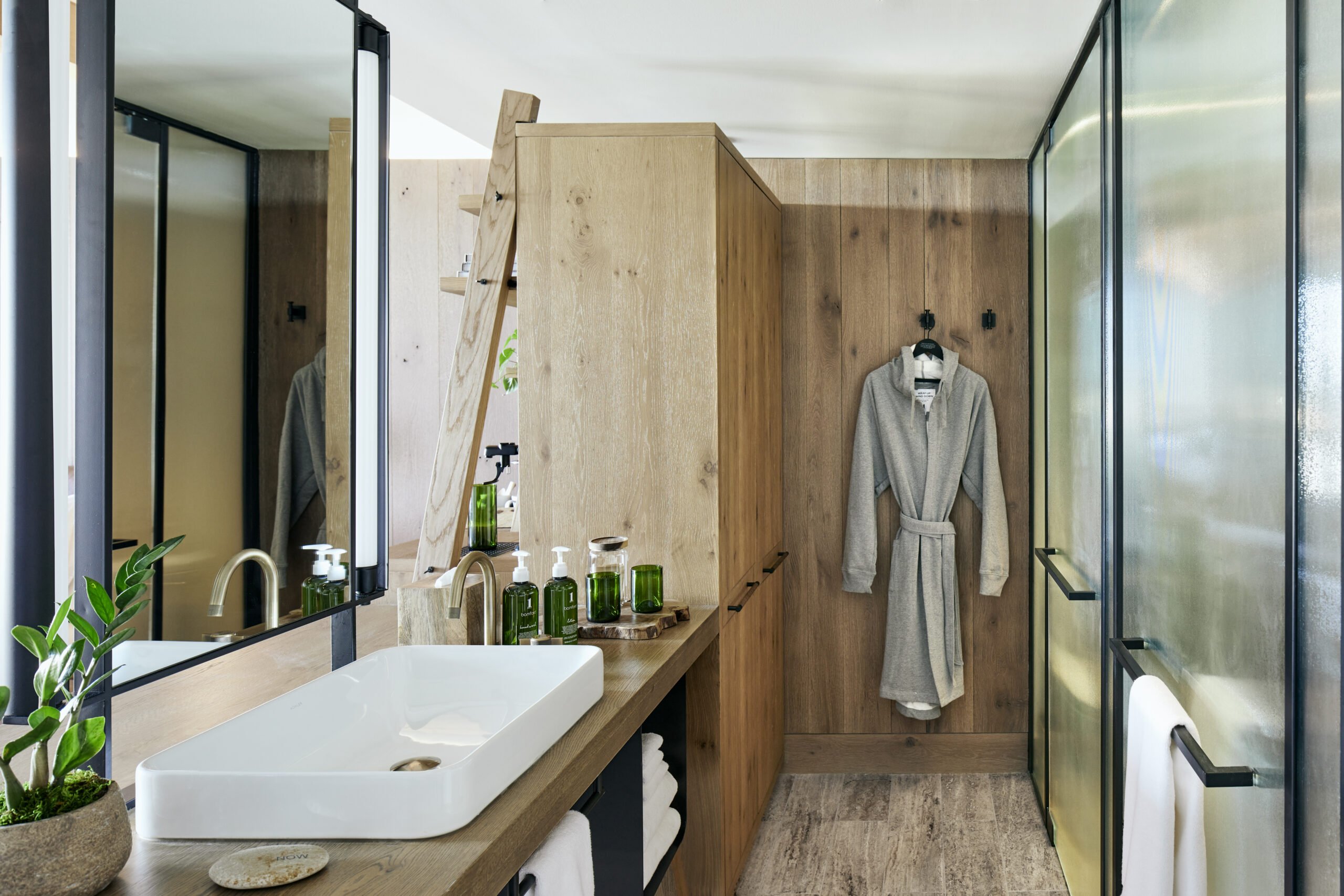 The guest rooms have a luxe-homestead feel, like a modern but time-worn ranch dream, with custom designs from Workshop/APD (who contributed materials, fabrics, fittings, architectural elements, fixtures, and lighting as well as custom furniture). The walls and floors are done in wire-brushed oak, and the wall-mounted bedside sconces crafted from blackened steel and glass present a fresh take on rustic lanterns. Powder-coated pendant lamps over the sofas evoke classic barn lights, and the rough-hewn, custom-made white oak poster beds were inspired by local fences and saddle blankets. A double-sided workbench/vanity in each room offers a modern, multifaceted version of the sturdy, classic farm table.
---
More from Metropolis
---
The interior also showcases compelling work from local artists like Andrea Bonfils, Aquarela Sabol, and Richard Lou, whose Wild Stasis installation series is featured in three communal spaces throughout the hotel. The series considers concepts of balance, indigeneity, displacement, and dominance, exploring the conflict between human activity and its impact on the natural state.
Known for its focus on "luxury sustainability," the 1 Hotel brand counts Nashville as the 8th addition to its global fleet of hotels—all of which are Sharecare Health Security VERIFIED® with Forbes Travel Guide and have earned a WELL Health-Safety rating. The focus on sustainability is evident in the fine details: At 1 Hotel Nashville, guests are given wooden room keys instead of plastic, rooms have chalkboards to reduce paper use, linens are sustainably sourced, clothes hangers are made from 100 percent recycled paper, tap water is pre-filtered to discourage the use of plastic bottles, and in-room carafes are made from recycled wine bottles. The hotel also sponsors a "1 Less Thing" program year-round, encouraging guests to leave behind an item of gently used clothing, which they donate to local charity People Loving Nashville. "The brand is rooted in the ethos that the world around us is beautiful and we want to keep it that way," says Farina. "This idea of bringing it all back to nature guides our biophilic design…each property draws from the living world around it."
Would you like to comment on this article? Send your thoughts to: [email protected]