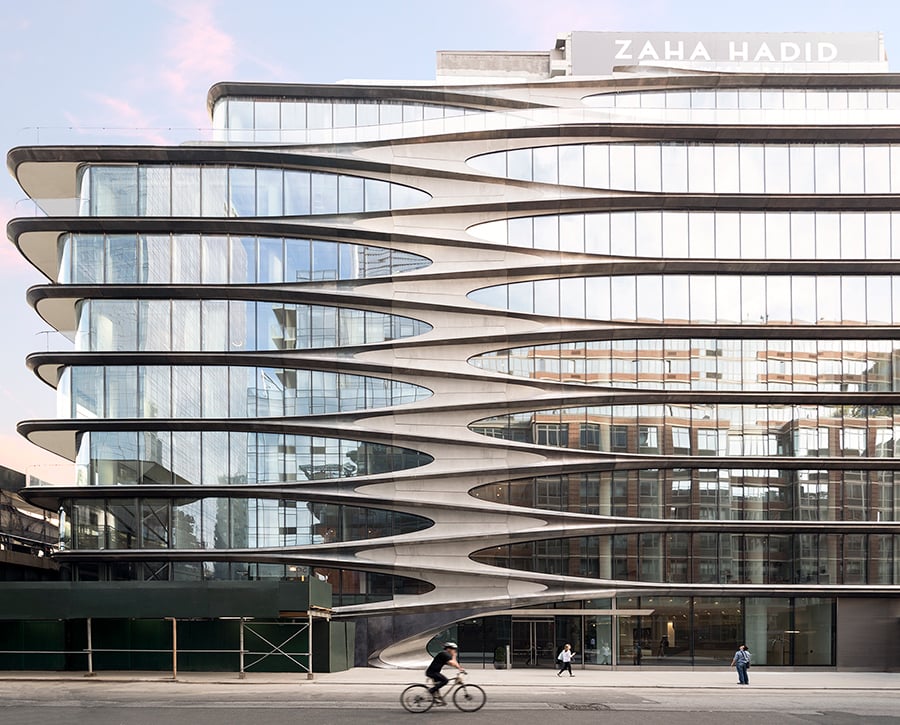 March 28, 2018
Take a 360 Video Tour of Zaha Hadid's 520 West 28th Street in New York
Clad in patinated stainless steel that references the adjacent High Line, the residential complex features 40 units that bear a light touch of ZHA's signature flowing forms.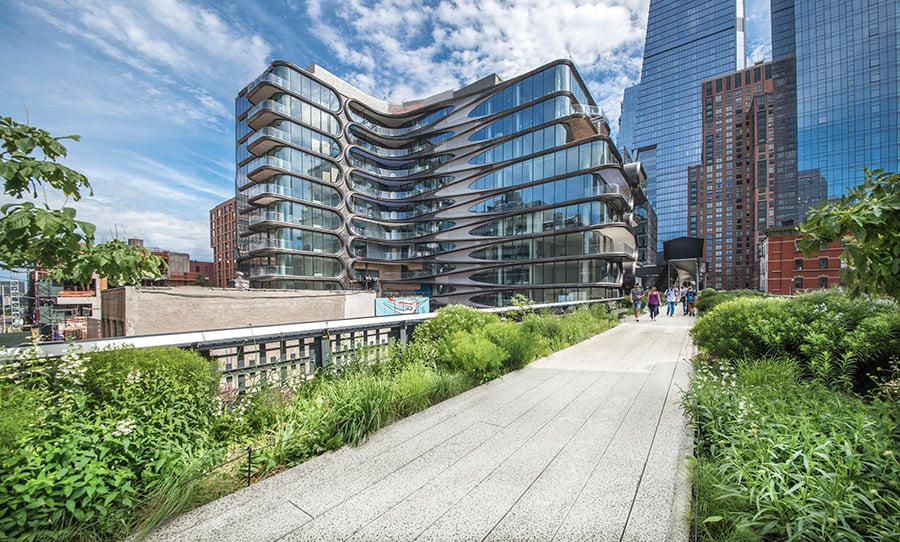 While the High Line now weaves between countless luxe architectural flourishes, none stand out quite as much as Zaha Hadid Architects' 520 West 28th Street.
The residential development, which finished construction this month, was inspired by the High Line in more ways than one. Ed Gaskin, senior associate at Zaha Hadid Architects (ZHA), says the patinated stainless steel facade is a nod to the former railway and Chelsea's light industrial past, while the elevated park also gave the design team the idea of vertical layering and complexity. On the facade, this translated to a series of loops and chevrons that visually unite the split-level design.
"It's something from Zaha's past, that there was always a connection of as many layers vertically as possible," Gaskin tells Metropolis. "Through this idea of layering, we've been able to stack a number of spaces with a variety of ceiling heights and create this sectional variety."
---
More from Metropolis
---
The L-shaped building does indeed pack a lot of sectional variety, some of which is subterranean. Amenities, such as a pool, spa, fitness center, automated parking, and 12-seat IMAX theater, are all located underground, but are connected to the ground floor via a large stair and skylight. The outdoor garden and courtyard, which is contained by a green wall, is split-level, connecting to the ground-floor lobby on one end and the second-floor event suite at its other end.
Note: If you're viewing this article on a mobile device, please watch the 360 video in the Youtube app for an optimal viewing experience. If you have the Youtube app installed, simply click the title, "Take a 360 Tour of Zaha Hadid's 520 West 28th Street in New York," to be redirected.
The units themselves are mostly single-level, with a three-story penthouse being a notable exception. (The building's units range from two bedrooms to five bedrooms, with the penthouse "super-unit" reaching just over 6,000 square feet.) It's no surprise that the apartments, among their many built-ins and custom details, feature art hanging rails. In a neighborhood known for its art galleries, the project's developer (Related Companies) is building "The High Line Nine" galleries right next to 520 West 28th Street. Opening May 1st, The High Line Nine will feature nine small boutique galleries tucked beneath the High Line itself.
You may also enjoy "2018 Game Changers: 5 Remarkable Individuals Who Are Transforming Architecture, Design, and Cities."