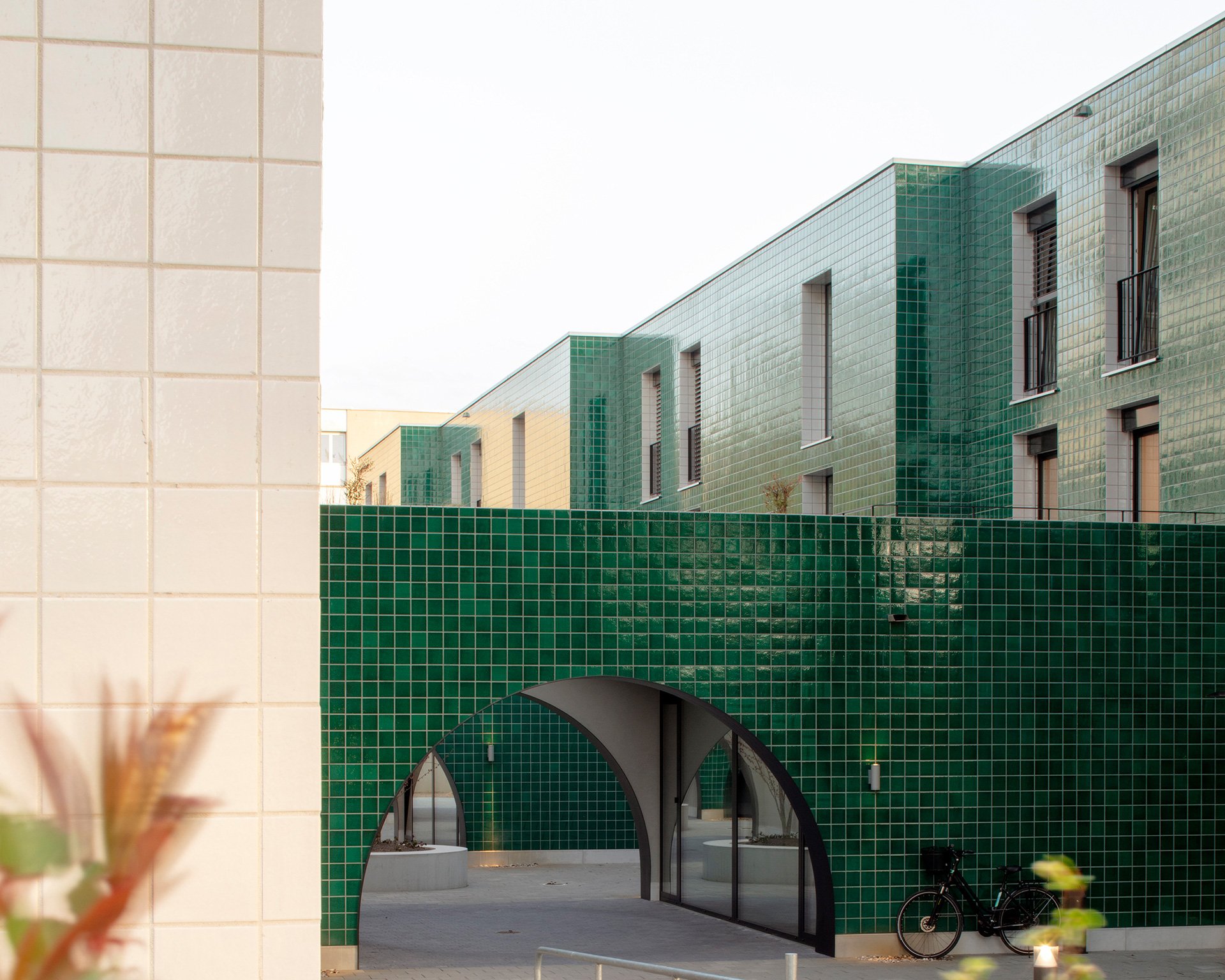 December 7, 2022
A Supportive Housing Development Offers Refuge from the Street and Connection to the City
In Lancy, a suburb to the southwest of the Swiss city of Geneva, SGIPA, a charity foundation focused on inclusion for the disabled, has realized a building project to demonstrate their ideas of collective and inclusive living. An ambitious program of 32 collective social housing apartments, 33 assisted living units for mentally challenged people, commercial spaces, and a center for physical training and rehabilitation had to be placed on a plot next to a busy intersection. Nomos architects, a collective operating from offices in Geneva, Lisbon, and Madrid, turned this program into two distinct volumes to serve the different needs of the inhabitants, which are designed around a passage of cozy courtyards to help form a small community within the urban setting.
Against the busy main road to the southwest, Nomos set a long volume with three floors containing the low-cost cluster apartments. Each inhabitant has a personal unit of 215 square feet including a bedroom and bathroom. Each group of three or four units shares a larger collective living room and a kitchen. These apartments are fit for assisted living of people with mental disabilities, but they could also serve as regular shared apartments for students without any disabilities. All private bedrooms face southwest while the collective spaces additionally offer balconies and terraces to the northeast, facing the second building which is of nearly the same length but deliberately higher with six floors. This second volume is set parallel to the lower building, forming a comfortable space in between. The ground floor contains the gym and all training and counseling facilities, while social housing apartments are placed on the upper five stories.
Special attention is given to the quality of the public and semi-public spaces around. Towards the intersection, a public square is created underneath a large cedar tree. This square forms the entrance to an arcade of smaller courtyards between the buildings. All entrances to the shared cluster apartments are arranged via these courtyards, making them a lively shared place for chance encounters among neighbors.
Lucas Camponovo, one of the partners of Nomos in Geneva, says that the arch of the courtyards became the general architectural motif. Circular openings can be found all around the buildings on all facades, in the arches of the courtyards and in their oval openings towards the sky. "We wanted the public space to become more complex, offering the paradoxical feeling that one enters an intimate place, preserved from the road, sheltered from passers-by, like an open-air living room." With this strong urban gesture of a diverse but united community as its basis, Nomos was able to give both buildings different expressions with contrasting facade materials. While the larger building remains modest clad in white and grey tiles, the lower volume is granted tiles of a strong green color that also appear around the windows and balconies of the larger buildings rear side.
---
More from Metropolis
---
These shimmering tiles, changing in color with the change of daylight and weather, is explained by the architects as a "generous gesture" for a program that is too often trivialized in our cities. But they also explain their choice of material as a sort of cultural transfer: "The international character of Nomos allows us to draw inspiration from architectural languages in many countries at the same time." While shimmering tiles as facade material are highly unusual in Switzerland, they are very common on the Iberian Peninsula and especially in Portugal. "While staying within the narrow frames of budget and schedule with this project, I think we successfully blew a breath of fresh air on low-cost housing, opening a path of gentle rebellion against the common austere image of this type of housing elsewhere." They also reference their project to a certain Spanish dance, the Pasodoble or "double step", where two bodies move together. In this comparison, the two buildings would be frozen in a moment where they dance with each other around the larch tree. "A dance against boredom and the banality of the ambient architectural production," as Camponovo concludes.
Would you like to comment on this article? Send your thoughts to: [email protected]