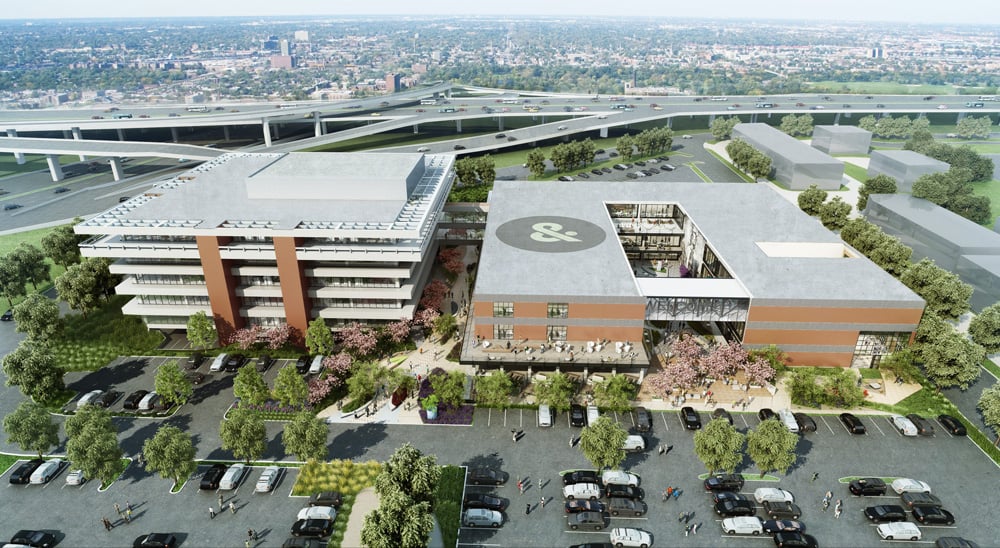 December 12, 2017
Cities and Work: Adapting for the New Workplace
A Q&A with Wolcott Architecture and Interiors on cities and work and how cities are adapting for a new generation of industry professionals.
For the past three years, Metropolis's director of design innovation, Susan S. Szenasy, has been moderating Think Tank, a series of discussions with industry leaders on current issues surrounding human-centered design. While in Los Angeles, she visited the offices of Wolcott Architecture and Interiors to talk about the relationship between cities and work and how cities are adapting workspaces for a new generation of industry professionals. What follows is an edited transcript of the conversation, prepared by Claudia Marina.
---
Susan S. Szenasy, director of design innovation, Metropolis (SSS): Today's discussion will be Los Angeles-specific, especially because we are asking what it means to adapt the city's office buildings into workplaces that make sense for this new generation of professionals.  Experiencing the city on foot, it is actually much more nuanced in texture than I expected it to be. I'd like to start by talking about the evolution of these spaces in real estate. Every city has an abundance of 30-year old modern office buildings. Where is Los Angeles now?
John R. Barganski, senior vice president-leasing, western region, Brookfield Property Partners (JRB): As an international, publicly traded company, Brookfield has over 200 properties in urban centers around the world. About 11 years ago, we began noticing in Los Angeles, that people were starting to reimagine the standard work spaces in these high-rise office buildings, primarily located in the Central Business District. The tenants we were leasing to were rapidly evolving to entire new workplace strategies in order to attract the same 24-year-olds that Google and Facebook were recruiting. So we thought we really need to revisit things beyond updating the elevators and re-striping the parking lots of these older buildings. People were demanding an extension of the changes they were seeing on the inside of the buildings to the outside. They want a place where they can take a phone call and have a cup of coffee while remaining connected to the workforce.
---
More from Metropolis
---
Carlos Carrasquillo, studio director, Wolcott Architecture & Interiors (CC): It's completely different now. As an architect, I think the biggest benefit we bring to building owners is rethinking how to use these spaces. If you think about the design of a building like the Wells Fargo Center, which Brookfield owns, the idea for these buildings back in the '70s and '80s was that you were approaching a fortress. It feels important, and that was an intentional part of its design. People expected to walk into a lobby that felt opulent and go through security so they felt like, "I've made it." But now we need to design for a different type of worker—the Silicon Valley types. We shouldn't feel intimidated when we go into these buildings anymore, so the bulk of our work is trying to reverse, to a certain extent, what the previous architects had done— to make it warm and inviting so that you'd want to hang out there.
JRB: Stone was dominant in the common level areas of these corporate office towers of the '80s and '90s. You can't change the entirety of the physical exterior of the building, but you can certainly adjust the touch points in these public spaces so that they're much
more user friendly to compliment what's happening upstairs.
CC: At this point it's a necessity. To be honest, I don't think that simply updating the light fixtures or elevators is going to drive people to the building as much as having a cool lobby where employees can hang out. Tenants may be leasing 5,000 square feet, but they're really getting more along the lines of 7,000 because the lobby space is theirs as well. That's how we tackle these buildings. It's more than aesthetic. It becomes programmatic and functional.
SSS: Matthew, because your firm is about development and management in buildings, how do you look at the building stock that exists in Los Angeles as a starting point to develop around?
Matthew Lavin, partner, Worthe Real Estate Group (ML): Worthe Real Estate Group has about 5 million square feet of property locally in Los Angeles, and we try to look at Los Angeles as 14 different sub markets. Our motto is "content is king." The content that comes out of Los Angeles makes it a very unique market. It's a massive entertainment community, so we chase that first. We look at our potential users and try to identify the communities where we think they would best take space. Then we try to repurpose some of these different assets. One thing we learned while working with Carlos at Wolcott was that you can't "teach height." Rather than constructing new buildings, we've learned from some of our unique acquisitions the value of these 18-foot high ceilings found in original buildings. We're currently developing an office building in Beverly Hills that was previously an old post office distribution center with massive, 18 and 22-foot-high ceilings.
SSS: It's interesting that you're talking about entertainment businesses because they're not the ordinary office occupant. They have special equipment and spatial needs. As a real estate developer, or leaser, you have to find the right space.
ML: What's becoming more important is accessibility between conventional office spaces and production spaces. One great example is Netflix, which was originally in Burbank and moved into regular office space in Beverly Hills. One of their big requirements during their expansion was to be close to the physical production spaces. It's not necessary to have a studio inside an office building, but they should be close enough so that executives, producers, or creatives can walk over from the office, see what's going on, and report back.
SSS: And the fact that they don't have to drive in traffic but they can actually be in an urban space that allows them to run over and check something out is really cool. To get around LA, you used to get in a car, but now with the development of these areas there's more of a walking city being promoted. That also creates something very different. I imagine that the mix of tenants in a building also matters because creative people want to connect with each other in these communal spaces like the lobby or outdoors. How do you choose your tenants?
ML: That's a great point. We've kept spaces completely vacant because they weren't the right uses. Creating partnerships with our clients is important for us—not necessarily in the landlord-tenant way but in the sense that we solve their real estate needs, and it does matter who they're next to. We think that creating an architecturally blank canvas for these companies is the way to go. Moving away from this idea of branding a building with a company's sign has been really successful in tracking and curating the right tenants.
SSS: It's also interesting because while these new tenants of office buildings are looking for character and amenities, they're also looking for some kind of tangible connection to the past. It's a nice thing to know that the building you are now in is connected to the way the city was built, it's history, and how you are shaping the next phase of that history. All around the city you see some wonderful older buildings that have been refurbished and rethought. They add to the urban fabric and give texture to the city rather than having one massive high-rise after another.
CC: I think that aspect is even accentuated in LA because we don't have a deep history. Our history has been shaped by more of an attitude of, "Scrap it, build it—but don't spend too much money on it because we're going to scrap it again later." When people do have a sense of history and they can tap into something, in our market, it almost feels more precious than in a market like New York where you're oversaturated with that type of product.
SSS: California has this reputation for environmental regulation. How do some of the environmental issues influence what you develop?
CC: I think it's become much more visible rather than symbolic. LEED-certification has turned into a bit of a cliché. When it came along, developers weren't seeking LEED-certification to be environmentally conscious but rather to check a box so that they could sell their product as something that was fancier than the next guy. What it did achieve was normalize being green. Nowadays, it's frowned upon if a building was constructed with materials that weren't recycled. The reason we're not creating new buildings with green roofs is in part economic, but it's also contrary to the ethos of this new generation that thinks, "Do I really want to go into a brand-new building that used all this energy and material, or do I want to go into something that exists and has its own built in character?" The new generation is influencing that as well.
SSS: We know this new generation works differently, but I'm wondering what do co-working spaces like WeWork mean to building developers? How does that fit into your estimation of who your client is?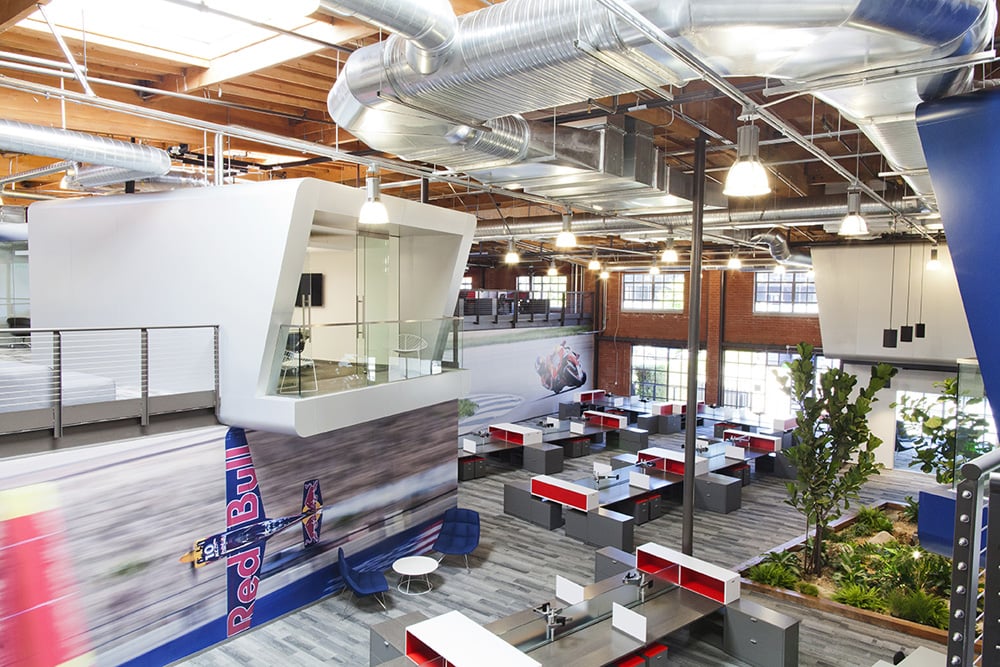 JRB: These co-working spaces are the next generation, but they have their predecessors. What's different now is not only the physical offering but the hospitality mindset of these spaces.
CC: What you can't take away from Millennials is that their expectations are driving the direction that's influencing everything we do. The things that we're doing in new, open work environments like giving people free food is actually working because it's drawing the right talent to the place. There is this space for talent to co-mingle. These spaces show why we invest a lot beyond the bricks and mortar in the programming.
Today's talented young workers are used to having their senses bombarded. Beyond the physical needs to be comfortable, they need spaces that are adaptable because their workplace extends way beyond the walls.
JRB: It's this idea that you when you're working in a very dense, collaborative environment you feel sometimes like you need to get away, but you can't necessarily go three blocks away. We're pursuing strategies wherever we can to create these types of spaces along those lines.
---
Panelists:
John R. Barganski, senior vice president-leasing, western region, Region Brookfield Property Partners
Carlos Carrasquillo, studio director, Wolcott Architecture and Interiors
Matthew Lavin, partner, Worthe Real Estate Group

Moderator:
Susan S. Szenasy, director of design innovation, Metropolis magazine
The Metropolis Think Tank series is presented in partnership with Corian® Design, DXV/GROHE, Staples Business Advantage, Sunbrella Contract Fabrics, and Teknion.