January 7, 2019
This Glowing Grilled Cheese Restaurant Offers the Formerly Incarcerated a Fresh Start
The Minneapolis restaurant All Square, a pro-bono project by Syracuse-based Architecture Office, operates under the mantra, "Don't Judge, Just Eat."
In a time when architects' interaction with the prison system have been anything but positive (see Supermax prisons, the advocacy work of ADPSR, etc.), the creation of the new Minneapolis restaurant All Square is especially inspiring. Designed by Syracuse, New York–based Architecture Office, the establishment is staffed and managed by formerly incarcerated individuals that are fellows of the All Square Institute, a year-long program that trains them in entrepreneurship, law, and professional development. Their work at the restaurant, which serves gooey grilled cheese sandwiches for lunch and dinner, helps get them on track to change their own lives (getting "All Square"), not to mention changing how customers see them, and vice versa.
Architecture Office, working pro bono, took All Square's mission as their muse, creating a space designed to continually change people's' perspectives of the space, others, and themselves, while also reflecting the nonprofit's cheeky, sometimes colorful branding. (Created in part by students from the Minneapolis nonprofit BrandLab, which helps kids from diverse backgrounds get experience in marketing.) The architects inserted a series of square white aluminum frames and large-scale mirrors throughout the roughly 850-square-foot former secondhand shop. Each frame or mirror is lined up with a "sibling," creating what Architecture Office principal Jonathan Louie calls a series of scenes.
"The act of looking into a mirror has different values here. In a way it's a homogenizing experience where everybody is simultaneously the spectator and the audience," says Louie. He adds, "It plays a lot of visual games. It adds interesting layers."
---
More from Metropolis
---
The mirrors, notes Architecture Office co-principal Nicole McIntosh, also help draw light into the space, and provide the illusion of more room. And they constantly create quirky, spontaneous moments. "You can see yourself, see yourself with someone, or see what others are doing. It brings people together in a very natural way."
The frames, meanwhile, theatrically frame customers' and employees' interactions, and help informally divide the space into practical zones, for cooking, eating, paying, etc. They're fitted with neon lights, colored with magenta, blue, and yellow theater gels, which completely changes the restaurant's feel at night. Architecture Office, says Louie, has always been interested in related experiments by Dan Flavin and Dan Graham, whose work would never be seen in a grilled cheese restaurant.
The rest of the space is simple—existing blond wood floors, white plaster, white and gray tile walls, repainted IKEA furniture, and simple overhead pendant lighting—which kept the limited budget in check and made the mirrors and colors much more powerful.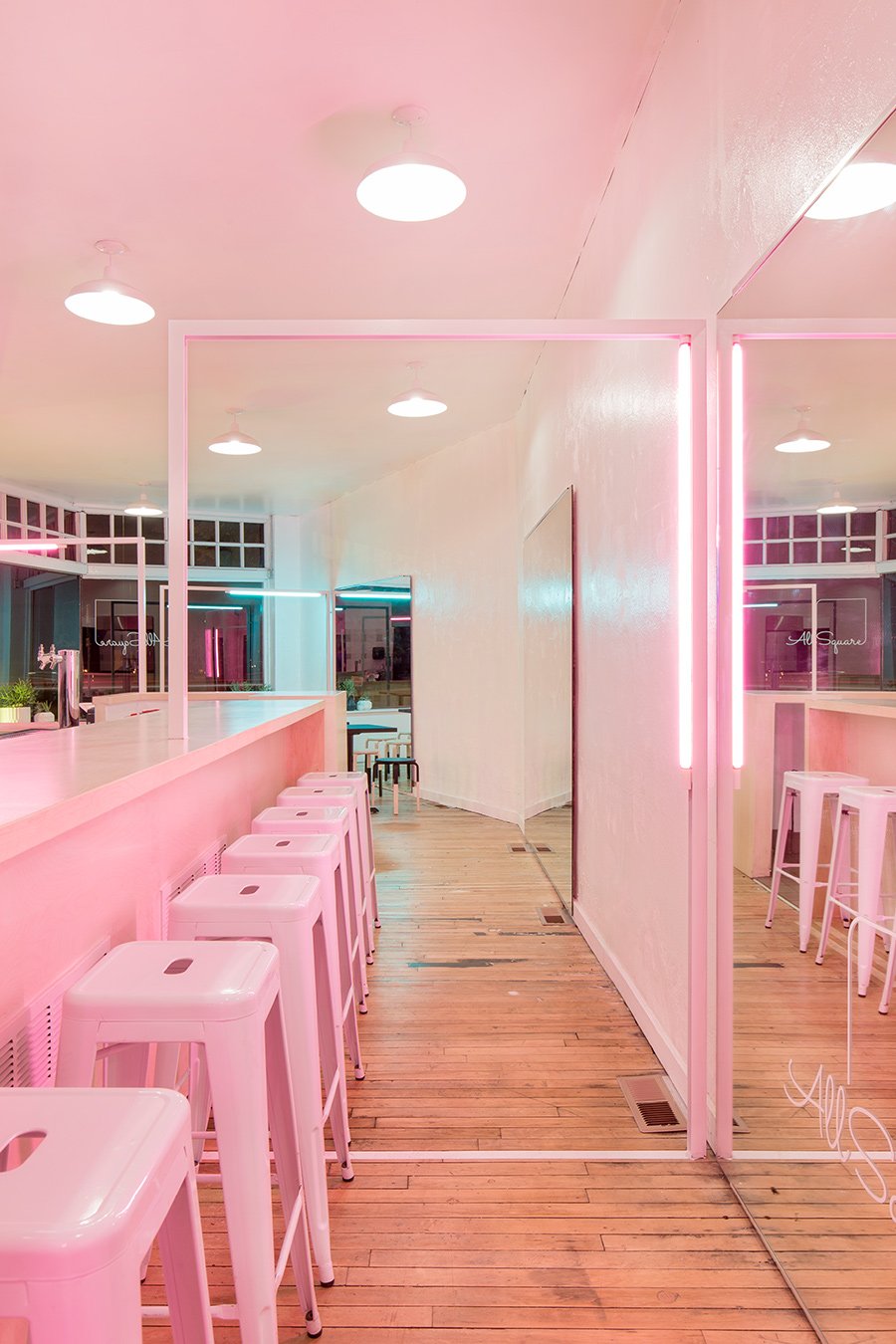 "We're very specific about where we add our voices," says Louie. "We're always trying to find exactly the things we need in order to produce strong statements."
It's working. The restaurant has already become popular along Minneapolis's Minnehaha Mile, and more than anything, says All Square Founder and CEO Emily Hunt Turner, it has a warm, bustling feel—typified by the soft, neon illumination that is the antithesis of the cold sterility of prison. "It's glowing. It's electric. It's alive," says Hunt Turner. "It's really been a beautiful dimension that just sets us apart."
Hunt Turner also loves that the mirrors and frames, not to mention the company's logo, are not perfectly square. "It's a nod to the reality that imperfection is inherent in life, in humanity, and that's ok. It's allowing ourselves to be imperfect. We've all had imperfect journeys."
You may also enjoy "Shinola Opens the New Shinola Hotel, a Showcase of American Design."