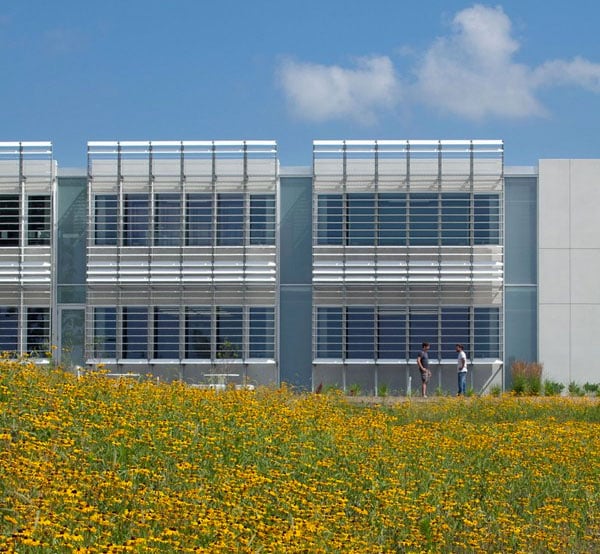 April 28, 2014
America's 10 Greenest Buildings, According to the AIA
See how the winners of this year's COTE Top Ten Green Projects stack up.
Among all the honors that the AIA hands out annually, the Committee on the Environment (COTE)'s Top Ten Green Projects stand out—not for being any more worthy than the others, but for being the most transparent. This is, of course, essential for a sustainability award, which must take a holistic but fine-grained view of architecture.
Each supergreen project on this year's list is accompanied by extensive information on ten judging criteria, which include site ecology, bioclimatic design, energy future, and feedback loops, making for a pretty comprehensive understanding of why these buildings made the cut this year.
The committee also returns to past winners and highlights one project that can demonstrate, with metrics, that it has truly made an impact over time. This year, that project is the Iowa Utilities Board/Office of the Consumer Advocate Office Building, designed by BNIM, which was on the COTE's 2012 list. After two years of occupancy, the building is now consuming 81.5% less energy than the national average, and 46% less water than a typical office building. Its 45 kw photovoltaics, which were supposed to provide 13% of the building's power, now satisfies a quarter of the office's energy needs.
---
More from Metropolis
---
The Iowa Utilities Board/Office of the Consumer Advocate Office Building received the COTE plus award for living up to its sustainable promises.
Courtesy Assassi
Scroll down to see the recipients of the Top Ten award, where we use each winning building to illustrate one of the committee's ten criteria.
---
Design & Innovation
Courtesy Joe Fletcher
Sustainability Treehouse
Design Architect: Mithun
Executive Architect/Architect of Record: BNIM 
Glen Jean, West Virginia
What could be a more apt facility for the Boy Scouts of America than a Treehouse? Built on a 10,600-acre post-industrial tract of land in rural West Virginia, this unusual classroom is on target for Living Building certification.
---
Regional/Community Design
Courtesy Christian Columbres Photography
Bud Clark Commons
Holst Architecture
Portland, Oregon
With the contention that, "Homelessness is not sustainable for the individual or the city," BCC provides 130 permanent apartments, as well as a 90-bed temporary shelter and a day center with a wide host of services, all within reach of public transit.
---
Land Use & Site Ecology
Courtesy Paul Warchol
Bushwick Inlet Park
Kiss + Cathcart, Architects
Brooklyn, New York
In turning a brownfield industrial strip on the Brooklyn waterfront into a 6.2 acre park, the architects created a system that uses storm water to irrigate a green roof or lets it seep into the soil. In heavy rain, the overflow is filtered through a wetland back into the East River.
---
Bioclimatic Design
Courtesy David Lamb
Gateway Center – SUNY-ESF College of Environmental Science & Forestry
Architerra
Syracuse, New York
This three-story campus center at the State University of New York uses a variety of strategies to deal with a narrow site and difficult solar orientation, including 12 "flipper walls" that provide little nooks and spaces with views.
---
Light & Air
Courtesy Nic Lehoux
Edith Green Wendell Wyatt Federal Building Modernization
SERA Architects Inc. + Cutler Anderson Architects
Portland, Oregon
Among the design updates that SERA architects gave this 1974 office tower, to turn it into a LEED Platinum GSA building—one of the highest performing facilities in the agency's portfolio—is a combination of shading and floor plan optimization that allows daylight to replace 50-60% of its lighting energy needs.
---
Water Cycle
Courtesy Paul Crosby
U.S. Land Port of Entry
Snow Kreilich Architects, Inc.
Warroad, Minnesota
Located in a wetland on the Minnesota-Canadian border, this facility uses a layered infiltration system and several treatment areas to conserve the local environment, manage rainwater, and reduce the use of potable water by 92%.
---
Energy Flows & Energy Future
Courtesy Jeremy Bittermann
The David and Lucile Packard Foundation Headquarters
EHDD
Los Altos, California
Using daylighting, ,efficient HVAC systems, and solar energy generation, this building not only met the standards for Net Zero Energy certification, but was also energy positive in its first year of operation.
---
Materials & Construction
Courtesy David Matthiesen
John & Frances Angelos Law Center
Behnisch Architekten
Ayers Saint Gross, Baltimore, Maryland
The new home for the law school at the University of Baltimore uses minimal materials for maximum effect. Concrete slabs, for example, not only serve a structural function, but also hold tubes for radiant heating and cooling.
---
Long Life, Loose Fit
Courtesy Bill Timmerman
Arizona State University Student Health Services
Lake Flato Architects + Orcutt Winslow
Tempe, Arizona
An existing 1950s concrete building provided the "good bones" upon which this LEED Platinum-rated adaptive re-use project was constructed. Both this existing structure and a new wing are designed to anticipate changing trends in healthcare, allowing for layout changes and easy modifications to mechanical ductwork and systems.
---
Collective Wisdom & Feedback Loops
Courtesy Kevin G Reeves
Wayne N. Aspinall Federal Building and U.S. Courthouse
Design Architect: Westlake Reed Leskosky
Architect of Record: The Beck Group
Grand Junction, Colorado
This converted 1918 landmark aims to be the GSA's first net-zero energy facility on the National Register. It has been presented at multiple forums, and is the subject of ongoing research studies, with the aim of sharing the learnings from this project with professionals involved in the built environment.