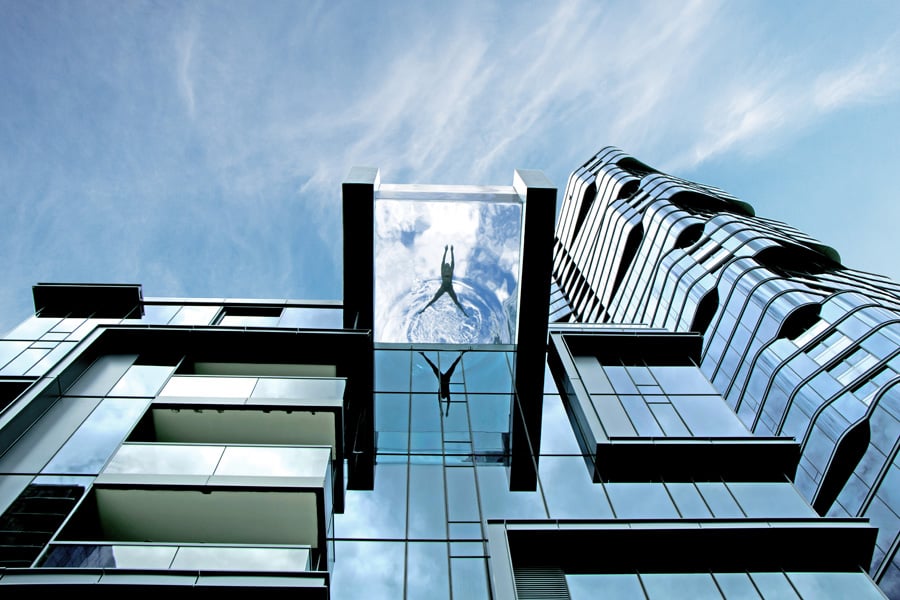 August 20, 2018
Honolulu's New Anaha Residential Tower Makes a Splash in Hawaii
The 38-story LEED Silver–certified building, designed by a team led by SCB, is as generous to the pedestrian as it is to the penthouse owner.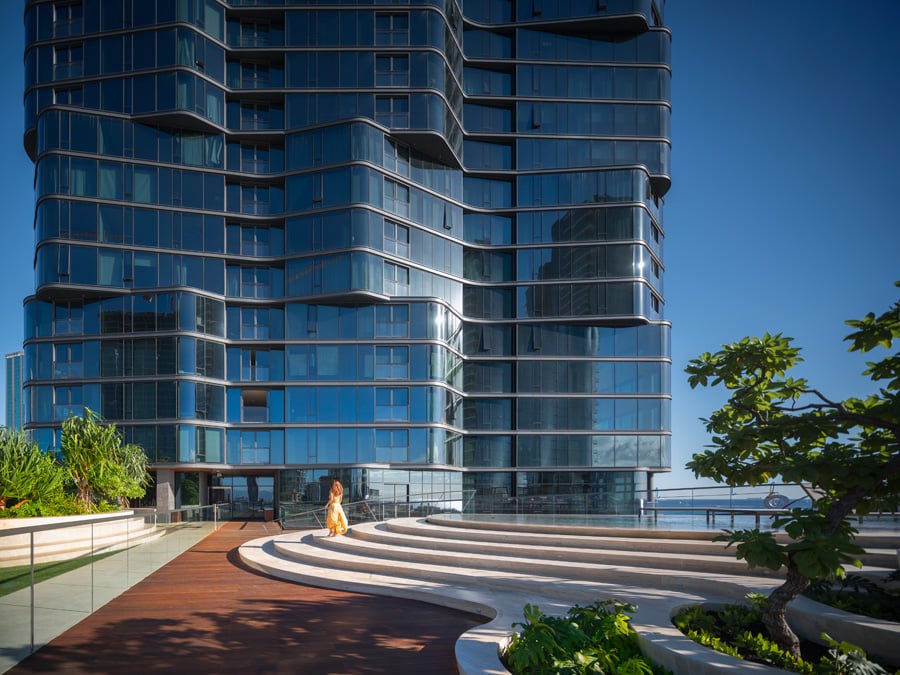 ---
Hard as it is to compete with Hawaii's natural beauty, the glass-bottomed pool at Anaha, a new 38-story, LEED Silver–certified residential tower on Honolulu's Auahi Street, is stopping pedestrians in their tracks. The developer, Howard Hughes Corporation, knew the amenity would be a draw to residents. "What we did not anticipate is what kind of impact it would have for the passerby," says Doug Johnstone, senior vice president of development at the company.
The pool, the creation of James Lord of San Francisco's Surfacedesign, cantilevers 80 feet above Ward Village, a 60-acre mixed-use development in the formerly industrial neighborhood of Kaka'ako. Notably, Ward Village is the nation's largest master plan to achieve LEED for Neighborhood Development Platinum Certification—and Anaha, Ward's second completed residential tower, was designed with placemaking as an imperative. The 311-unit residential stack sits atop a seven- story podium containing parking, town houses, and retail space. With a plaza of intricate stonework framed by Hawaii's largest living wall (1,200 square feet), it is the rare tower as generous to the pedestrian as it is to the penthouse owner.
This is especially notable in Honolulu, a city not known for its walkability. "When we first started coming out to work in Hawaii, I was struck by how car-centric it was," says Strachan Forgan, a principal at Solomon Cordwell Buenz (SCB), the Chicago-based architecture and planning firm that designed the tower in collaboration with local firm Benjamin Woo Architects.
---
More from Metropolis
---
---
Anaha, like Ward Village in general, embraces a vision of a walkable and bikeable Honolulu served by public transportation. (Ward Village is located along the city's urban rapid-transit rail line, currently under construction.)
The architects were conscious of designing a building that would enhance Kaka'ako's emerging skyline. "When you look at the building, it really changes dramatically throughout the day," says Chris Pemberton, SCB's president.
As is customary in Hawaii, Anaha is oriented with its long axis perpendicular to the shoreline to preserve sight lines from mauka (toward the mountains) to makai (seaward). The architects studied how sunlight bounces off ocean waves, selecting high-efficiency glass in the facade to minimize solar gain and respond to diurnal changes. The building achieves its rippling massing, reminiscent of the sea, with irregular floor plates that alternate every four floors and give even mauka units an ocean view.
The units, designed by SCB with Woods Bagot, range from one to three bedrooms and feature warm, natural finishes, with white sliding doors inspired by Hawaii's plantation architecture. The design team also incorporated sleek glazed Juliet balconies, which allow each unit to be opened to the outside.
Although the building has an entire neighborhood's worth of amenities hidden among its floors (on the roof alone are a playground, gym, and sand volleyball court), the obvious showstopper remains the pool. Kids wave to pedestrians below, while adventurous swimmers choreograph routines that play off Anaha's architecture. It's a spectacle, and one that never quite takes the same form twice. In a city often derided as a big beige blur, such dynamism is a welcome addition.
You might also like, "Metropolis Magazine's 10 "Inspirational" Design Cities of 2018."