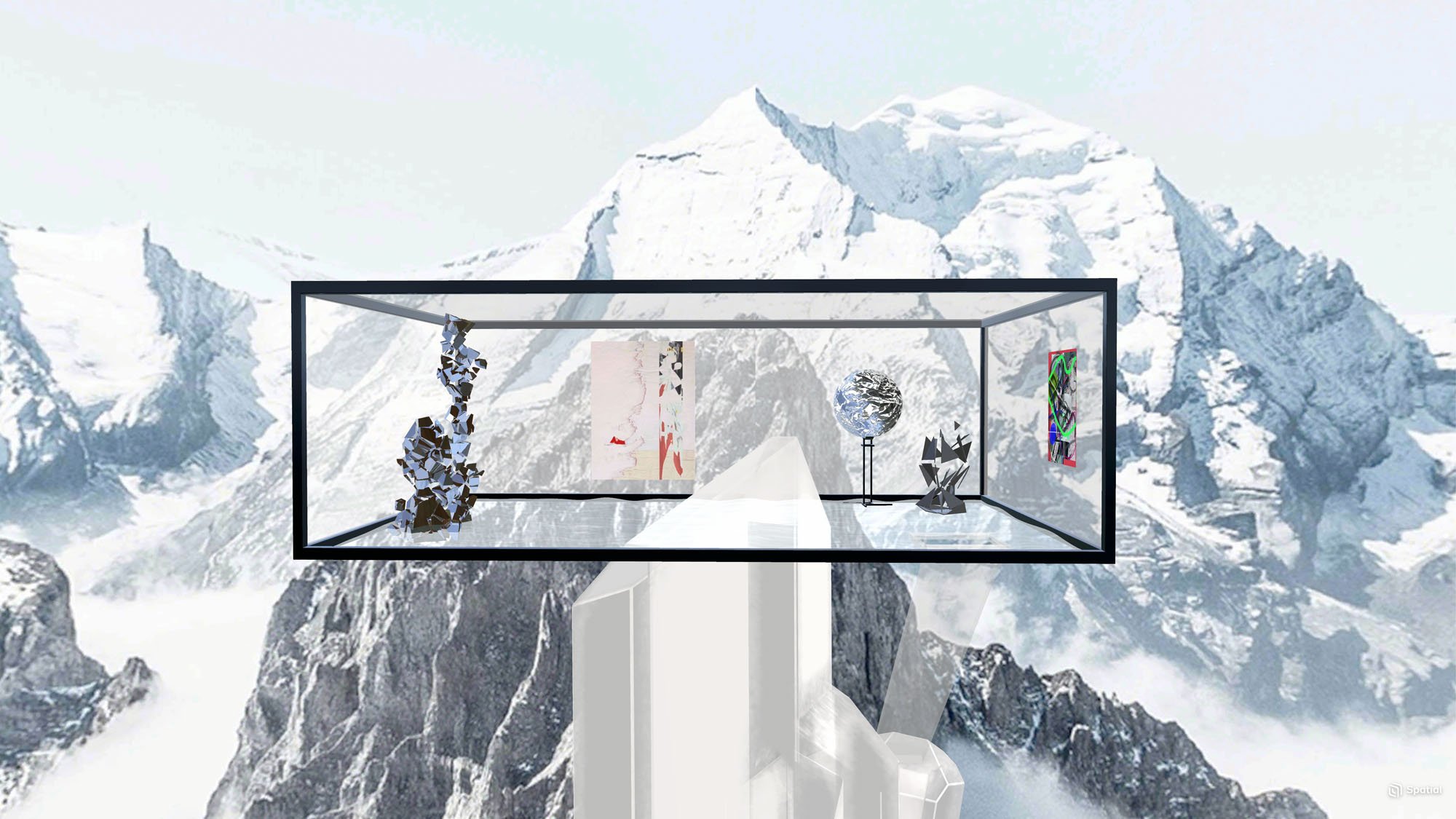 December 16, 2022
Architect Hani Rashid Builds a Fantasia of Art and Architecture in the Metaverse
For all the art lovers wondering what exactly the metaverse is for, architect Hani Rashid and digital arts company Dminti have developed a virtual platform that might sway you. Dminti Metaverse showcases not just a varied selection of innovative digital art, but captivating digital architecture to contain it. Visitors walk up and down luminous ramps, look over railings into infinity, and glide their way through what is a truly transporting experience.
Launched last spring, Dminti is a digital hybrid of gallerist, curator, and producer that partners with artists to launch—and in some cases create—varied digital art experiences. Its (very) varied founders include tech entrepreneurs (like Shalom Meckenzie, the largest shareholder in sports-betting firm Draft Kings), businesspeople (like marketing executive Carola Jain), art leaders (including former Guggenheim president Jennifer Stockman and gallerist Dominique Lévy). Additional advisors include crypto experts, tech lawyers, philanthropists, and art dealers.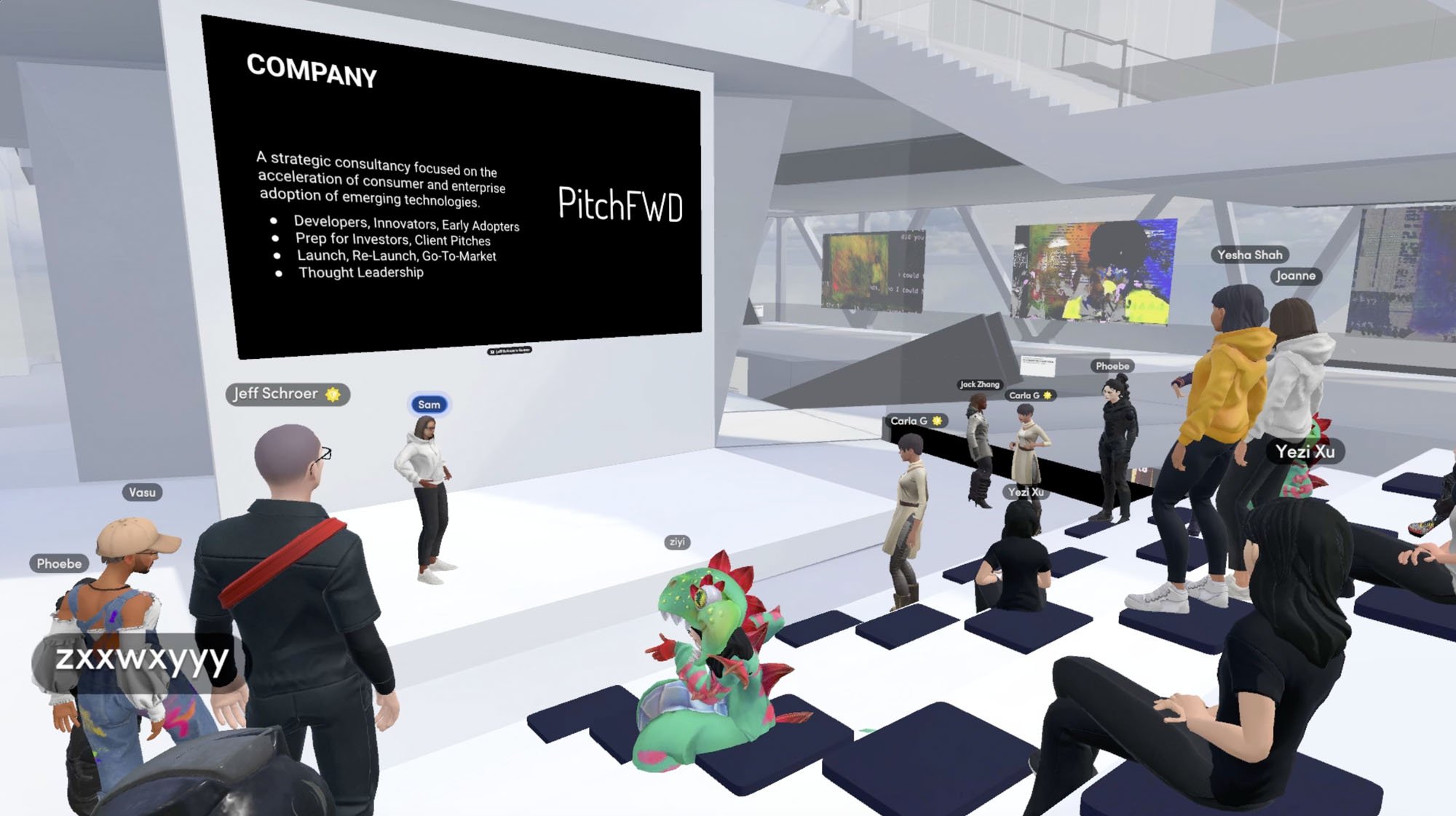 Bringing on Rashid helped open new possibilities, particularly in relation to spatial experience. Co-founder of New York-based Asymptote Architecture, the architect and designer has been creating virtual worlds for more than 20 years (and physical ones for much longer), including a virtual Guggenheim and virtual New York Stock Exchange. He also founded Columbia GSAPP's Advanced Digital Design program. With Dminti he has helped flesh out an art experience that challenges the possibilities, expectations, and very idea of a museum or gallery.
"I've always found it interesting how physical museums have changed how we look at art, and how artists show their work," says Rashid. "Like the rotunda at the Guggenheim. It changes your perception. It encourages artists to push the envelope. We said architecture has to play a central role because it's about spatiality and light and movement. People want to hang out here."
The metaverse, Rashid adds, has unlocked opportunities for artists that wouldn't have been imagined a generation ago, much less when Frank Lloyd Wright was around. Digital artworks and NFTs can interact, morph, disappear, or do anything else their creator thinks of. Partially because of this freedom (and the chance to expand their audience far beyond the usual art crowd) Dminti has been able to attract world-class digital artists without the overhead that it takes to build a major museum. Among the many who have presented pieces, or will do so soon, are Judy Chicago, Nadya Tolokonnikova, Sarah Meyohas, Pindar Van Arman, Ricci Albenda, Josephine Meckseper, David Salle, and Brendan Murphy.
---
More from Metropolis
---
Chicago and Tolokonnikova have launched a participatory art project, with the prompt: "What if Women Ruled the World?" For his first digital piece, Albenda filmed himself painting, then edited himself out, so you can see the strokes moving gradually by themselves.
"Our goal is to provide artists with a new tapestry," says co-founder Jain. "How do we reach a new audience in a new way that is engaging and inspiring? It's so different than going into a typical metaverse space like Roblox. You're embracing the creativity of established artists." She adds: "Not every artist is going to be interested in working in this manner. But some are saying I want to immerse myself in this new digital medium. I want to reach new audiences and connect with younger people."
Like many virtual experiences, moving through Dminti Metaverse takes a little time to get the hang of. But after a few minutes the platform provides a sense of exploration, opportunity, and surprise. A series of ramps, cubes, and angled columns wrap around a giant atrium (a callback to the Guggenheim?); a lofty auditorium regularly hosts lectures, conversations, and other events, drawing top-tier artists, curators, gallerists, and academics. A rooftop terrace is perfect for parties (you can look way down through transparent floors) and there are myriad galleries in innumerable configurations, not to mention balconies with sweeping views of the virtual world.
"You have a sense of a spatial experience in terms of volume," notes Rashid. Sound helps too, giving visitors a more accurate spatial grounding and a sense of things happening in other locations. Rashid stresses that the spaces celebrate randomness, allowing for chance encounters with art and people that most virtual cultural spaces lack. The site, adds Jain, is open 24/7 and can be accessed by anyone. You don't need to afford a plane ticket or wait until a museum is open. This aspect expands the reach of art well beyond its insular, often elitist confines.
On a recent tour I checked out "paintings" produced by a generative artificial intelligence that change according to what data they're fed. There were floating non-fungible tokens (NFTs) called "BitchCoin" by Meyohas, projecting receipts of people who have bought and sold them. (The last one sold for $43,000.) There's also a "lab," with commissioned art that changes every week. Pieces can be tiny dots or as large as a building. Some artworks lead to entire new worlds, created by the artists. Meckseper worked with Rashid to create a habitable three-dimensional vitrine filled with changing artworks—one sculpture shatters and then reforms. As you zoom out you realize that it's sitting atop a giant fractured crystal, floating in a landscape of snowy mountains.
The experience is accessed via Spatial.io. You can participate via desktop, mobile, or virtual-reality device. Everywhere you go there are big apertures with views of the surrounding clouds, so you don't feel claustrophobic. Sometimes there are no walls at all, just endless sky beyond you.
"As an architect it has been a thrill ride because I'm able to construct worlds that would take years to get constructed and see if people are enjoying it right away. You get to make mistakes and change things."
Before rushing for venture capital, aggressive monetization, or NFT riches, Rashid says the group is first trying to build the endeavor's credibility, and a very high level of art. "We're trying to establish some seriousness to the endeavor. We want to attract the right curators, the right business models. We're not beholden to a model where we have to generate huge amounts of money."
"We've decided to keep it our little jewel for now," adds Jain.
So, for now the focus is on securing and creating the best art, and carefully developing the worlds around it. "It's not about replicating the world we have," says Rashid. "It's about augmenting and supplementing it."
Would you like to comment on this article? Send your thoughts to: [email protected]