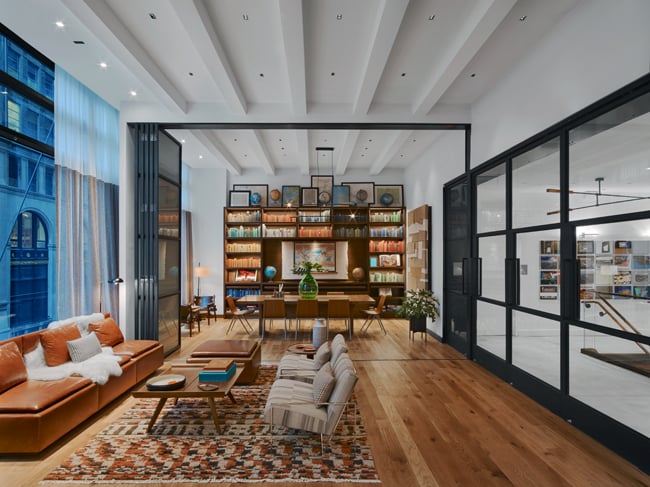 March 2, 2017
Arlo Crams All NYC Has to Offer Into Their Newest Micro-Hotel
When it comes to square footage, new micro-hotel brand Arlo favors quality over quantity.
For newly minted New Yorkers, many of whom move to the city on a precariously tight budget, living in a laughably small space is almost a rite of passage. So it seems apt that in order to get to know the "real" New York City, tourists should be given a similar experience.
Fortunately, new micro-hotel brand Arlo makes the most of its diminutive nature—guests are subjected only to the luxurious side of micro living. Rooms in the brand's two boutique properties (which opened in the Hudson Square and NoMad neighborhoods of Manhattan late last year), average around 160 square feet each. But what they lack in size they make up for in astute design details.
AvroKO took on the task of designing the room interiors, as well as several public spaces within the two properties. At Arlo Nomad, guests couldn't ask for a more quintessential New York view from their rooms: a tight cluster of buildings topped with water towers, and, for some, a you-couldn't-really-get-any-closer glimpse of the Empire State Building.
---
More from Metropolis
---
While living quarters are tight, the rooms don't actually feel that small thanks to AvroKO's design, which optimizes unused space wherever possible. A drawer under the bed holds a safe on one side, and there's room for luggage storage on the other. The bar fridge is squirrelled away from view, while ample drawers and shelving and an open pegboard closet also help economise storage space.
Beside the bed, a banquette doubles as a nightstand, while on the vanity—which transitions seamlessly into a desk—a stationery organizer also holds bath amenities from New York brand Blind Barber. Because the vanity is positioned right at the room's entryway, AvroKO avoided the conventional white porcelain and opted instead for  a material by Australian bathware company Apaiser, which uses recycled stone dust in resin to replicate the feel of concrete.
Downstairs in the lobby is Bodega, a 24-hour pantry (and namesake tribute to the enduring New York purveyor of midnight snacks) that serves JOE coffee and a daily selection of pizza, salads, and sandwiches from chef Dale Talde. The minibars in rooms are left empty—the intention being that guests will fill  them with their own curation of snacks (according to both taste and budget).
Public spaces—including the library-like "Studios" that can be divided into three separate rooms using glass doors—are designed for flexibility and can be used for meeting space during the day and dining space at night. (Arlo Nomad's food and beverage partner, The Three Kings, is behind three other bar/eatery spaces in the hotel, including rooftop bar The Heights, where the terrace is part vertiginous glass floor.)
Guests can leave recommendations of what they found on their trip—be it a great show they saw, or a tucked-away dining spot—on a noticeboards in the elevator lobby. Handpainted boxes by local artist Ryan Humphrey are each labeled with a different airport code from around the world and will be used to store old recommendations that have become less relevant over time. The concept, says AvroKO's chief creative officer Matt Goodrich, is to creatively document travels while also connecting guests. "It's like an ongoing time capsule meets guest book."