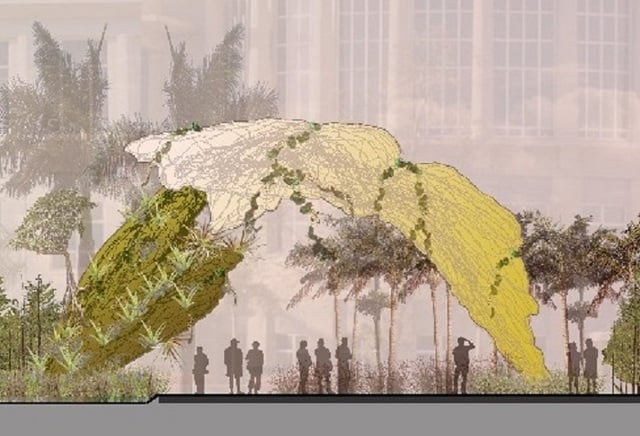 May 2, 2013
Artist Michele Oka Doner Designs "Feral" Pavilion for Miami
Immersing herself in the natural world, artist and designer Michele Oka Doner creates evocative spaces and places
I recently learned about Rachel and Stephen Kaplan's concept, "soft fascination." According to the Kaplans, environmental psychologists,  "Experiencing environments that encourage soft fascination provides opportunities to think through situations and make decisions; to reflect on prior experiences and make sense of them; and to develop ideas that can be implemented in the workplace or in personal life." The environments they mention can usually be found in nature. This is precisely what artist and designer Michele Oka Doner does. She immerses herself in the natural world and comes back with questions and answers that fuel her creations. Case in point is her new design for a landmark pavilion in the recently incorporated City of Doral, in Miami-Dade County.
Pavillion Elevation.
---
More from Metropolis
---
Rendering by Local Office Landscape Architecture
A Miami Beach native whose inspiration is heavily influenced by her city's abundance of nature, be it from the ocean or the flora, Oka Doner has left her mark on her home town, in projects like "Walk on the Beach," the mile long floor installation that greets passengers at Miami International Airport.
When Armando Codina who, with his daughter Ana, is developing the Downtown Doral project, went looking for something that would make a statement about the new independent municipality, he was searching something that "would give it a heart."  Having chosen Oka Doner, he says, "She was the natural artist to do something special in our new city, so the selection was easy," Codina explains.  "Michele is a world-renowned artist whose roots are very much a part of the history of Miami–Dade, having grown up in Miami Beach," he adds.
The Codinas hired Oka Doner to develop the plans for a pavilion and landscape of the downtown Doral Park, planned for the center of town and facing the new town hall as well as a mixed-use building.
The Doral is located where Miami meets the Everglades Reserve, where city meets wilderness, so its position inspired the idea for the park. The landscape is to be a dialogue between man's works and nature's processes. Parts of it will be manicured; parts of it will have a feeling of spontaneous growth. "I wanted something feral, something that spoke of the wilderness of the adjacent Everglades," Michele told me when I recently visited at her work/live loft, amidst an inspiring array of drawings, books, sculptures, and an exquisite selection of her findings of and about nature, which she calls her "library of barks, shapes, and textures."
Oka Doner's Second Library, a repository of shapes, surfaces and materials.
Photo: Paul Clemence
Wall at Second Library. 
Photo: Paul Clemence
The "feral" beauty will be the pavilion, designed to function as a band shell and a place for the community to gather. Inspired by two pieces of bark she found years ago in one of her many walks, the pavilion will be a tour de force of engineering–a solid concrete shell, poured-in-place in custom-routed formwork over reinforced steel. Half of the structure will support extensive epiphytic plantings (plants grown over other plants in a non-parasitic way); the other half will be covered by a layer of iridescent materials, like mica and mother-of-pearl.
To arrive at the architectural plans that could deliver an object as close as possible as the one envisioned by Oka Doner intuitive process was a long journey with lots of back-and-forth between high-tech, digital manipulation and analog processes of drawing and modeling. Jennifer Bolstad, a principal at Local Office Landscape Architecture (the landscape designers on the project) recalls their extensive research.  "The process started with found objects from nature, selected by Michele, which was then scanned 3-dimensionally and manipulated digitally using 3D modeling software. Scale models were printed using the MakerBot 3D printer (a fellow Gowanus-based startup) and then these models facilitated collaborative, analog tweaking of the design using sculptural tools and methods." She adds, "We went through a few iterations of this process before arriving at the final digital model, which was then sent on to the fabricator (who makes rocket parts for NASA and large-scale theme park characters for Disney World), to create the formwork molds for the concrete." When I asked Jennifer about the collaborative process, she said, "Michele pushed us in new directions. We started with nature and engaged with new technologies to take that same nature to a new, civic, role."
Bark piece and 3-D print model. 
Photo: Paul Clemence
Pavilion Northeast and Northwest elevation. 
Drawing by Local Office Landscape ArchitectureDrawing by Local Office Landscape Architecture
Identifying with the idea of the total work of art, Oka Doner's creations tie in with an unmistakable Gesamtkunstwerk thread. She applies her talents to almost every material possible, from bronze to glass, even paper, creating books, public art commissions, jewelry, and many other objects, functional or not, but always expressive.  But with this project, her first  free-standing structure, the artist brings her vision to a new level and scale, drastically broadening the scope for its application.
"Michele has given us something that I believe will become the symbol of Doral and is a piece that represents South Florida, our waters, our reefs, our hammocks, and the influence of our Everglades," says Codina proudly of the design.
Downtown Doral Park section with Pavilion elevation.
Rendering by Local Office Landscape Architecture
The late Balthazar Korab (the well known photographer and Michele's friend from her Michigan days) famously said about himself:  "I am an architect with a passion for nature's lessons and man's inventions." At the pavilion, scheduled to be completed this summer, Michele Oka Doner combines both of these passions, drawing on nature and bringing us full circle back to it as she creates the new.
Paul Clemence is an award-winning photographer whose work is part of many collections, including the Mies van der Rohe Archives and housed by MoMA, New York.  He exhibits both in the U.S. and on the international fine art circuit, from classic B & W prints to large scale photo installations. A published author, his work can also be seen in major design and lifestyle publications. His "Architecture Photography" Facebook page receives over half a million hits monthly.