March 26, 2021
In France's Silicon Valley, an Adjustable and Transparent Building Fits Right In
Barbarito Bancel Architectes wrapped the building in glass-and-aluminum louvers that vary according to the angle of the sun.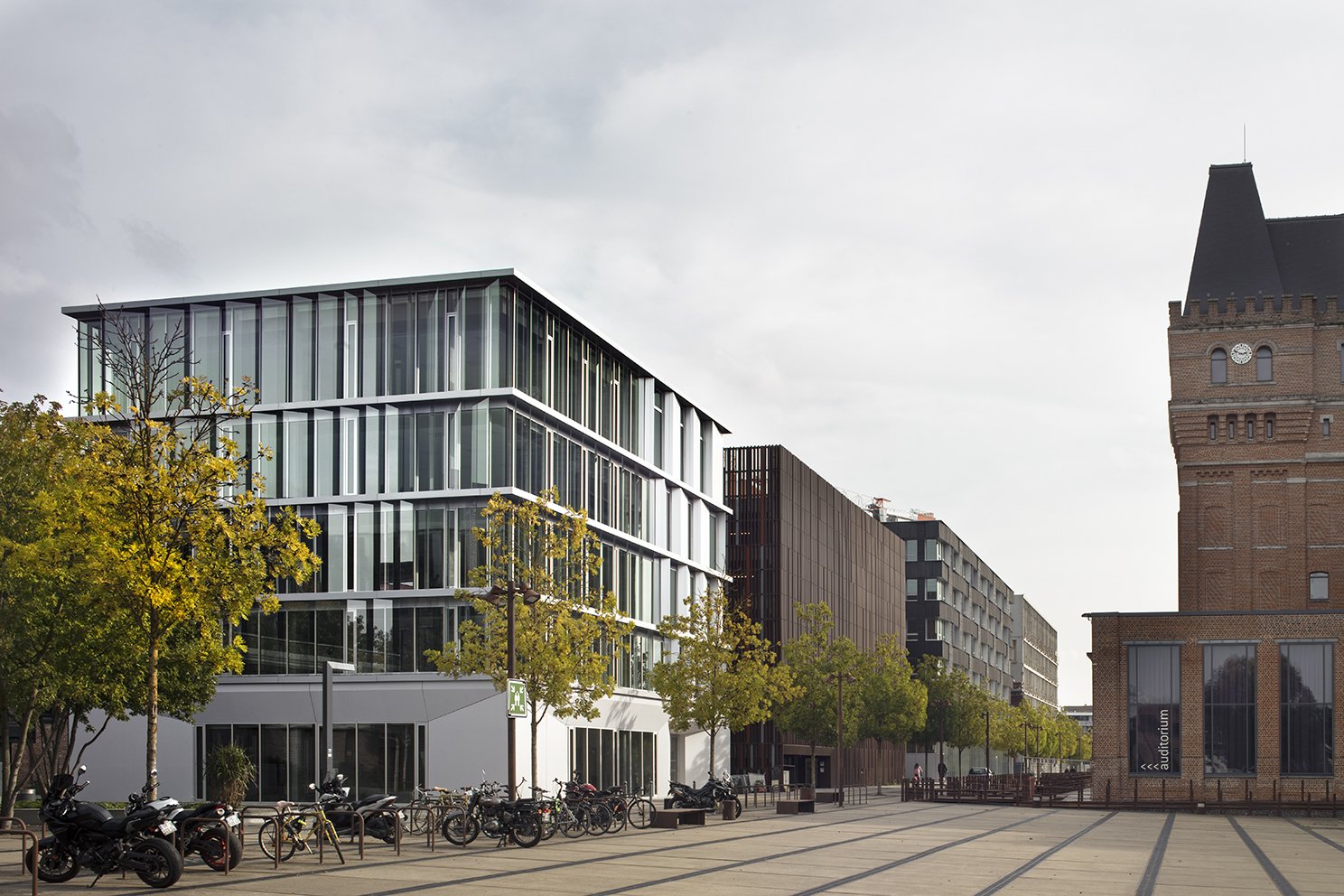 ---
In a structure of mostly glass, temperature control is notoriously problematic. Yet at a start-up business campus on the banks of the Deûle River in Lille, France, a new office building with a reflective, double-skinned facade is able to run mostly without air conditioning—maintaining thermal comfort even in the summer. 
Once home to the Le Blan-Lafont weaving mill, and with a scenic bell tower among spruced up brick factory buildings dating back to the 18th century, the 860,000-square-foot Lille campus in the culture-rich university city celebrated for its historic townhouses and cobblestone streets has a reputation today as a cutting-edge startup hub. It's one of four in the country run by EuraTechnologies, an incubator and accelerator for tech entrepreneurial projects that offers tailored support for some 300 tech companies and 4,500 employees. Throughout the year, the campus holds events encouraging entrepreneurial success in the tech field—think a match-maker evening entitled "Find Your Co-Founder" or a forum hosted by the CEO of a cybersecurity company.
When a design competition was launched to add a 15th building to the campus, Paris-based Barbarito Bancel Architectes found themselves already on the shortlist, along with two other architectural practices. "The client had seen photos of our Dior flagship in the Miami Design District," cofounder Benjamin Bancel reveals. (In a dense cluster of luxury boutiques, Barbarito Bancel's Miami building stands out with its sculptural facade of white concrete panels.)
---
More from Metropolis
---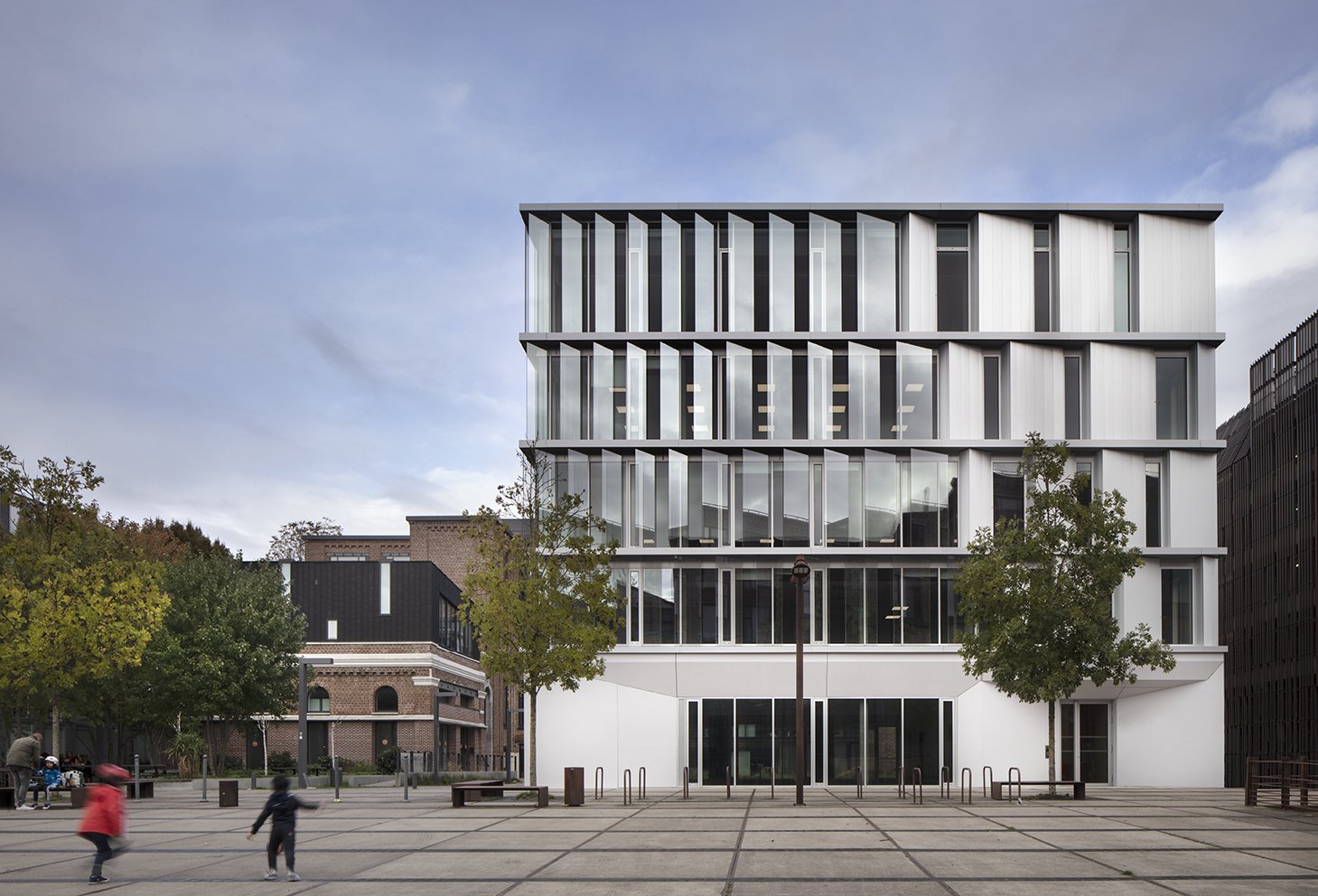 ---
Calling for transparency, assured thermal comfort, and open workspaces, the brief was challenging. The site, situated on the campus's large entry plaza, was exclusive, but also one without shading from adjacent buildings. "We began thinking about a double skin of glass, with the first layer as a kind of sunshade or sunscreen," Barcel says. 
For their winning proposal, Barcel and fellow cofounder Ivana Barbarito turned to a new layered and treated glass technology and conceived the 16,000-square-foot Lucio building with a system of vertical louvers that varies on all four facades. 
Clustered and inclined according to the position of the sun, each of the glass louvers are composed of two sheets of Diamant—an extra clear glass with less green undertones due to low iron content. Layers are less than a half-inch thick. 
With striking reflective surfaces interacting with the sky, weather, and the brick buildings and birch trees of the surrounding historic square, the louvers control solar intake to maintain optimal levels of temperature and light. "We were able to give a strong quality of light to the workspaces," notes Bancel.
---
In tune with the sun, the double-skinned glass southwest and northwest facades are more exposed to daylight, while the glass and opaque polished aluminum southeast and northeast facades are less so. Resting on a prefabricated concrete base, the building rises up to four stories and appears to taper at its roof—a slimming illusion gleaned from the top floor's reduced height and louvers decreasing from 12 to eight feet in length as the building rises.
At just 70 by 55 feet, Lucio is compact—"a small jewel box," Barcel comments. Prestressed concrete slabs strengthened by steel cables tuck away a cooling, ventilation, and heating system and replace columns—permitting wide-open and flexible workspaces. 
Like many fresh, original ideas, the design took some explaining. "At the beginning, everybody was very skeptical," Bancel admits. That's a struggle a start-up community is familiar with.