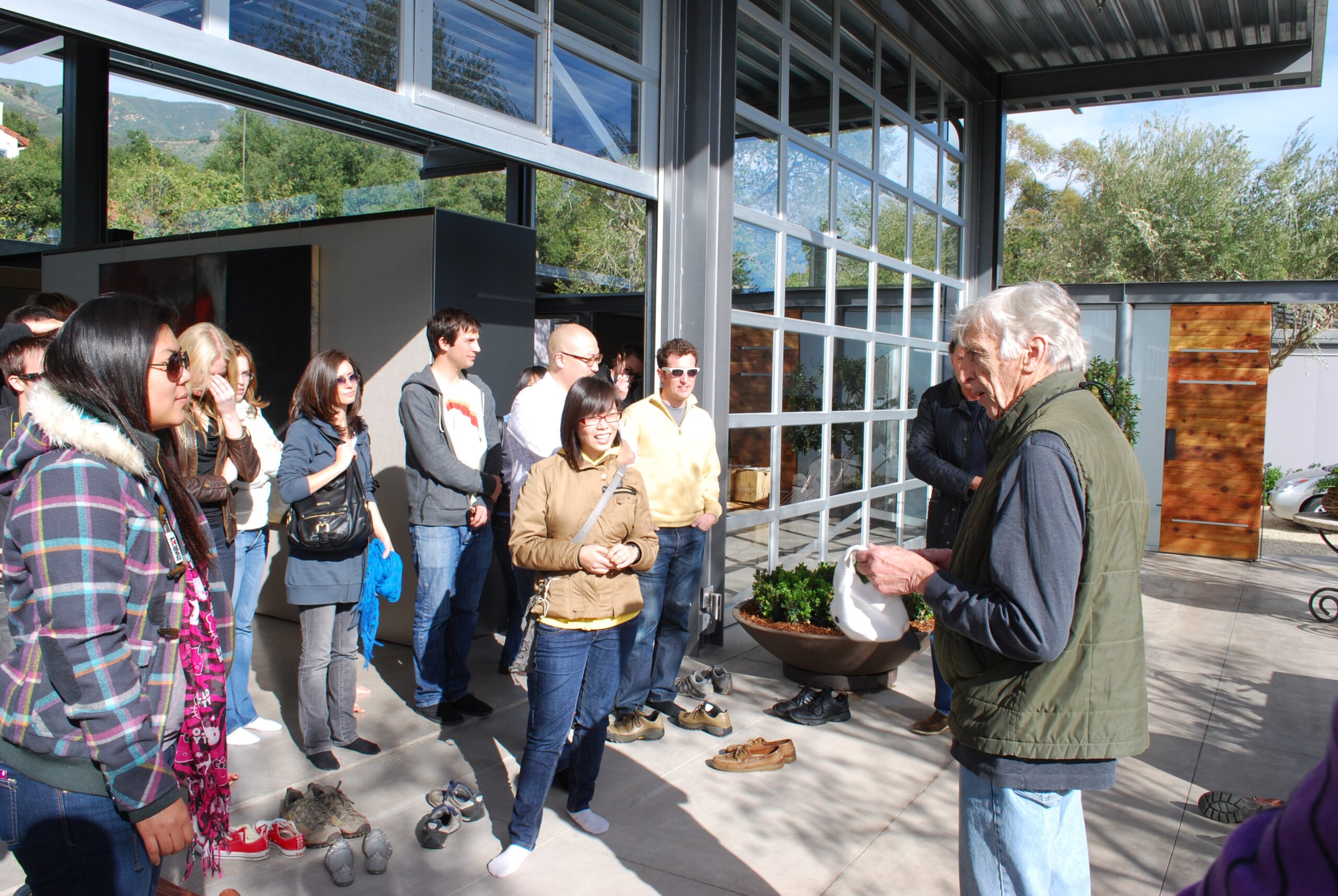 May 11, 2013
Barton Myers's Steel House Studio Prefigured Today's Systems Thinking
A life of integrating architecture and education and its impact on one practitioner.
After 33 years of service, renowned architect and retiring UCLA professor Barton Myers addressed the packed DeCafe in Perloff Hall on Friday, April 26. His topic—the integration of architecture and education, and how it impacted his work. In his introductory remarks professor Mark Mack, who taught with Myers in the Steel House Studio for ten years, laughed when he said, "Barton Myers is not Iron Man, but a man of steel."
Myers provided the audience with an autographical sketch. Born and raised in Virginia, he attended the U.S. Naval Academy, the U.S. Air force in the late 1950s, followed by the University of Pennsylvania where he studied with Louis Kahn in the 1960s. He later worked for Kahn and then opened his own practice in Canada before joining UCLA in 1980.
It's not often any more that you know someone who was a student of Kahn's or even worked in Kahn's office. So I was eager to hear more, having listened to stories about Kahn and his use of yellow tracing paper throughout my days in the museum-world. Myers' talked about his days at U Penn and the Philadelphia School, with its tradition of Frank Furness and Paul Cret, and how Kahn's ideas helped to form him into the architect he is today. He recalled the "experience of working for Louis Kahn, and being under the influence of Kahn, and the very strong philosophical ideas of the way Kahn philosophically approached the design of architecture in search of form."
---
More from Metropolis
---
But the crux of his presentation addressed the characteristics of education that, as Myers believes, are integral to any successful organization including mission, tradition, integration of interests, the organizing unit, place, teacher/practitioner, and esprit de corps.
Tradition and excellence have to start somewhere, and at UCLA it started with the late Harvey Perloff, known as the dean of American urban planners. It continued, Myers said, with Charles Moore and now Thom Mayne. Then there is the place: Los Angeles is home to one of the world's most significant architecture and design environments. It's also where such creative industries as aerospace, film, television, and music thrive.
It was Perloff who envisioned a new relationship between physical planning and urban planning and the role that this hybrid discipline could play in the future of cities. He assembled what Myers called a "Top Gun" team to address the issues architects and urban planners were consumed with in the 1960s. In the line-up were a group of individuals with an integration of interests, including Charles Moore, Edgardo Contini, Jurg Lang, Edward Soja, William Mitchell, Thomas Hines, Tim Vreeland, Lionel March, and Dolores Hayden. Years later, Myers joined the barrier-breaking team.
Barton Myers teaching at his steel house in Santa Barbara
During his tenure at the university, Myers participated in the UCLA Urban Innovations Group (UIG), a teaching practice established in 1971 by Perloff to encourage students to work as interns on architectural and planning projects. Under Myers' leadership, the UIG team led the competitions for the Bunker Hill Master Plan, Los Angeles Olympic Village Multi-Cultural Center, and the Music Center Expansion for Disney Hall. He also oversaw 14 Major Building Design studios, 12 Steel House studios, and six thesis studios.
As UCLA Architecture and Urban Design (A.UD) prepares to celebrate its 50th year of excellence and tradition in 2014, architectural education enters a new age. It has changed with the global economy and technology as no one could have envisioned in 1960 or even 1980. The view from Los Angeles is much wider now, with a global scope and an obsession with technology and robotics.
Today A.UD expands upon Perloff's mission to advance design through technology, culture, and practice. The "Top Gun" team includes Frank Gehry with Gehry Technologies, Thom Mayne, Neil Denari, Hitoshi Abe, Greg Lynn, Mark Mack, Sylvia Lavin, Dana Cuff, and Craig Hodgetts, with trailblazers Jason Payne, Heather Roberge, Georgina Huljich, and Julia Koerner among others.
The department continues to think 10–15 years into the future, providing students with the tools and technologies to harness their successes. Here the boundaries of architecture practice are expanded with advances in experimentation and cross-discipline collaboration among professors, students, and industry partners throughout the curriculum.
Professor Mayne's groundbreaking studios, for instance, can count such outcomes as the 2005 Progressive Architecture Award for "L.A. Now: Volume 3,4" and the creation of the Float House in New Orleans, an affordable, sustainable housing project for Brad Pitt's Make It Right Foundation, and the first floating house permitted in the United States. This years' Mayne studio is engaging in a comprehensive critical analysis of Haitian modern history and politics, a data-driven investigation of planning, infrastructural, and social issues to create collaborative design proposals developed in concert with Haitian governing and community partners.
The hot topic of 3-D printing is addressed in a spring seminar led by adjunct associate professor Kivi Sotamaa who uses design innovation as a method for exploring new business potential of 3-D printing and nanoscopically structured materials. Students are introduced to the cutting edge of design and manufacturing, to create innovation that can influence and drive the ongoing technical and scientific research. They explore and map out the technologies and their possible areas of application and proceeds by executing a number of case studies, developing workflows, and prototypes.
Much of this holistic thinking was prefigured by Myers's Steel House Studio, which grew out of the need for the comprehensive exploration of all aspects of building design and production. It initially focused on steel as a material and through the Southern California history of the Case Study House. The studio looked at precedents in the pivotal houses from mid-twentieth century built in the region where steel is considered a sustainable material, and worked to bring steel into the 21st century by updating the California steel house again and again.
I was reminded that Myers's legend precedes him when a first year student told me, just last week, that "Every first year student looks forward to their second year core studio, when they will be in the legendary professor's Steel House Studio."
Myers will see A.UD into the next 50 years of innovation in design and research in the use of robotic technology in architecture.
---
Caroline Blackburn is the director of special projects at UCLA A.UD