April 3, 2019
Bjarke Ingels Group Makes Its Own Proposal for Brooklyn's Looming BQE Repairs
The fate of the BQE's cantilevered stretch of highway—which must be fixed or repurposed—in Brooklyn Heights has stirred extensive controversy and multiple proposals. Now the Danish-American firm is throwing its hat into the ring.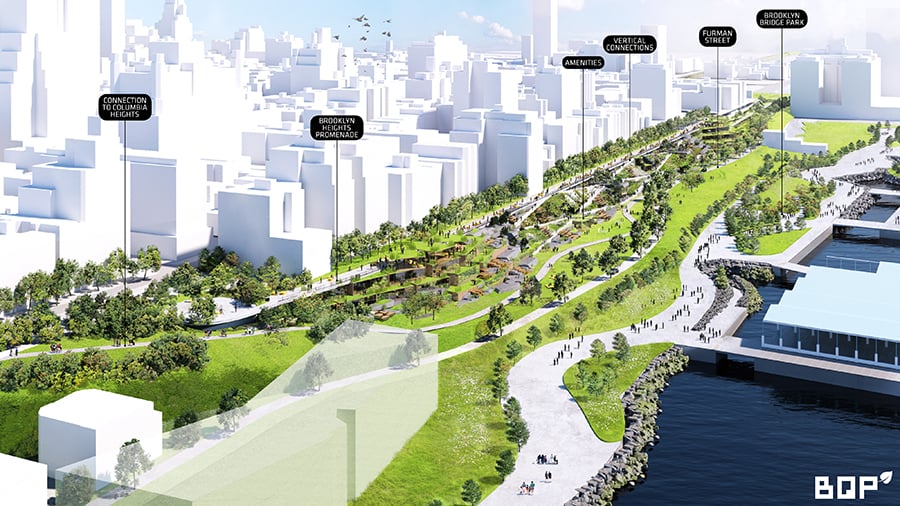 ---
The Brooklyn-Queens Expressway (BQE), completed in 1954, is a testament to postwar American ingenuity. Where it passes Brooklyn Heights, across the East River from Lower Manhattan, it occupies a pair of cantilevers—one each for northbound and southbound traffic. The Brooklyn Heights Promenade, a beloved linear park, occupies a third cantilever, 50 feet above what had been a working waterfront and is now Brooklyn Bridge Park.
But the cantilevered roadways, which support about 150,000 vehicles a day, will soon be structurally unsound. Some observers think it's time to simply close those sections of the BQE and let the cars fall where they may. They point to other cities that have shuttered elevated highways, including Seattle, where 90,000 cars a day seemed to disappear when the Alaskan Way Viaduct was taken out of service in January. (Janette Sadik-Khan, New York City's transportation commissioner under Mayor Michael Bloomberg, says she thinks "trucks only" is a good idea. "It's 2019. Haven't we learned anything?" she asks, referring to the notion that every automobile must be catered to. "When we closed Times Square to traffic, people were predicting 'car-mageddon.'")
So far, though, New York City is committed to repairing the 1.5-mile section of the BQE that skirts Brooklyn Heights and DUMBO. The search for a way to do that without closing, or damaging, the Promenade has set off an unofficial competition among architects. The latest entrant is Bjarke Ingels Group (BIG), the Danish-American architecture firm, which last year moved its U.S. office from Manhattan to Brooklyn. There, "we saw posters for neighborhood meetings and decided to get involved," says Jeremy Alain Siegel, an architect at the firm. This week, BIG released a plan that would replace the existing expressway while leaving the Promenade intact and adding acres of new parkland. Called BQP (Brooklyn-Queens Park), it is similar to a plan proposed by Mark Baker, a lawyer and pharmaceutical executive who has lived in Brooklyn Heights for 30 years. (Baker was formerly a chairman of the Brookklyn Bridge Conservancy before stepping down to focus on his plan, called the Tri-Line, as it would distribute parkland on three levels.)
---
More from Metropolis
---
BIG will formally unveil its plan at a town hall meeting tonight, at 7:00 PM at Plymouth Church in Brooklyn. The firm proposes creating a new six-lane highway at grade level, where it would replace an upland section of Brooklyn Bridge Park. But the highway would be decked over; the deck plus the BQE cantilevers would provide additional parkland and space for community amenities, including parking and a light-rail system. In the most appealing version of BIG's plan, the existing Promenade and Brooklyn Bridge Park would become part of a multilevel recreation space stepping uphill from the harbor to the Heights.
How the BQP will be received remains to be seen. Two ideas proposed last year by the city's Department of Transportation incensed local residents. The first called for closing the BQE one lane at a time, which would result in traffic snarls over a period of at least eight years but leave the Promenade intact. The second would turn the pedestrian-only Promenade into a temporary highway (which would have to be widened and supported on temporary columns) while the roadways below are repaired. Once reopened, after an estimated six years of construction, the Promenade would be restored to its pedestrian use—and possibly even expanded. But community opposition to closing the Promenade, even temporarily, is intense.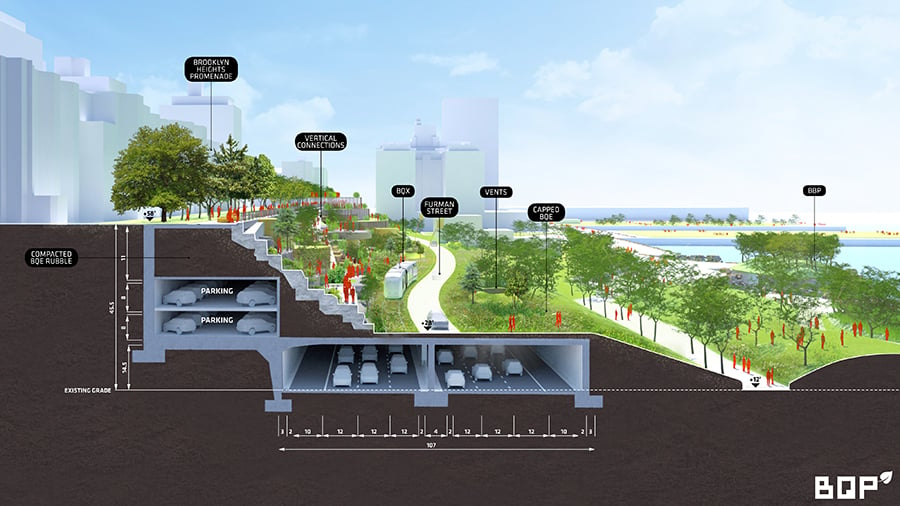 ---
The Brooklyn Heights Association, a community group, has helped circulate yet another plan, by architect Marc Wouters. Under Wouters's proposal, a temporary highway would be built on land borrowed from a nearby at-grade roadway, Furman Street, and the inland edge of Brooklyn Bridge Park (the active areas of the park would be untouched). In this scenario, the Promenade would be closed only briefly. Once the cantilevered portions of the BQE reopened, Furman Street and the affected section of the park would be restored.
Meanwhile, Scott Stringer, the New York City comptroller, has put forth ideas of his own. One would involve closing part of the BQE permanently; a few lanes would remain open to trucks, for which it is an essential artery. Drivers of cars—who would have to find other routes—would be incentivized to carpool or travel off-peak, and public transit options would be improved. Not rebuilding the cantilevered roadways would save money that would be invested on bus and subway upgrades.
No matter which plan is chosen, the repairs will cost billions of dollars. Siegel said he believes BIG's approach might be the most economical because "we're building the roadway once, not twice, and it's a simple at-grade roadway rather than a 90-foot-high column-supported structure." In addition, he said, "it delivers a lot of community benefits." Noting the similarity to Baker's plan, Siegel said, "There are a lot of people coming forward with ideas, which I think is a very healthy thing."
You may also enjoy "In San Antonio, David Adjaye Designs a New Art Gallery That Takes Cues From Regional Architecture."
Would you like to comment on this article? Send your thoughts to: [email protected]