July 14, 2022
A New Library Is a Living Room for a Whole Town
Facing the town center and the mountain that embraces it just south of San Francisco, the library's rooms open fully to the outdoors. A smaller, raised garden in front acts like a stoop on a city block.Its roofline largely fits the scale of the rest of the street, but at the entrance, tree-like Y columns, a wooden overhang, and glazed roof distinguish the building from its neighbors. This composition is a "light-filled gesture" that links the street, through the building, to the courtyard, bringing the outdoors in and extending the indoors outside. Windows—the large skylight, floor-to-ceiling, accordion doors, and clerestories—draw in light and views.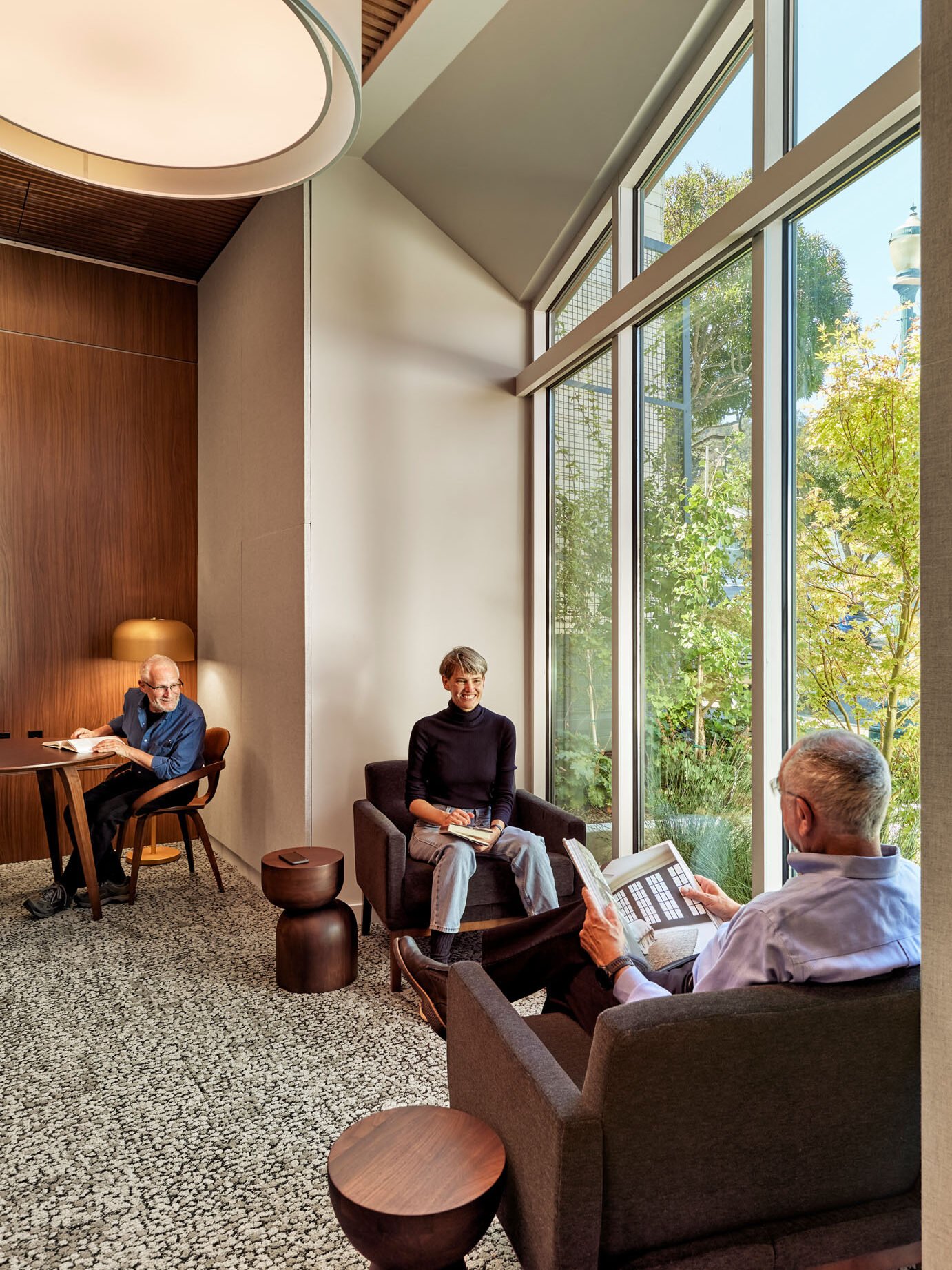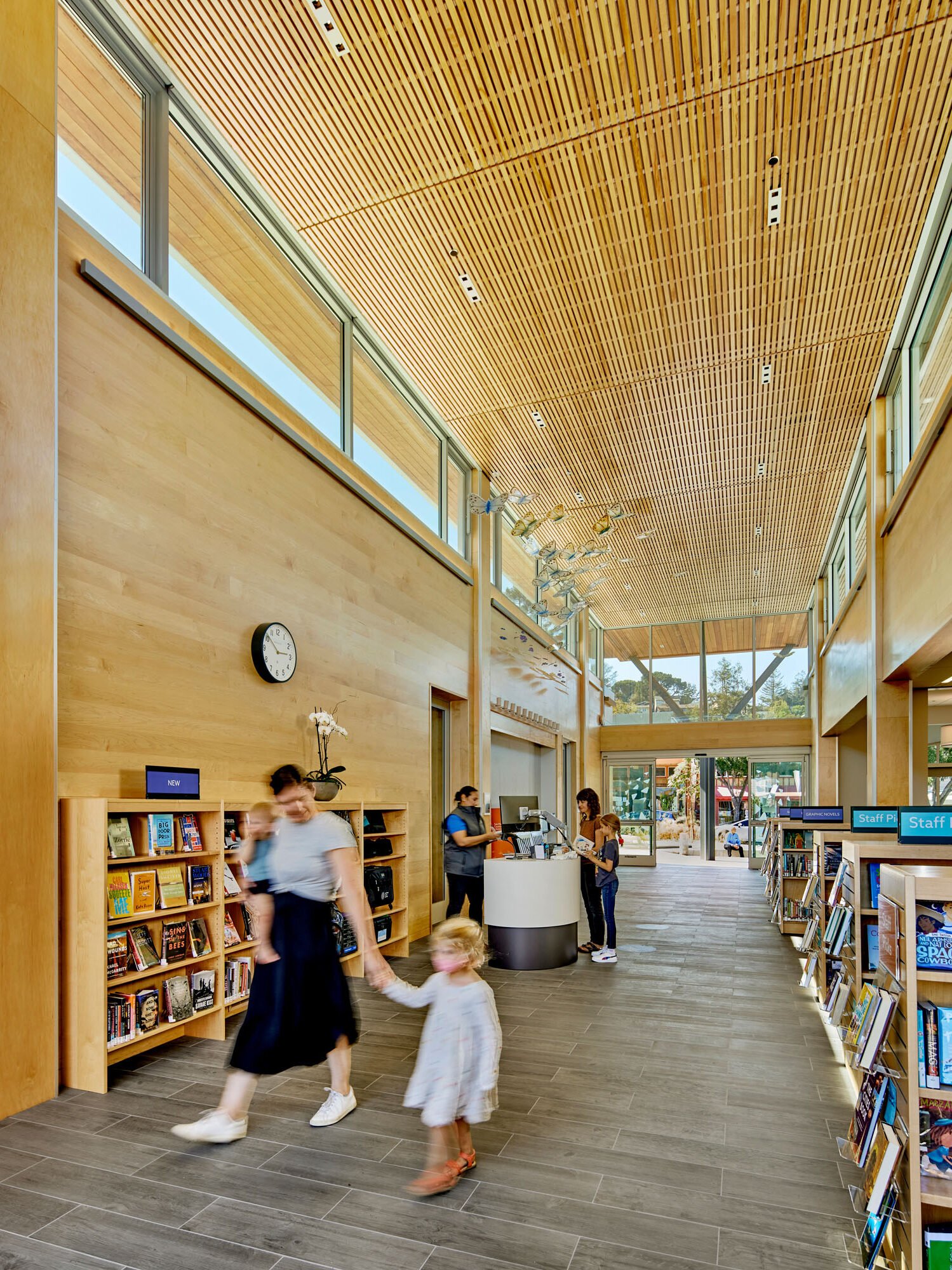 To accommodate changing technology and community needs, and to serve "layers" of users of all ages, the spaces were designed to be diverse and adaptive. "The idea was [to create] a rich space with many opportunities," says Siegel & Strain principal Susi Marzuola who mentioned older people, parents with young children, and the after-school crowd as important user groups. To accommodate various uses in a relatively small space, the community room can be partitioned into smaller program areas or expanded inside and outward onto the patios, where all programming, educational or civic, can be hosted outdoors.
Adult, teen and children's areas open off an atrium with neutral and natural finishes for the grown-ups but increasingly bright colors toward the kids' areas, where niches for play and reading open up. These include circular wall cut-outs with channel-tufted seating that looks out of "bug-eye" portholes, a woven willow hut for sitting with a book or a buddy or hiding from parents, and a whimsical, interactive play wall designed by The Burgeon Group.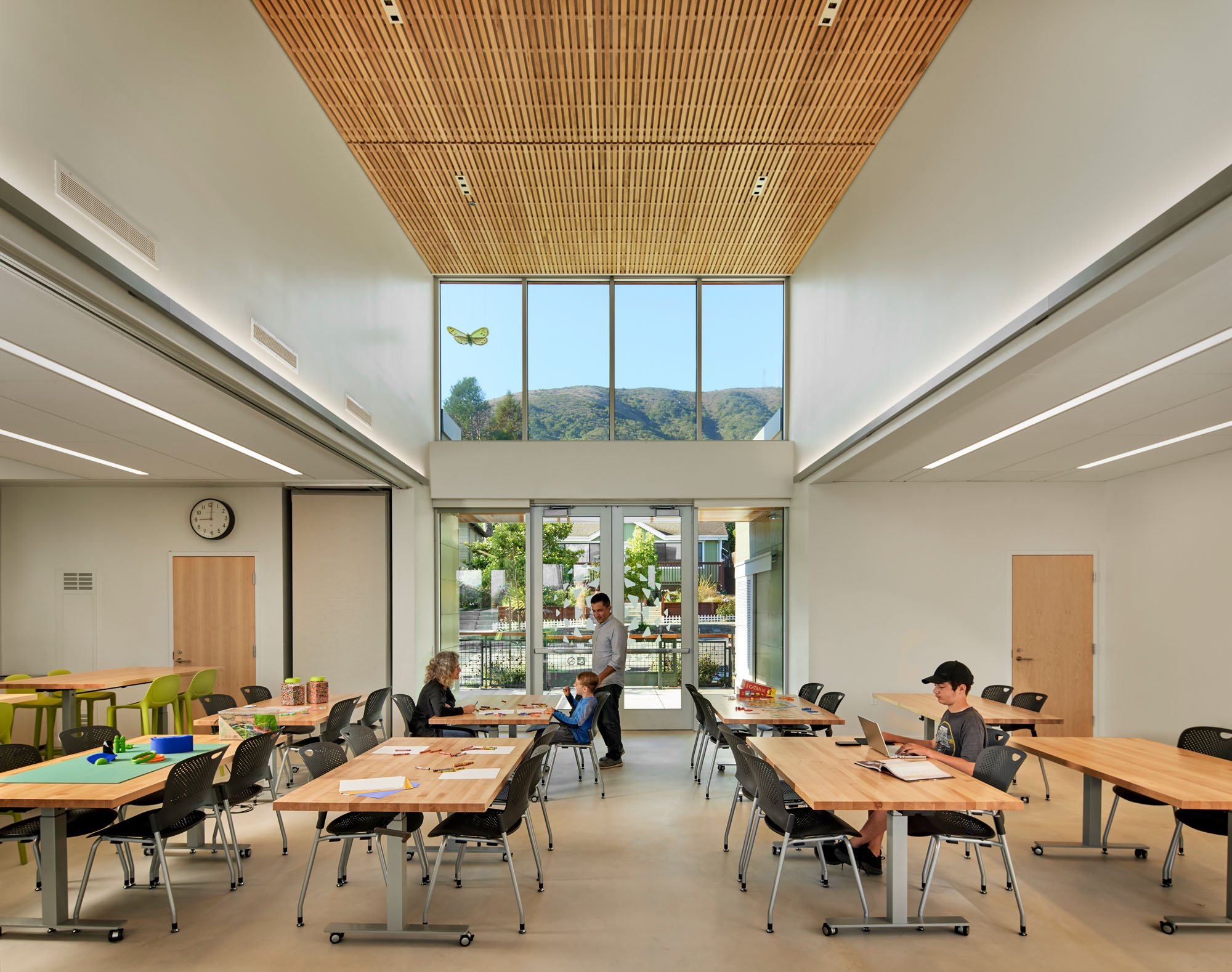 The project also reflects and respects nature. The carpet evokes the "dappled" light that filters through trees outside. Extensive maple wood surfaces and furniture are 90% FSC-certified, while offering comfort and tactility. Designed to be equivalent to LEED Silver, the building emphasizes sustainable water practices including stormwater detention, rainwater collection, and low-flow fixtures. In fact, in line with the library's mission, the water tower is labeled as a rainwater collection point, a simple gesture that makes it a teaching moment and a PSA for climate change optimism."I love working in small towns," Marzuola says. "The possibilities are endless, the hope eternal."
---
More from Metropolis
---
---
Would you like to comment on this article? Send your thoughts to: [email protected]