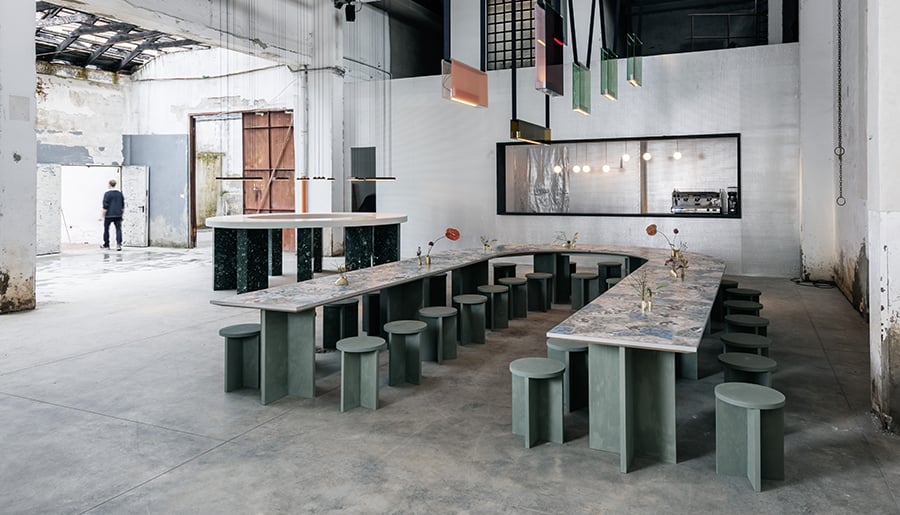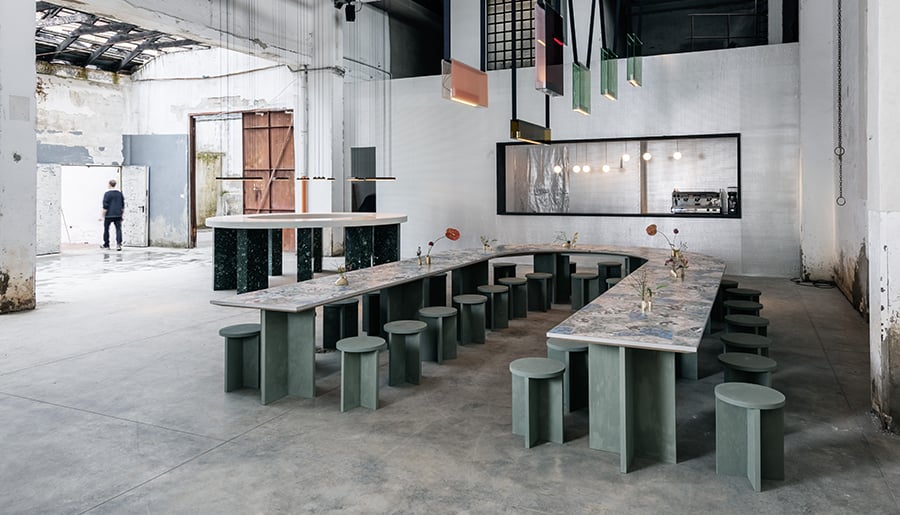 April 15, 2019
Lambert & Fils and DWA Design Studio Collaborate to Design a Bold Pop-Up Cafe in Milan
The Montreal-based lighting firm and Milan-based interior design studio created Caffè Populaire for Alcova's Via Popoli Uniti venue.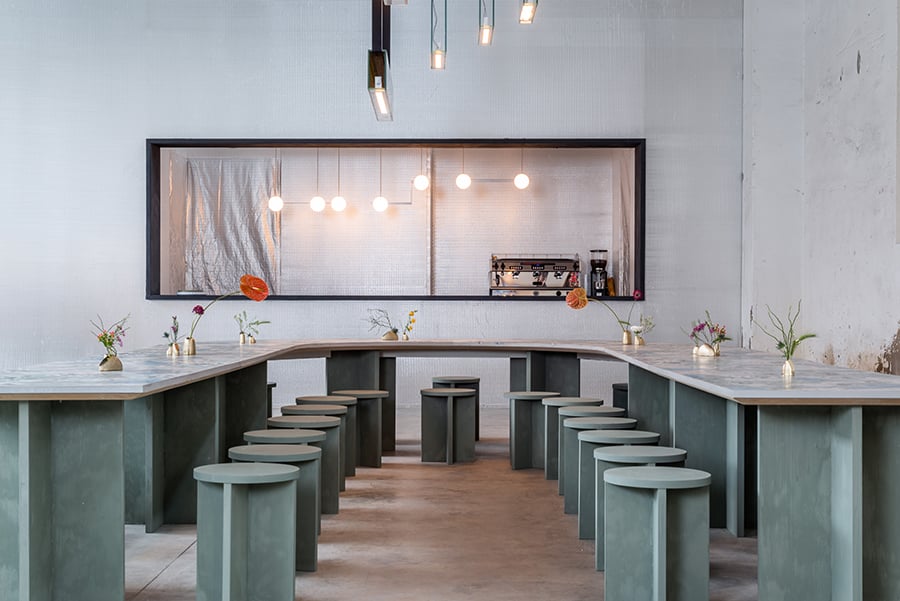 Courtesy Arseni KhamzinWithin the relentless social churn of Milan Design Week, an installation at the Alcova design fair provided a different opportunity for mindful engagement.
Montreal-based lighting firm Lambert & Fils and Milan-based DWA Design Studio collaborated to develop Caffè Populaire, a pop-up cafe for Alcova's Via Popoli Uniti venue, which is a former panettone factory. Set inside the post-industrial ruin's central courtyard, the cafe drew in guests to linger over coffee and snacks over the course of its six-day run. The effort also encouraged movement throughout the former factory's spaces, where designers and makers presented their collections. (The larger Alcova fair, which showcased over 50 participants from around the globe, was curated by Space Caviar and Studio Vedèt.)
---
More from Metropolis
---
"We did Euroluce two years ago, and it was a good commercial experience," explains Samuel Lambert, founder of Lambert & Fils. But he and his colleagues at the 50-person company, which designs and fabricates all of its products in Montreal, wanted to present its goods and brand ethos in a different setting this time around. "The match with Alcova was perfect," he says.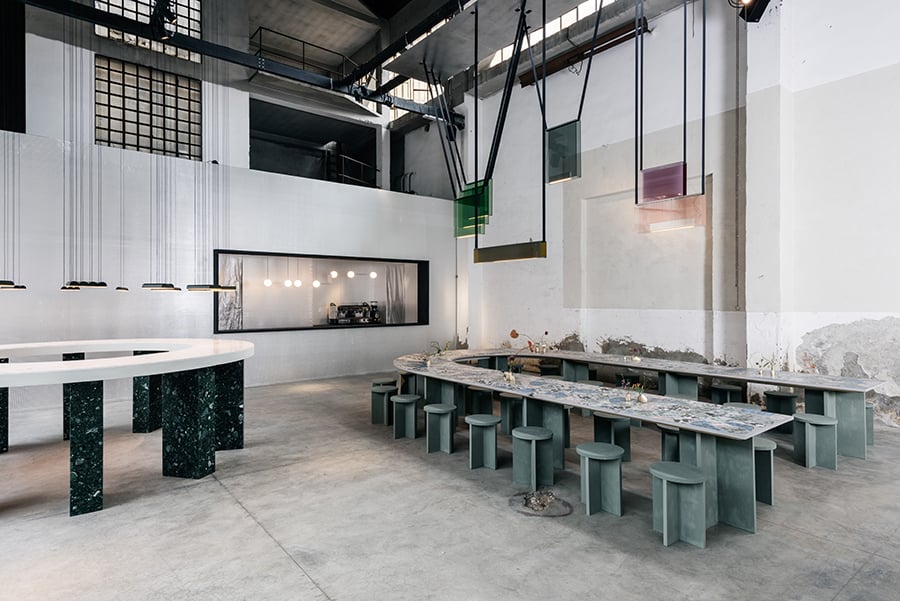 Lambert and DWA Design Studio co-founder Frederik de Wachter initially met at the Kortrijk furniture fair in Belgium and had been in touch when the Alcova opportunity came about. "This was our baby together with Samuel. We could express ourselves more freely," says de Wachter, who with DWA partner Alberto Artesani, has a prolific presence during Salone. (DWA was involved with six projects in 2019, such as designing and building installations for Elle Decor and Wallpaper*.)
Caffè Populaire's mission statement emphasizes an "anti-digital" experience that centers around face-to-face interaction facilitated by good design and food. (However, the collaborative design did produce a highly Instagrammable result.) Planes of colored glass from Lambert & Fils's Sainte collection hovered over the U-shaped table that manufacturing company Mariotti Fulget fabricated using Silipol, a proprietary material made from marble and granite dust. The placement of Lambert & Fils's Hutchison collection pendants—suspended on delicate wires—echo the ring-shaped, bar-height table beneath them. The table was made from white and green terrazzo intended to slyly reference the largely obsolete palladiana tradition seen in many Milan building entrances. (The U-shaped Silipol table also references history: it was loosely based on a form the designers saw in a French painting depicting a royal banquet.)
Other collaborative partners and elements included delicate bronzes vases by Toronto-based Mercury Bureau, Antoine architectural finishes, and Revol porcelain from France. De Wachter sees Caffè Populaire as a vehicle for making connections of all sorts. "We are in Popoli Uniti, so it's the 'united people,'" he says. "That's where the name came from—to gather people together."
You may also enjoy "nARCHITECTS Designs a New Home for New York's Progressive Human Rights History."
Would you like to comment on this article? Send your thoughts to: [email protected]