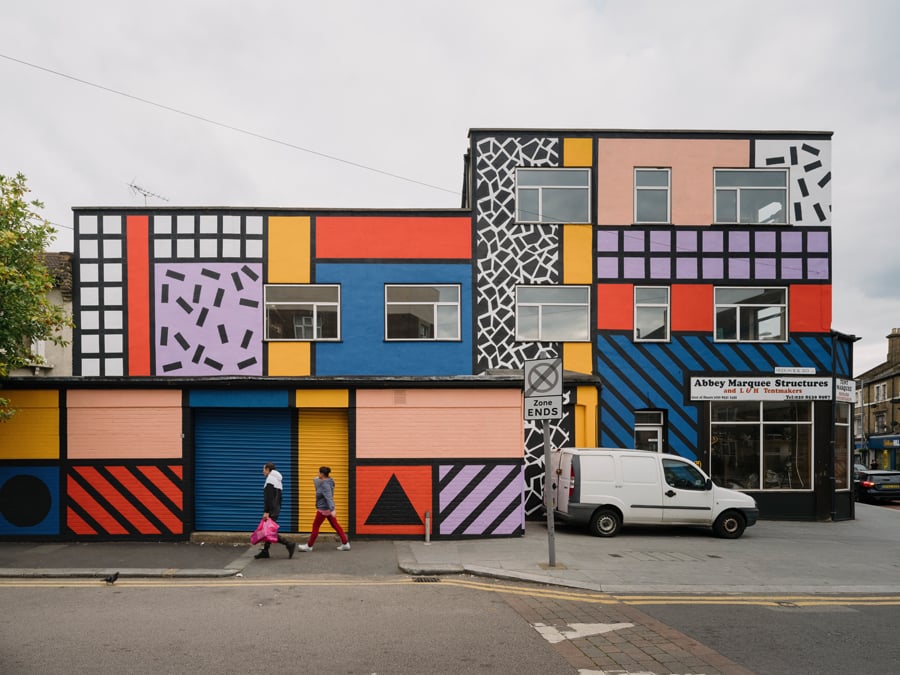 September 21, 2020
Camille Walala's Latest Artwork is a Sprawling, Multi-Building Mural
London art collective Wood Street Walls commissioned Camille Walala's newest public artwork.
Camille Walala, the London-based textile designer known for her colorful geometric prints, murals and installations, has just transformed a series of facades in east London with a vast artwork titled "Walala Parade." Her signature grids, triangles and spots span almost an entire block.
Walala has previously designed attention-grabbing surfaces in several cities, including pedestrian crossings in London's White City neighborhood. Her distinctive, Instagrammable murals, she says, are inspired by the Memphis design movement in Italy, aesthetics of Ndebele artists of Zimbabwe and South Africa and the Hungarian-French artist Victor Vasarely. The mural in Leyton, a collaboration with local art collective Wood Street Walls, was uniquely designed to decorate a complex mixture of architectural surfaces including windows, corners, and shopfronts with roll-down garage doors. Walala responded to the challenge of integrating various shapes, colors and fonts by keeping the design relatively simple. 'I want to say 'less is more,' but I don't know if that can really apply to my work,' she says with a laugh.
The project began as a discussion almost two years ago with two local business owners who wanted a way to add energy and excitement to the street. "They thought my work was a good fit to help bring joy to the community," Walala says.
---
More from Metropolis
---
After convincing individual landlords to permit use of their facades for the artistic vision, the team then turned to the community for funding. The project raised roughly $52,000 (£40,000), including about $32,000 (£25, 000) from London mayor Sadiq Khan. '"It was incredible to see everyone come together to make the project happen," Walala says.
Even the final color palettes were subject to a public vote; Walala gave residents and business owners a choice of two:  the riotous bright scheme now visible and another, which was more chalky and toned-down. "I am really glad the vote came back [in favor of] the option with more pop," she says.
Community involvement was a welcome tool rather than a mandate. The project's purpose was to inject pride into the neighborhood, since it was members of the community who had said the street felt neglected in recent years. "By bringing art onto the street we gave it another lease on life," Walala says. "People are sending me photos of the view from their windows and when they are passing by, saying how happy they are to have the artwork there,"she says. "Design should be accessible, and it feels great to bring joy to an area in a way that is immediate and positive."
You may also enjoy "A Parking Lot Becomes a Vibrant and Versatile Public Space—For Now."

Would you like to comment on this article? Send your thoughts to: [email protected]
---
Register here for Metropolis Webinars
Connect with experts and design leaders on the most important conversations of the day.