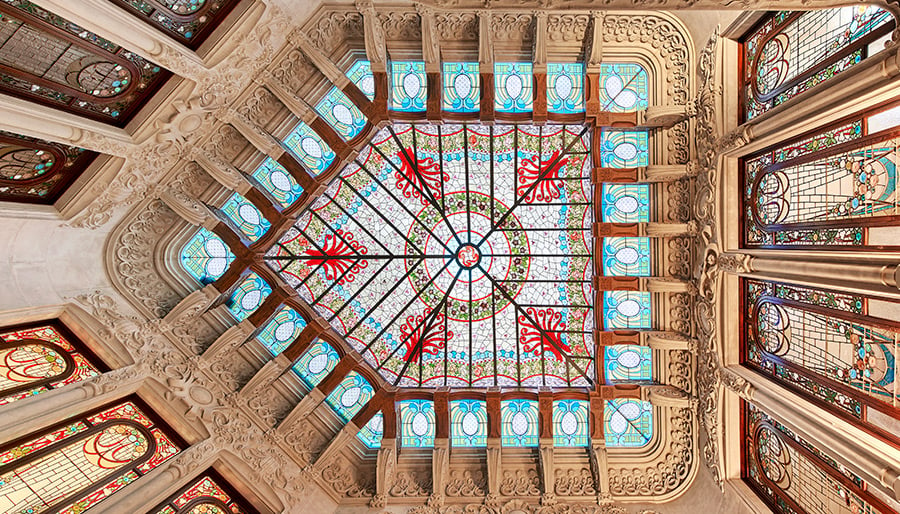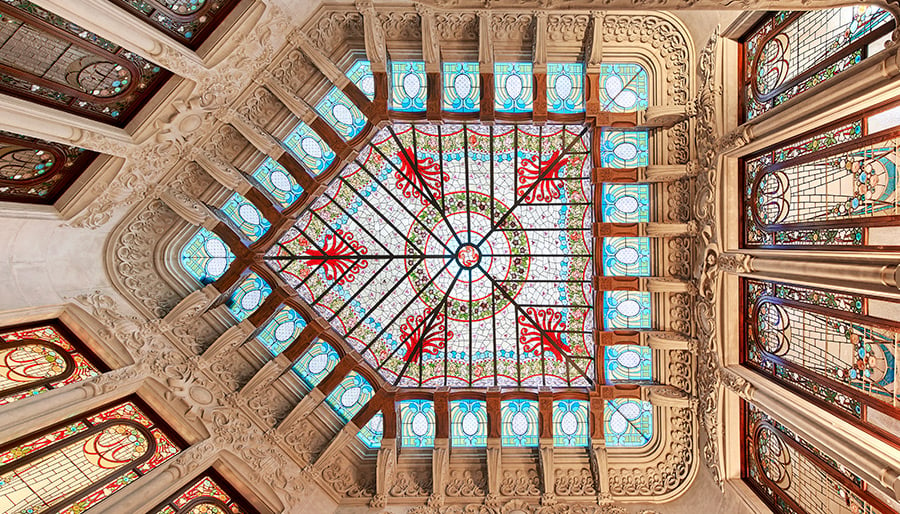 April 25, 2019
Barcelona's Stunning Art Nouveau Casa Burés Receives Restoration
Estudio vilablanch led the effort to preserve and revitalize the 1905 building, which was converted into luxury apartments.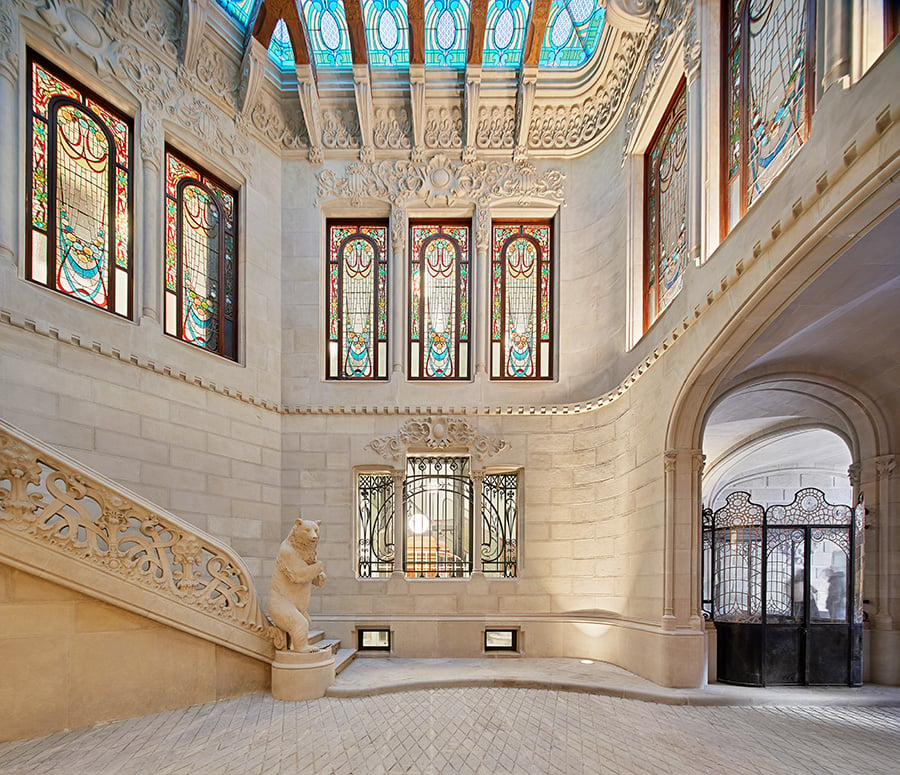 ---
Even for the stylistic excesses of Catalan modernista (or Art Nouveau) architecture, the Casa Burés, dating from 1905, is in a class of its own. Like many landmarks in Barcelona's Eixample district, it was commissioned by a wealthy merchant at the height of the region's textile boom. The architect was Francesc Berenguer i Mestres, reportedly a close friend and collaborator of the style's best-known protagonist Gaudí. Berenguer i Mestres considered himself as much as decorator as an architect, and expressed the movement's love of nature, romance, and whimsy on every available surface, through tiles, sculpture, stained glass, vivid polychrome treatments, and countless other variants of bling.
After the last residents moved out, the Casa Burés was bought by the Catalan regional government and acquired a heritage listing. Despite this, the building fell into decline. It was reportedly squatted and ransacked. If you were lucky enough to pass by when the front door was open, you could catch a glimpse of the majestic carved stone staircase and bear sculpture in the lobby—a ferocious guardian of the riches within. In a move that attracted a fair amount of local criticism, in 2016 it was bought by Bonavista Developments, a private investment group that specializes in updating old apartments for luxury living.
"Normally buildings of this caliber end up with some sort of civic use," says Agnès Blanch, co-founder (with Elina Vilá) of the well-respected, Barcelona-based interior design studio Estudio vilablanch. "But the idea of returning it to domestic homes is what attracted us to the project. It also made it a lot more difficult."
---
More from Metropolis
---
---
The initial study of the building (which was carried out by another Barcelona firm, TDB Arquitectura) revealed a program and layout that was standard for wealthy show homes of the period—spaces for retail and industrial use on the ground and lower ground floors, a palatial first floor apartment (where the rich proprietors always resided), and smaller, upper floor apartments for tenants and servants. However, the interiors were in a ruinous state. Water, electrical, and heating systems were completely unusable, and outstanding design details were either covered in decades of grime, removed, or only partially intact.
"We tried to be very honest and respectful with what we found," explains Blanch. "Our golden rule with the interior design project was to not to compete with the historic elements, but to complement them."
Each of the three aforementioned typologies required a different approach, she says. On the lower ground floor—now a posh common area with heated pool and private wine cellars—the designers deployed steel and concrete (both painted black) as the principal material, in keeping with that area's original industrial character. The grandiose piano nobile, with its lavish frescoed walls depicting scenes from fairy tales and cacophony of heritage-listed details, received a meticulous restoration using the most accomplished artisans in the business. Visiting the site months before completion, the project seemed more an archaeological dig as swarms of artisans bearing flashlights were perched up scaffolding touching up ceiling roses, or kneeling on frigid floors scraping dust from mosaics with tiny wire brushes.
The original rental apartments on the upper floors were reduced in size (from the building's original 10 apartments, there are now 26) and converted to contemporary, luxury residences. "The challenge in these was how to make them into fit for a 2019 lifestyle," says Blanch. Bathrooms were relocated from small, dark spaces to larger rooms and fitted out with Italian fixtures and furniture. The new open-plan kitchen modules (by bulthaup Barcelona) were placed next to original mosaic floors while the bedrooms were situated next to the rear glass galleries. White walls and oak wood fittings instill a sense of calm, light, and sophistication. "What we aimed for is a sense of cohabitation between the original and new," explains Blanch. "You need to let Art Nouveau speak its own colorful language. But then you need a bit of silence."
[Editor's note: On 4/26/2019, this article was updated to include the name of the developer, Bonavista Developments.]
You may also enjoy "The Hospitality Industry Is Increasingly Stepping Up to Reuse Historic Buildings."
Would you like to comment on this article? Send your thoughts to: [email protected]