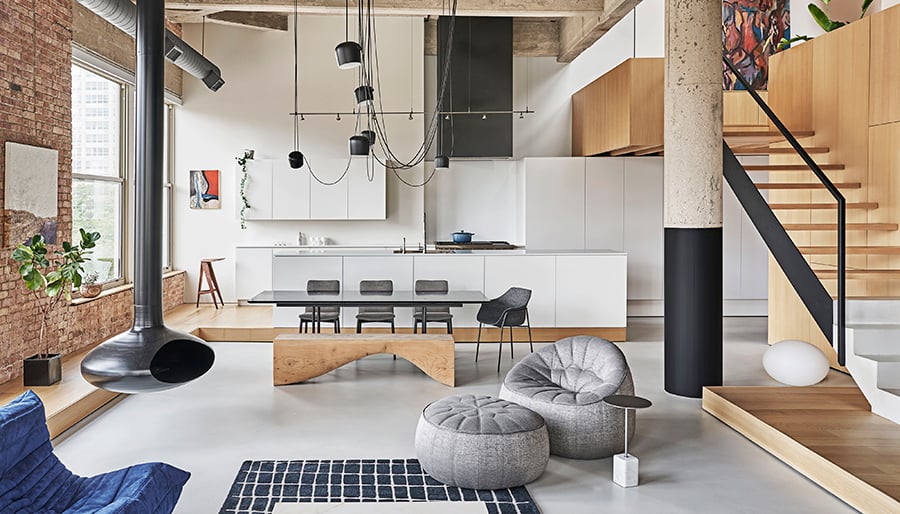 December 14, 2018
An Old Chicago Factory Loft Is Transformed Into a Homebody's Dream
Faced with a 2,250-square-foot space and 24-foot ceilings, Vladimir Radutny Architects deployed multiple strategies to make this former automobile factory homey.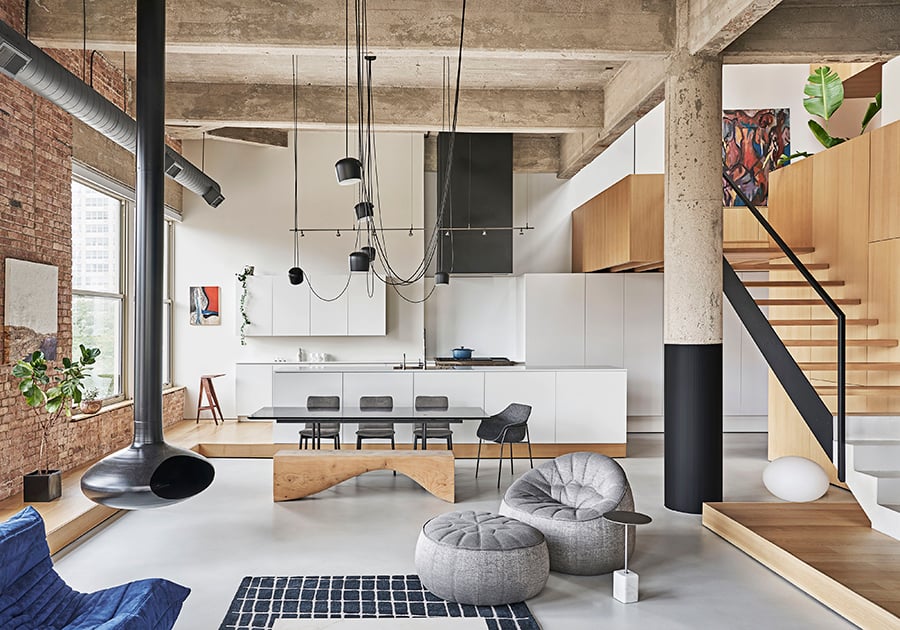 ---
The conversion of gritty factories into hip living spaces is nothing new—but how do you create intimacy and warmth in such concrete spaces? That was the dilemma posed to Chicago-based Vladimir Radutny Architects when a couple in their 40s approached the firm to re-do their unit in a century-old former automobile factory. The 2,250-square-foot space had ceilings that reached 24 feet at their highest and massive windows overlooking busy Michigan Avenue. Together, these features created a chilly, loud, and impersonal environment that the couple desperately wanted tempered. "The volume of space was really impossible," says Radutny, who undertook the design with project architect Ryan Sarros. "This space was just so big and the previous developers hadn't thought about how they could make it comfortable, so that was our biggest challenge. Making it warm, quiet, and homey."
Their approach was to create a series of independent, sheltered spaces that still formed a coherent whole and took advantage of the unit's gorgeous cityscape views. "We needed to segment the loft, there [was] no way we could have achieved any sense of intimacy if we tried to work with the entire space at once," Radutny tells Metropolis.
As you enter the apartment, this segmentation is evident immediately, thanks to a recessed white oak–clad foyer that subdues the enormity of the space. The oak continues into the main living area where it wraps the perimeter and elevates the kitchen on a raised platform. But the room's showpiece is a sleek black-paneled wall that folds open to reveal an entertainment system. Around the black-paneled wall lies the master bedroom, which faces three windows but maintains its privacy owing to a glass sliding door and curtains.
---
More from Metropolis
---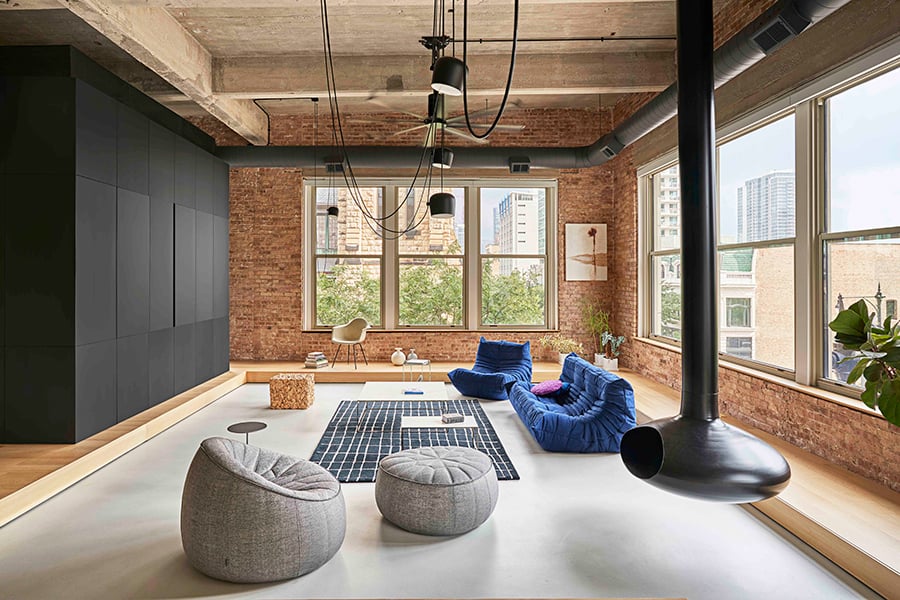 ---
A staircase leads from the living area to the loft's upper two levels, the first of which features a bathroom and flexible spare spaces. As you move upward to the third level, the apartment reveals a variety of vantage points to the outside street and elsewhere in the loft, enabling a sense of visual connectivity within and without. The uppermost level, which nearly touches the peaked concrete ceiling, exits to a garden and rooftop deck.
The white oak and clearly-defined spaces together create a palpable coziness. So much so, that the once-transient couple has decided to finally set down roots and make the newly-finished loft their long-term home. "They were sort of nomads you know, the couple. So the wife called me recently to tell me that she's never felt so at home before in a space. It meant so much," reflects Radutny. "You rarely get to work on projects like this one, and get that feedback."
You may also enjoy "In Tokyo, a Formidable Concrete Shell Protects an Intimate Family Dwelling."